News > Spokane
Residents fight to keep hospital
Wed., Oct. 31, 2007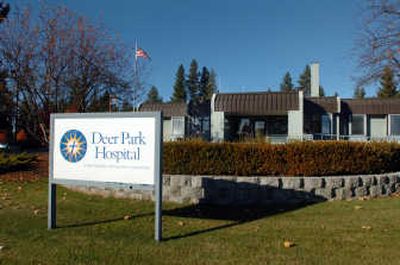 Deer Park residents don't intend to let their hospital close without a fight.
In recent weeks, they've circulated petitions, filled community meeting rooms with standing-room-only crowds and grilled Providence Health Care executives about plans to shut the doors of the 24-bed acute care center.
Tom Corley, the hospital's president, spent two nights last week on the hot seat, including a four-hour session with more than 50 people in the lower level of Deer Park City Hall.
"To use the word 'pleasant' would be the wrong word," Corley said the next day. "They asked very probing, very frank questions."
People wanted to know why Providence officials are considering closing the 51-year-old Deer Park Health Center and Hospital – and whether there is anything they can do to stop it, said Jeanne Jokkel, 52, a longtime resident who's been organizing protests.
But after all the talk and all the signatures and all the heated emotions, even Jokkel believes that the hospital closure is a done deal. Community members first learned of the plan in September.
"They made this call months ago, and they're not going to change," she said. "We got wind of this so late, there's not much we can do."
Providence officials have not confirmed the closure of the hospital, which will be decided next month by a vote of the parent agency, Providence Health and Systems. On Thursday, the Providence Health Care board will review findings and decide whether to recommend closure to the larger board, Corley said.
Ryland "Skip" Davis, a Providence executive, has acknowledged that closure is an option. And employees have been told they'll be offered jobs at other Providence sites if the hospital is shut down.
Most telling, Corley and other Providence officials have noted that a year of analysis revealed that the community does not use the hospital enough to keep the doors open.
In 2006, only 77 acute care patients were admitted to the hospital, totaling just 280 patient days, according to records from the Washington state Department of Health. That's down from 2000, when the hospital admitted 344 patients for 1,069 patient days. Recently, the hospital has been admitting only one patient every other day.
The hospital did log about 100 admissions and 3,413 patient days for its "swing beds," a dozen spots for extended care, records showed.
But that's likely not enough to sustain the hospital, Corley said. Last year, only 1 percent of emergency room patients who required hospitalization remained in Deer Park.
"The town doesn't use the hospital and won't use the hospital as long as Holy Family and Sacred Heart Medical Center are 18 miles down the road," Corley said.
Instead of operating as an acute care center, the hospital could offer expanded outpatient and other services, Corley said.
Local residents, including more than 1,000 who have signed petitions, are worried that they won't have access to emergency care if they need it, Jokkel said.
Discussions are continuing that could lead to a local urgent care center expanding to 24-hour service, Corley said.
It's a sad time for the community that includes people whose family members built the hospital at 1015 E. D St., Jokkel said.
"Gosh darn it, I see it as just being a moot situation," she said. "But I'm not going to put the gavel down until it's done."
Local journalism is essential.
Give directly to The Spokesman-Review's Northwest Passages community forums series -- which helps to offset the costs of several reporter and editor positions at the newspaper -- by using the easy options below. Gifts processed in this system are not tax deductible, but are predominately used to help meet the local financial requirements needed to receive national matching-grant funds.
Subscribe to the Coronavirus newsletter
Get the day's latest Coronavirus news delivered to your inbox by subscribing to our newsletter.
---