Sports
Mariners' plunge reaches 7 losses in row
Sat., Sept. 1, 2007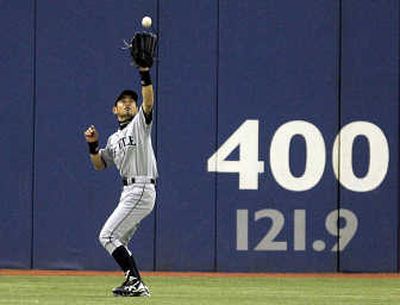 TORONTO – This is the way things are going for Seattle: A bases-loaded smash in the ninth inning Friday night turned into a game-ending double play.
The slumping Mariners lost their seventh straight game as Troy Glaus hit a two-run homer and Lyle Overbay and Alex Rios also went deep in the Toronto Blue Jays' 7-5 win.
Jose Vidro hit a two-run drive and Adrian Beltre also connected for Seattle, which matched its season-worst skid. The Mariners remained one game back of the A.L. wild-card-leading New York Yankees, who lost 9-1 to Tampa Bay.
"We're just going through some tough times," Mariners manager John McLaren said. "We're going to turn it around but we need to turn it around soon. The effort is there and the desire is there. We're having some breakdowns and it's hurting us bad."
Trailing by two in the ninth, Ichiro Suzuki and Jose Vidro reached on one-out singles and Toronto closer Jeremy Accardo loaded the bases by hitting Jose Guillen.
Raul Ibanez then hit a line drive that bounced off the mound and into the path of second baseman Aaron Hill. Hill made a diving flip to shortstop John McDonald, who leaped over the charging Guillen to make the throw completing the double play, leaving the frustrated Mariners wondering what had happened.
"I thought we had them there," McLaren said. "When Raul hit that ball, I thought it was through."
Denied a clutch hit, Ibanez took a philosophical approach.
"Right when it left my bat I thought it was going through the middle," Ibanez said. "All you can do is control hitting the ball hard. The outcome wasn't exactly what I wanted but the goal was accomplished."
Accardo, who earned his 26th save in 30 opportunities, was grateful for the efforts of his middle infielders.
"Those are two Gold Glove candidates playing there," he said.
Jarrod Washburn (9-12) lost for the fifth time in six August starts, allowing six runs and seven hits in 3 1/3 innings. He walked five, matching a season high, and struck out none.
"That was about as bad as I can be right there," Washburn said. "I was brutal. I had no clue where the ball was going tonight. I couldn't locate my fastball, changeup or slider. Nothing was working."
Notes
The M's outrighted four players to the minor leagues before the game, clearing space on the 40-man roster for the 10 players who will join the team for the final month of the season.
Infielder Oswaldo Navarro and left-hander Jake Woods were sent to Triple-A Tacoma while catcher Rene Rivera and outfielder Mike Wilson were sent to Double-A West Tennessee.
Six players will join the Mariners in Toronto today. Outfielder Mike Morse and left-handers Ryan Feierabend and John Parrish will be recalled from Tacoma, while outfielder Charlton Jimerson and catcher Rob Johnson will have their contracts purchased from Triple-A. Right-hander Sean White (right biceps tendinitis) will be recalled from Tacoma and activated off the 60-day disabled list.
Once the minor league season ends Tuesday, Seattle will add four more players: outfielders Jeremy Reed and Wladimir Balentien, infielder Nick Green and catcher Jeff Clement.
Local journalism is essential.
Give directly to The Spokesman-Review's Northwest Passages community forums series -- which helps to offset the costs of several reporter and editor positions at the newspaper -- by using the easy options below. Gifts processed in this system are not tax deductible, but are predominately used to help meet the local financial requirements needed to receive national matching-grant funds.
Subscribe to the sports newsletter
Get the day's top sports headlines and breaking news delivered to your inbox by subscribing here.
---