News > Home
Taking renewal into their own hands
Tue., Sept. 4, 2007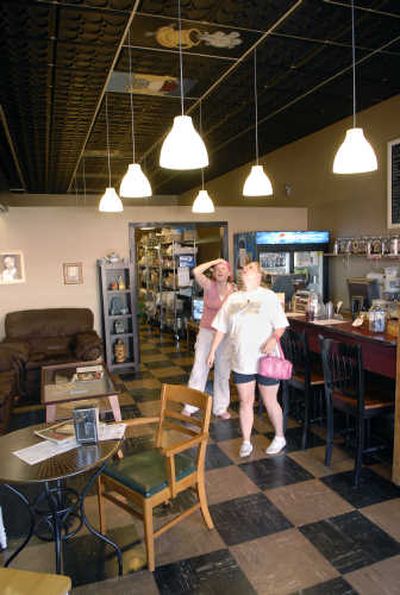 A new cafe specializing in gourmet tea might seem out of place among Spokane's ubiquitous java huts and espresso stands. But a tea house amidst the dilapidated buildings and vacant storefronts of East Sprague Avenue? Now that's just crazy.
Or maybe it isn't.
With Spokane's urban revitalization driving real estate prices sky-high in the downtown core, entrepreneurial pioneers looking for affordable retail space are heading east.
There, people like Keith and Janice Raschko, who recently opened SereniTea Global Caffe in the heart of the Keystone International District, are among a growing number of business owners helping to revitalize the economically depressed area.
Three years ago the Raschkos purchased the former Inland Hardware building – a 100-year-old landmark on East Sprague – with a plan to house their online motorcycle parts business.
"As we got to know the area and a lot of the other business people, we wanted to have something that was very neighborhood-oriented and more retail," Janice says.
So, in early July, the Raschkos and their daughter, Amber, opened SereniTea Caffe, boasting a huge selection of gourmet teas from around the world, including more than 60 loose-leaf varieties. Coffee and espresso drinks, bakery items and light lunch fare are also served, while cozy couches, cafe tables, free Wi-Fi, and the requisite community bookshelf make for comfortably hip surroundings.
The Raschkos aren't the first business owners to brave the blight of East Sprague – companies like ACME TV and Boyd-Walker Sewing Machine have stuck it out since the beginning, and a handful of newer establishments are helping to bring it back.
But Keith and Janice are among the few to actually live where they work.
"We sort of do the whole urban thing, where you've got retail on the main floor and live upstairs," Janice says.
The Raschkos currently occupy a renovated apartment over their store. While the remaining four units are rented as low-income housing, the couple's long-term goal is to make modest upgrades to each apartment as residents vacate.
"We still want to keep it at something affordable, because that's certainly lacking in the city," Janice says. "But we want it to be a little bit nicer, too."
In the meantime, the Raschkos are focused on SereniTea.
"Tea is kind of a different concept for Spokane," Janice says, adding that the shop also serves a special house blend of Cravens Coffee from the company's nearby roastery.
Still, with a dozen or so loose-leaf varieties in jars on a shelf behind the counter, it's clear the Raschkos' first love is tea.
The couple has traveled extensively in Asia, where they learned to appreciate the culture of tea, in addition to the beverage itself. And Keith recently began hosting Saturday afternoon tea ceremonies for anyone interested in learning more about – and tasting – tea.
"It's not a Japanese tea ceremony – it's more casual," Janice says. "People have compared it to a wine tasting, because it's a way to try different kinds of teas."
Janice says black tea is the mainstay of most formal ceremonies, though Keith prefers a variety – teas from India and Sri Lanka, or rooibos teas.
"People can try them and learn about them," Janice says. "That's what we really wanted – to bring that education about tea and the culture."
Local journalism is essential.
Give directly to The Spokesman-Review's Northwest Passages community forums series -- which helps to offset the costs of several reporter and editor positions at the newspaper -- by using the easy options below. Gifts processed in this system are not tax deductible, but are predominately used to help meet the local financial requirements needed to receive national matching-grant funds.
Subscribe to the Coronavirus newsletter
Get the day's latest Coronavirus news delivered to your inbox by subscribing to our newsletter.
---
Subscribe and log in to the Spokesman-Review to read and comment on this story