Visual Arts: First Friday Artwalk serves up mix of offerings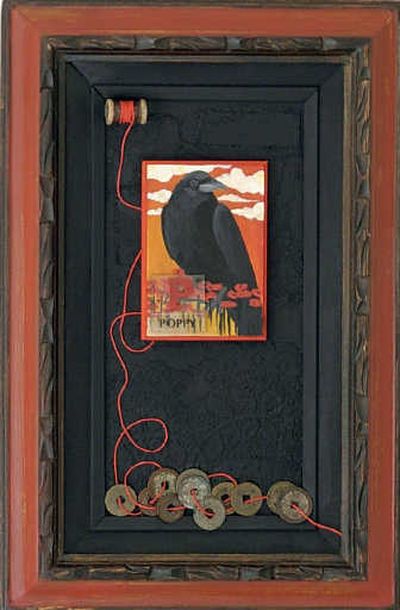 A wide variety of art shows, 30 in all, open during Spokane's First Friday Artwalk.
In the Garland District, emerging artist Erin Crooks brings a variety of two-dimensional collage wall hangings to the Tinman Gallery, 811 W. Garland Ave.
Crooks, of Corvallis, Ore., uses the surface of her canvas "to sculpt rather than paint, weaving words, color, texture, shape and old treasures into a dense, layered visual experience," says gallery owner Sue Bradley.
The Fox Blox Sweet Street Party on First Avenue between Monroe and Madison streets celebrates the soon-to-be-reopened Fox Theater.
Look for artists' demonstrations, an instrument "petting zoo," face-painting and live music by local bands Civilized Animal and Hockey.
On Adams Street, near the railroad viaduct, the Kolva/Sullivan Gallery features the mixed media "Anthropocentric Obsessions" of Jillian Foster.
"The ways in which we as humans consume, modify and redistribute nature is an idea that underlies my artistic endeavors," says Foster in her artist statement.
A new art space, Saranac Art Projects at 25 W. Main St., opens its first show Friday with the work of two leading Montana-based contemporary artists.
On view through Oct. 20 are Raymond Meeks' "Photographs and Unique Artist Books" and Steve Peters' sound installation, "Here-ings: A Sonic Geohistory."
Other First Friday
Many of the First Friday Artwalk venues in this self-guided event feature live music and light refreshments. All receptions run from 5 to 8 p.m. (unless otherwise indicated):
"Arbor Crest Tasting Room, River Park Square, Third Level, 808 W. Main Ave. – Photography by Kent Henderson.
"Artisans' Wares, 1009 W. First Ave. (5 to 9 p.m.) – Steel bamboo sculptures and furnishings by Paul Wisdom.
"Artist's Tree Gallery, 828 W. Sprague Ave. (5 to 9 p.m.) – Melissa Carpenter's latest paintings, "Sweet Dreams," and acrylics by Sam White in "In Your Face."
"Avenue West Gallery, 1021 W. First Ave. (5 to 9 p.m.) – Landscape artist Jared Johnson in "Sticks and Stones." Live guitar music by Tracy Carr.
"Brews Brothers, 734 W. Sprague Ave. – Work in various media by local and regional artists.
"CenterStage, 1017 W. First Ave. – North Side Studio Art Tour on the main floor and photography by Heather L. Evans in the Theatre Hallway Gallery. Paintings by Mel McCuddin in the billiards room.
"Caterina Winery, 905 N. Washington St. – "Mass Productions" by Gabriel Brown, 6 p.m. Live music by Tokio Weigh Station and Mistress and the Misters at 9 p.m., $5.
"Empyrean Coffee House, 154 S. Madison St. – Modern surrealist works by Mariko Sullivan, abstract acrylic paintings by Jeremy Stubbins and mixed media by Morgan Lynch.
"Estudio Galleria, 612 W. Garland Ave. (Friday and Saturday, noon to 5 p.m.) – Art by Felisa Carranza.
"Far West Billiards, 1001 W. First Ave. – Works by emerging artists.
"Gallery 1889, 2124 W. Second Ave. – Various artworks on display.
"Gallery of Thum', 106 S. Madison St. – Baron and BJ Cheffer's "Italy of Old" photographs; Betty Bradley's "Primary Watercolors." Free mini art lessons by Beverly Barnett.
"Gellhorn Gallery, Interplayers Theater, 174 S. Howard St. – Jim Glass' landscape paintings.
"Gina's Design Corner, 1 N. Browne St. – Landscapes and other oil paintings by Katie Staib Derrick; live music by Danny Songhurst.
"Global Credit Union, 726 W. Riverside Ave. – Various works on display through the windows.
"GoodWorks Gallery, 1019 W. First Ave. (5 to 9 p.m.) – Ceramics by Colleen Clark-Loomer in "Form and Function & Give it up to the Fire," with live demonstrations.
"Grand Ronde Wine Cellar and Peters & Sons Flowers and Gifts, 906 W. Second Ave. – Baskets and carvings by Ayu Sustilawati from Bali.
"Lorinda Knight Gallery, 523 W. Sprague Ave. (5 to 6 p.m.) – "Drollism," colorful acrylic paintings by Dick Ibach.
"Kolva/Sullivan Gallery, 115 S. Adams St. (5 to 9 p.m.) – "Anthropocentric Obsessions" by Jillian Foster.
"Kress Gallery, River Park Square, Third Level, 808 W. Main Ave. – "Culture Passion," 40 landscape quilts by Sew Uniquely You.
"Mobius Kids, 808 W. Main Ave. – "Art for All Ages," by students 5 through adult, provided by The Inland Northwest Drawing School.
"Northwest Museum of Arts and Culture, 2316 W. First Ave. – "In Focus: A Litany of Salmon" by Eileen Klatt; artist talk at 5:30 p.m. in the Orientation Gallery. Also showing: River of Memory: The Everlasting Columbia; If the Shoe Fits; The Voices of Things: The Museum's Collections. Free admission, 5 to 8 p.m.
"Paper Garden, 702 W. Main Ave. – "Paintings of Paradise" by Linda Harrison.
"Pottery Place Plus Gallery, adjacent to Auntie's Bookstore at 402 W. Main Ave. (5 to 9 p.m.) – Glass artist Patricia Garibay and photographer Jim Pena.
"Prago … Argentine Cafe, 201 W. Riverside Ave. – Travis Masengale's "Evolution of an Idea." Live music.
"Spokane Art School, 920 N. Howard St. (5 to 7 p.m.) – Faculty exhibit in Huneke Gallery.
"Tinman Gallery, 811 W. Garland Ave. (5 to 9 p.m.) – Oregon artist Erin Crooks' "Little Snippets," with live music.
"Trackside Studio, 115 S. Adams St. – Contemporary ceramic art by Chris Kelsey and Mark Moore.
Bank Left Gallery
The Bank Left Gallery in Palouse, Wash., opens its September show Saturday with an artists' reception from 1 to 5 p.m.
"Fiber Art Invitational Exhibit" features Lewiston and Palouse area weavers, quilters and rug hookers Edith Hostetler, Helen Bobisud, Jean Korus, Wilma Goertzen and Judy Cochran. There will be live music by Washington State University jazz musician Geoff Allen.
The gallery, 100 S. Bridge St., is open Thursday through Sunday from 10 a.m. to 5 p.m. For more information call (509) 878-8425.
McConnell Mansion
"The Western Landscapes of Eliza Barchus (1857-1959)" is showing at the McConnell Mansion Museum in Moscow, Idaho, though October.
Dan Dunn of Walla Walla, an artist and collector of works by Barchus, will talk about the late Portland, Ore., artist on Sunday at 1:30 p.m. Dunn's presentation will be illustrated with paintings and documents from his personal collection.
For more information on the museum, 110 S. Adams St., call (208) 882-1004.
Other galleries
"Opening Saturday at On Sacred Grounds Gallery is "Nostalgia," featuring the black-and-white photography of Judy Hankel. The gallery is at 12212 E. Palouse Highway in Valleyford.
"The Art Works Gallery in Sandpoint is showing the watercolors of Karen Robinson during September. Meet the Sandpoint painter on Sept. 18 at the gallery, 214 N. First Ave.
Julianne Crane can be reached at The Spokesman-Review, P.O. Box 2160, Spokane, WA 99210; call (509) 459-5435; fax (509) 459-5098; e-mail: juliannec@spokesman.com.
---