News > Features
At peace on the Palouse
Sat., Sept. 8, 2007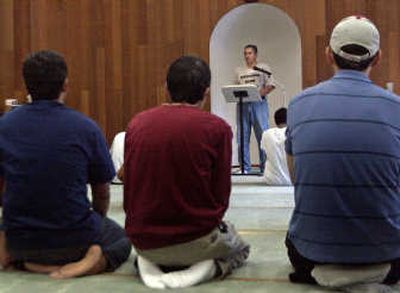 In the days and weeks after the terrorist acts of Sept. 11, one house of worship in Pullman became a gathering place for the community – a space where people of all faiths came to mourn, to understand and support each other amid confusion and tragedy. Bouquets of flowers, poetry and letters of support were left at the doorstep of Masjod Al-Farooq, the spiritual home of several hundred Muslims in the Palouse. When the mosque hosted an open house later that month, hundreds came. People showed up to ask questions, to learn more about Islam and to express solidarity with their Muslim neighbors.
"It was such a moving experience for me, for all of us," recalled Sayed Daoud, one of the leaders at the mosque and a professor of pharmaceutical sciences at Washington State University. "We felt so much compassion from the community. They helped us see that no matter what, we can all stand together in the face of calamity."
For the last 25 years, the Pullman Islamic Center and Mosque has become a symbol of unity for many in the Palouse. The distinctive building located near the WSU campus isn't just a house of worship for Muslims; it also serves as a center for education and fellowship – a place for people of all religions and beliefs to learn about Islam and foster interfaith dialogue.
Just days before the holy month of Ramadan – a time when Muslims fast from sunrise until sunset to commemorate God's revelation of Islam's holy book to the Prophet Muhammad – the Pullman Islamic Center is celebrating its 25th anniversary. Tonight, members of the mosque, their friends and others from throughout the region will have a banquet that will include a recollection of the center's history as well as a speech by Muzammil Siddiqi, an internationally renowned Islamic scholar who will talk about building bridges across faiths and cultures.
"We are planning a community celebration, not just a Muslim celebration," said Dr. S.M. "Ghazi" Ghazanfar, a longtime member of the mosque and professor emeritus of economics at University of Idaho. "This is what the mosque is about – it's a way to connect with each other and the rest of the community. It's a way to build bridges."
Masjod Al-Farooq is home to about 300 Muslims in the Palouse, some of whom also belong to the Moscow Islamic Center and mosque, located just a few miles away. Many of the members are international students attending WSU or UI, although a growing number are faculty and staff members and other residents in the area. The community is ethnically diverse, with members from more than 35 countries as well as the United States.
Before the mosque was built, Muslims in the area had to pray in each other's homes or apartments, recalled Ghazanfar, who moved to Pullman from Pakistan in 1958 to study business at WSU. During celebrations such as Eid Al-Fitr, which marks the end of Ramadan, and Eid Al-Adha, the most important feast in the Muslim calendar, students and others had to rent space from area churches or businesses. For a while, they also were able to rent a house for congregational prayer on Fridays, but it still wasn't big enough to accommodate all the families during potlucks and major social functions.
In 1978, Muslim students and professors at the two universities started raising money to build a mosque. They sold cookies, held various fund-raisers and appealed to family members, friends and Muslims throughout the globe, said Ghazanfar. In 1981, they had raised $350,000 – enough money to purchase the land on Stadium Way for $50,000 and to erect a building.
Designed by Pullman architect and engineer Munir Daud, the center was finished in August 1982 and named after Umar Al-Khattab, the second caliph or leader of Islam after the death of the Prophet Muhammad whose honorific title was "Al-Farooq," or "one who distinguishes truth from falsehood." In addition to a prayer hall that had enough room for 150 people, the Pullman Islamic Center included a library and a center for activities and social events.
At that time, it was one of only 100 mosques in the United States and its completion was described as "a milestone" in the development of the Palouse's Muslim community.
"It was an enormously satisfying experience to finally have a place of worship for my family and for others in the community," said Ghazanfar, whose three children attended the Sunday school at the mosque, where they learned Arabic and read the Quran.
For Mona Younes, a longtime Palouse resident and member of the mosque, the building became a place to gather with other Muslim women and their children.
"Not having family here, the people at the mosque became our family," said Younes, who raised her three kids at the Pullman Islamic Center. "Especially during the holy days, it's nice to see someone from the same culture celebrating with you and sharing your happiness."
The mosque in Pullman is one of about 25 mosques and Islamic centers in Washington, according to the Web site of Muslim Students Association Northwest. It's especially unique in Eastern Washington, where it's currently the only one built specifically for Islamic worship and with the traditional minaret or tower. (Muslims in Spokane had a groundbreaking for their mosque this month.) The state of Idaho has only two Islamic centers – in Moscow and Boise, according to the MSAW.
"I couldn't believe it when I saw this mosque," said Mushtaq Memon, who moved to Pullman from Boston in 1991. "Coming from a big city to the Palouse, I didn't think there were other Muslims here."
Memon, an associate professor at WSU's College of Veterinary Medicine, was excited to live in a town that had a very visible Muslim presence – a mosque with regular prayer services and a school, as well as active members who were committed to reaching out to the broader community.
"I think the mosque reminds people that there are people of different faiths who live here," he said. "America is a country where we cherish diversity. … As more people of different faiths come to the United States, we need to understand each other to get along. That's the only way we can create peace."
Nationwide, the United States is now home to about 2.5 million Muslims, according to the Pew Research Center for the People & the Press. In a May 2007 report titled "Muslim Americans: Middle Class and Mostly Mainstream," Pew found that although many Muslims are relative newcomers to America, they are highly assimilated into American society. Many believe that Muslims coming to the United States should adopt American customs rather than trying to remain distinct from the larger society, according to Pew's survey. Most Muslim Americans also don't see a conflict between being a devout Muslim and living in a modern society.
Those attitudes are definitely reflected among Muslims in the Palouse, a tight-knit community where Muslims have played a prominent role in education and interfaith dialogue. Members of the mosque have been involved in diversity events, as well as interfaith groups in Pullman and Moscow. Whenever they have potlucks and events such as this weekend's 25th anniversary celebration, mosque members always invite their non-Muslim neighbors. Whenever there's a crisis or a need for the community to come together, Muslims in the Palouse quickly join Christians, Jews, Unitarians and others in the area to discuss possible solutions and ways to heal.
"The (members of the mosque) have always been warm and welcoming," said Gail Stearns, director of The Common Ministry, a group of seven Protestant denominations that work together to provide ministry opportunities to WSU's students, faculty and staff. "They've had open houses and made a real effort to educate the community about Islam. That's made a huge difference in terms of our understanding of what it means to be neighbors."
After Sept. 11, the mosque became a place for people to gather, regardless of their faith, according to Ghazanfar, who is also a member of Moscow's human rights commission. By coming together, non-Muslims deepened their understanding of Islam and members of the mosque learned more about Christianity and other religions.
"I'm proud to have this mosque in Pullman," said Abdul Kerim Abate, a WSU junior majoring in bioengineering and the president of the university's Muslim Student Association. "It's important for us to have this here – not just for prayer and religious purposes, but to show people we're here and that everyone is welcome."
Local journalism is essential.
Give directly to The Spokesman-Review's Northwest Passages community forums series -- which helps to offset the costs of several reporter and editor positions at the newspaper -- by using the easy options below. Gifts processed in this system are not tax deductible, but are predominately used to help meet the local financial requirements needed to receive national matching-grant funds.
Subscribe to the Coronavirus newsletter
Get the day's latest Coronavirus news delivered to your inbox by subscribing to our newsletter.
---
Subscribe and log in to the Spokesman-Review to read and comment on this story