News > Home
Couple revel in garden retreat
Tue., Sept. 18, 2007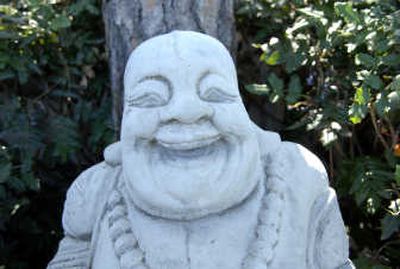 Lyle Tostenrude beams as he shows off his expansive, eclectic garden.
There are deer-shaped topiaries, pruned arborvitae and carved bonsais. There is heather and cotoneaster. There is a sunken porch, a hot tub and a pond, 11 Buddhas, seven concrete pagodas and five foo dogs.
"It was 34 years in the making," Lyle says.
"It's a happy place," says Diane, his wife of 46 years. "There are no frowning Buddhas here."
The Tostenrude's backyard stretches across two-and-a-half lots behind their single-story home in Northwest Spokane. The couple and their two sons moved there from Western Washington in the mid-1970s.
The garden began as a way for the couple to earn a little privacy after neighbors built an in-ground pool.
"They were such nice friends of ours that they always wanted to invite us," says Diane.
"They felt guilty," Lyle says, adding that he and his family felt guilty, too, often going for a swim when they wanted to stay home.
The Tostenrudes began their backyard retreat by building the sunken porch, planting tall bushes along the edge. As time and money allowed, they redid sections, adding touches such as a pond and a river of wax begonias.
While Japanese gardens influenced much of their work, the couple drew on other influences, too, including an Austrian palace. "We take pictures," says Diane. "We copycat."
Touring Manito one day, Diane noticed a man trimming bonsais and asked him how he shaped them so beautifully. "He said, 'I just cut this side and that side,' " she says, smiling at the memory. She went home and reshaped her own based on his advice.
Just a few feet from the front gate, a row of tall shrubs blocks the view into the main garden. The entryway is reminiscent of a garden the teenage sweethearts recall from Alki Point on the state's West side, where Lyle met Diane when she was "still in diapers."
"Lyle likes hidden things," says Diane. "It's kind of fun. It adds mystique."
"We like surprises," Lyle says.
The couple enjoys sharing their efforts, hosting three big parties for friends each summer. They do their most serious trimming and shaping at that time, Diane says. "We get our work all done so we can enjoy the rest of the summer."
Some black-masked creatures love their garden, too, Lyle says as Diane comes from the house with a short stack of photos.
"They are teenagers now," says Diane, showing photographs of triplet raccoons cavorting in her pond. "I had 24 fish in there last year, and they ate them all.
"They left the fish heads on my table."
Local journalism is essential.
Give directly to The Spokesman-Review's Northwest Passages community forums series -- which helps to offset the costs of several reporter and editor positions at the newspaper -- by using the easy options below. Gifts processed in this system are not tax deductible, but are predominately used to help meet the local financial requirements needed to receive national matching-grant funds.
Subscribe now to get breaking news alerts in your email inbox
Get breaking news delivered to your inbox as it happens.
---