News > Idaho
Aquifer protection urged
Fri., Sept. 28, 2007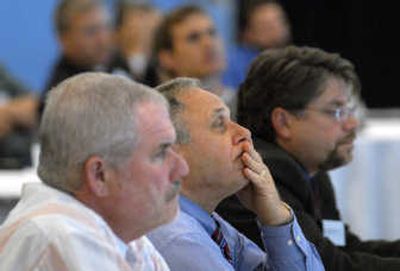 The vast pool of water buried below Spokane and Kootenai counties needs to be protected and conserved now, before it's unable to slake the region's thirst, according to political leaders and experts attending an aquifer summit Thursday in Post Falls.
"We are borrowing it from our grandchildren," said Post Falls Mayor Clay Larkin, whose city was the first above the aquifer to implement summer watering restrictions in 2003.
People living above the Spokane Valley-Rathdrum Aquifer consume twice as much water as the typical resident in Washington, according to information presented at the gathering, which was hosted by Larkin and Spokane Mayor Dennis Hession.
Unless water taps are tightened a bit from Rathdrum, Idaho, to Tum Tum, Wash., the aquifer won't be able to keep pace with the region's rapid development, which will inevitably lead to a water fight between cities and the states of Idaho and Washington, experts warned. Bob Haynes, with the Idaho Department of Water Resources, said legal fights over water are now common across the West.
A water dispute between Colorado and a neighboring state costs about $1 million a month in legal bills, Haynes said. Idaho and Washington leaders need to come up with a plan now to sustain and share the aquifer before there's a court battle, he said. "It's absolutely unconscionable and immoral for us not to accomplish that."
Hession said such an agreement could "be a model for the country" and would ensure the Inland Northwest's continued growth. "We must work together to manage our shared sole-source aquifer in ways that support its health and the continued economic growth of our region," he said.
An estimated 60 political leaders attended Thursday's meeting. About the same number of ideas were floated by these officials on how the region ought to move forward with protecting the aquifer – ranging from heightened restrictions on summertime lawn-watering to launching a public education campaign to overcome the "yuck" factor of using treated wastewater to irrigate parks, golf courses and lawns.
The leaders agreed to continue meeting on a regular basis. They also decided to begin drafting a model water conservation policy that could be used by communities across the region. Gerry House, chairman of the Hayden Lake Recreational Water and Sewer District, said cooperation and dialogue are important, but there's already been years of discussions about how to manage the aquifer. He said political leaders seem too hesitant to make the tough decisions on protecting the aquifer.
"We all know what the problem is," House said. "It's now grasping the problem and moving forward."
Kootenai Environmental Alliance Director Barry Rosenberg said the region is having a hard time shaking the long-held perception of the aquifer as an unlimited resource. The state of Idaho, for instance, allows domestic well permit holders to draw up to 13,000 gallons of water per day from the aquifer.
The amount is "extremely excessive," Rosenberg said. "We cannot afford to squander the gift of our abundance of water."
The Kootenai Environmental Alliance will be pushing state officials in coming months to reduce the limits, Rosenberg added.
Although a recent study showed the aquifer holds eight times the volume of water as Lake Coeur d'Alene, the region is also expected to swell with tens of hundreds of new residents in coming years.
"Everybody's moving here," said Guy Gregory, with the Washington Department of Ecology. "The first thing those guys want when they unpack their U-Haul is a glass of water."
Local journalism is essential.
Give directly to The Spokesman-Review's Northwest Passages community forums series -- which helps to offset the costs of several reporter and editor positions at the newspaper -- by using the easy options below. Gifts processed in this system are not tax deductible, but are predominately used to help meet the local financial requirements needed to receive national matching-grant funds.
Subscribe now to get breaking news alerts in your email inbox
Get breaking news delivered to your inbox as it happens.
---