News > Nation/World
Jena 6 defendant freed after judge lowers bail
Fri., Sept. 28, 2007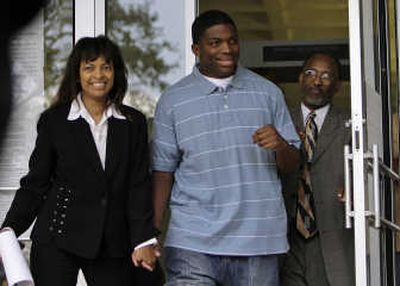 Mychal Bell, the black teenager whose incarceration in a racially explosive case helped draw tens of thousands of civil rights protesters to the tiny Deep South town of Jena, La., last week, was released from jail on Thursday after more than nine months behind bars.
Bell, 17, one of six black teenagers charged with the beating of a white classmate at Jena High School last December, was freed after a judge abruptly set a bond of $45,000, which a bail bonding firm quickly posted on Bell's behalf.
The youth's release capped a day of mounting political and judicial pressures in a case that has drawn condemnation from scores of national civil rights leaders concerned about perceived inequalities in the town's justice system.
"We still have mountains to climb, but at least this is closer to an even playing field," said Rev. Al Sharpton, who helped organize last week's massive protest and accompanied Bell as he walked out of jail.
In Washington, the Congressional Black Caucus asked the U.S. Justice Department to investigate possible civil rights violations and prosecutorial misconduct in the Jena 6 case.
Meanwhile, the Louisiana district attorney whose prosecution of the Jena 6 defendants sparked the civil rights protest declared that only through the intervention of Jesus Christ was Jena spared from a "disaster" last week when more than 20,000 demonstrators marched peacefully through the town.
The six-hour march on Sept. 20 drew families from across the nation who rode buses for hours to protest perceived racial discrimination in the mostly-white town of 3,000 people.
LaSalle Parish District Attorney Reed Walters insisted he had treated all of the Jena 6 defendants "fairly and with dignity," but said he would not relent in his prosecution of the youths for aggravated second-battery in the beating of Justin Barker, a 17-year-old white classmate.
Bell was the first of the teenagers to go to trial. Walters' prosecution of the case has not been smooth.
On the eve of Bell's trial in June, as national scrutiny mounted, Walters abruptly reduced the attempted-murder charges to aggravated second-degree battery and conspiracy. He won a conviction before an all-white jury.
But the appellate court vacated that conviction on Sept. 14, ruling that both Walters and LaSalle Parish District Judge J.P. Mauffray had erred in allowing Bell to be prosecuted as an adult rather than a juvenile.
Walters confirmed Thursday that he had decided not to go through with an appeal of the appellate decision and would instead refile the charges against Bell in juvenile court. That decision cleared the way for Bell's release on bond.
Local journalism is essential.
Give directly to The Spokesman-Review's Northwest Passages community forums series -- which helps to offset the costs of several reporter and editor positions at the newspaper -- by using the easy options below. Gifts processed in this system are not tax deductible, but are predominately used to help meet the local financial requirements needed to receive national matching-grant funds.
Subscribe to the Coronavirus newsletter
Get the day's latest Coronavirus news delivered to your inbox by subscribing to our newsletter.
---