News > Spokane
Yates death penalty upheld
Fri., Sept. 28, 2007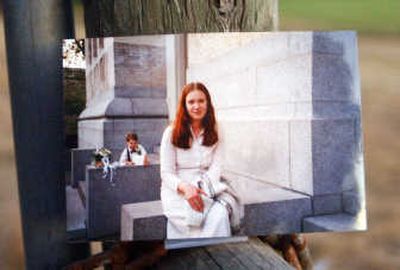 OLYMPIA – Triggering a likely appeal to the U.S. Supreme Court, Washington's highest court on Thursday upheld the Pierce County conviction and death sentence of serial killer Robert Lee Yates Jr.
"We conclude that Yates' death sentence was not excessive or disproportionate to the penalty imposed in similar cases, considering both the crime and the defendant," Justice Susan Owens wrote for the 8-1 majority.
The justices also rejected Yates' argument that his Pierce County death sentence should be carried out only after he has completed Spokane County's 408-year prison term for 13 other killings.
"Needless to say, we're majorly disappointed," said Thomas Kummerow, one of Yates' attorneys. He said the legal team will ask the court to reconsider. If that's denied – which it almost always is – Kummerow said they'll appeal to the U.S. Supreme Court.
Kummerow said Yates was informed of the decision shortly after the state court issued its opinion at 9 a.m.
The sole dissenter on the court was Justice Richard Sanders, who wrote that he "cannot uphold a death sentence resulting from a trial riddled with constitutional error."
Yates was convicted in 2002 of killing Melinda Mercer and Connie Ellis in Pierce County and sentenced to die. The case was on top of Yates' 2000 admission to Spokane prosecutor Steve Tucker that Yates had killed 13 other people around the state, 10 of them in Spokane County.
Much of Yates' appeal revolved around a controversial plea deal he made with Tucker in 2000. Tucker agreed not to seek the death penalty for those killings in exchange for Yates' confession and cooperation with police. In Spokane, the factory worker and former military helicopter pilot was sentenced to 408 years in prison.
Yates' attorneys, however, argued that he thought he was negotiating with Tucker for a deal on all his killings across the state. That's certainly what Tucker thought, at least initially.
No way, said then-Pierce County prosecutor John Ladenburg, who abruptly charged Yates. He maintains that he never gave Tucker permission to bargain over the Pierce County killings.
Regardless, the high court was unconvinced that Yates revealed anything damaging about Pierce County during the early negotiations in Spokane.
Yates' attorneys also argued that it's flatly unfair for Yates to get a death sentence for two killings in one county when he'd gotten life without parole in Spokane for more than six times as many victims.
"You look at 2 versus 13," Kummerow told the high court in November. "The same crimes … That's disproportionate on its face."
Kummerow also repeatedly cited the case of the Green River Killer, Gary Ridgway, who pleaded guilty in King County in 2003 to killing 48 women and girls.
"Both of them had minor criminal history, stable employment … Mr. Ridgway married three times, Mr. Yates married twice. They had children. And at some point they started killing prostitutes. And they killed a lot of them. But Ridgway: life without. Mr. Yates: death. You just cannot separate the two apart," Kummerow told the justices.
By that reasoning, Chief Justice Gerry Alexander said at the time, no murderer would merit execution in Washington until he killed at least 49 people.
That's not the way the law works, Owens wrote in Thursday's ruling.
"Ridgway's abhorrent killings, standing alone, do not render the death penalty unconstitutional or disproportionate," she wrote, quoting another recent ruling by the court. "Our law is not so fragile."
Yates' attorneys had challenged his conviction and sentence on many grounds, all rejected by the high court Thursday. Among them: that anti-death-penalty jurors were excluded, that the sentence ignored Yates' good qualities, and that a Pierce County prosecutor criticized the Spokane plea deal to jurors, asking "Is human life that cheap?"
Dissenting Justice Richard Sanders wrote that he was troubled by the exclusion of one anti-death-penalty juror. He also said that prosecutors failed to prove a link between the two Pierce County murders – a critical point because the death sentence required that the crimes be part of "a common plan or scheme."
It's been years since Yates stalked prostitutes – often as a client and sometimes as a killer – on the East Sprague Street corridor in Spokane. But his presence lingers.
"He changed this community in some pretty marked ways," said Lynn Everson, who runs the regional health district's needle-exchange program and does outreach work to prostitutes.
"He altered the lives of the women who survived … They're left wondering why he didn't kill them."
Many of those women oppose Yates' execution, Everson said, for reasons that have nothing to do with mercy.
"None of us wanted him to get the death penalty, because we didn't want him to have the luxury of an isolated cell," she said. "We wanted him in the (prison) population, where he'd be able to suffer some of the consequences. Many of the men in there had mothers or sisters or girlfriends who worked the street."
The case has been closely watched by both death-penalty foes and relatives of the victims. At her ranch near Centralia, Wash., Wednesday night, Mercer's mother, Karyl Bushell, said she didn't want to comment. But she let a reporter snap some photos of a small picture of her daughter at 23, a year before she was slain by Yates.
The photo shows a redheaded young woman in a white dress, grinning shyly at the camera.
Bushell also pointed to a tattoo she'd recently gotten on her leg.
"Melinda," it reads.
Local journalism is essential.
Give directly to The Spokesman-Review's Northwest Passages community forums series -- which helps to offset the costs of several reporter and editor positions at the newspaper -- by using the easy options below. Gifts processed in this system are not tax deductible, but are predominately used to help meet the local financial requirements needed to receive national matching-grant funds.
Subscribe to the Coronavirus newsletter
Get the day's latest Coronavirus news delivered to your inbox by subscribing to our newsletter.
---