News > Features
A plea for Arab-Israeli coexistence
Sat., April 5, 2008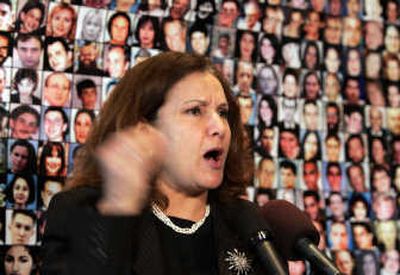 Nonie Darwish has every reason to hate Israel.
As an Egyptian woman born in 1948, she has lived through a lifetime of conflict with the Jewish state. Her father, once an important intelligence officer for the Egyptian army, was murdered in 1956 by the Israeli Defense Forces.
Yet Darwish doesn't hate Israel. If anything, she had disdain for the very people who want her to harbor such resentment.
And, she likely will say at a free lecture at 7:30 Monday night at Gonzaga University, only by confronting the sources of such hatred will peace ever come to the Middle East.
As Darwish says in a statement titled "Spirit of Tolerance" on the Arabs for Israel Web site ( www.arabsforisrael.com), "This is a plea to all the good and wise Muslims and their religious leaders and Imams around the world to bring out the best in Islam and start a reformation movement and the re-interpretation of the Koran in the spirit of tolerance and acceptance of our cousins the Jewish people and their rights to their land of Israel."
Darwish "is a woman who came forward after 9/11, and it really had a huge impact on her in terms of thinking that we need to find ways to look for possibilities for peace," says Jerri Shepard, director of the Gonzaga University Institute for Action Against Hate. "And if nothing else, her talk is a great opportunity for our college students to get into conversation about all this."
Darwish, the author of a book titled "Now They Call Me Infidel: Why I Renounced Jihad for America, Israel and the War on Terror," describes herself as "a moderate Arab voice." But that wasn't always the case, not given the way she was raised.
"As a child, I was not sure what a Jew was," she wrote in her book. "I had never seen one. All I knew was that they were monsters. They wanted to kill Arab children, some said, to drink their blood. I was told never, ever, to take candy or fruit from a stranger. It could be a Jew trying to poison me."
Her feelings grew only worse following her father's murder.
"I always blamed Israel for my father's death, because that's what I was taught," Darwish said in a 2007 interview on the Christian television network CBN. "I never looked at why Israel killed my father. They killed my father because the Fedayeen were killing Israelis. They killed my father because when I was growing up, we had to recite poetry pledging jihad against Israel."
She gradually came to see things in a new light. In particular, she began to believe that, at least when it came to Palestinians, the Arab countries of the Middle East were less interested in helping them then in destroying Israel.
"(They) chose to keep Palestinians as refugees and use their areas as staging grounds for continuing their attacks and terror against Israel," she wrote in "Now They Call Me Infidel."
A U.S. resident since 1978, Darwish has spoken out also on women's issues, particularly on the negative ways that women are treated by Islamic fundamentalists.
As such, Shepard says, "There may be some Muslim students who will be offended by what she has to say."
Yet, Shepard adds, "We're usually looking at the other end of it – the hate, the disgusting stuff that happens in terms of hate crimes and things like that. This, though, is an opportunity for college students and people in the community to talk about peace."
Local journalism is essential.
Give directly to The Spokesman-Review's Northwest Passages community forums series -- which helps to offset the costs of several reporter and editor positions at the newspaper -- by using the easy options below. Gifts processed in this system are not tax deductible, but are predominately used to help meet the local financial requirements needed to receive national matching-grant funds.
Subscribe now to get breaking news alerts in your email inbox
Get breaking news delivered to your inbox as it happens.
---