News > Features
Harless connects tales of strength
Sun., April 6, 2008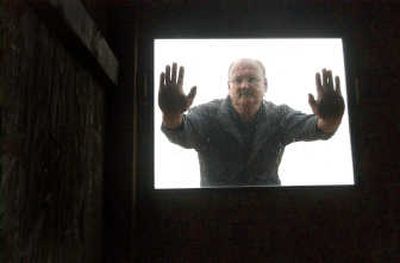 One thing that any therapist worth spit will tell you is that life is all about connections.
And what Nancy Leigh Harless is apt to tell you is that no connection is stronger than that of women attempting to support each other.
That, at least, is a message expressed in her book "Womankind: Connection & Wisdom Around the World" (Tate Publishing, 220 pages, $11.99 paper).
Harless, a graduate of the Intercollegiate Center for Nursing Education (through Eastern Washington University) who lives in Iowa, will present her book at several locations over the coming week, including two public readings (see the Reader Board at the end of this column).
In her book, Harless tells stories based on her experience working as a medical aide in such countries as Brazil, Kosovo and Jamaica.
"The women that I chose to write about had the common characteristics of strength and resiliency," Harless told the Iowa-based newspaper Waterloo-Cedar Falls Courier.
"You have to admire them. They are living such hard lives, but they rise above it. They don't seem to be pulled down by it."
Explore the 'Valley'
Historical fiction comes in all forms. The form that Cheney author John Soennichsen explores in his novel "The Valley of Shadows" involves the mid-19th century American experience.
The novel – which those with Internet access can read by going to www.spokesmanreview.com/blogs/shadow – follows the exploits of a Michigan teenager who, following the deaths of his parents, embarks in 1849 on a trek to California.
The first nine chapters already are posted online. We'll post Chapter 10 on Monday and each subsequent chapter over the next 40 weeks.
Feel free to log on and leave Soennichsen a comment.
Buy books, etc.
Books, DVDs and CDs will all be on sale during the annual Eastern Washington University Friends of the Library used-books and recordings sale, Friday and Saturday in the lobby of EWU's JFK Library on the Cheney campus.
The sale, which will feature hardback books and DVDs for $2, CDs and LPs for $1 and paperbacks and sheet music for 50 cents, is free and open to the public.
Sale times are 8 a.m.-5:30 p.m. Friday and 10 a.m.-5:30 p.m. Saturday. Call (509) 359-2264.
'Experience' poetry
Five local poets will read their works as part of the third Epoch Reading Experience, at 6:30 p.m. Tuesday at Spokane Community College's Hagan Foundation Center for the Humanities, 1810 N. Greene St.
The event is free and open to the public. Scheduled to read are Zachary Vineyard, Polly Buckingham, Richard Baldasty, Iris Gribble-Neal and Tom Davis.
Call (509) 533-7024 or (509) 533-3158.
•Another Spokane Poetry Slam will be held at 8 p.m. Thursday at the Empyrean Coffee House, 154 S. Madison St. Featured are Ryler Dustin and DJ J.A.H.
Poets interested in competing for prizes should sign up at 7. Call (509) 838-9819.
Unless otherwise noted, all events are free and open to the public.
Book talk
•Auntie's Morning Book Group ("Suite Francaise," by Irene Nemirovsky), 11 a.m. Tuesday, Auntie's Bookstore, Main and Washington. Call (509) 8383-0206.
•Auntie's Evening Book Group ("The Thirteenth Tale," by Diane Setterfield), 7 p.m. Tuesday, Auntie's Bookstore.
•North Spokane Library Book Discussion Group ("Captain Alatriste," by Arturo Pérez-Reverte), 7 p.m. Wednesday, North Spokane Library, 44 E. Hawthorne Road. Call (509) 893-8350.
•Literary Freedom Book Group ("The Optimist's Daughter," by Eudora Welty), 11 a.m. Saturday, Auntie's Bookstore.
•Renaissance Readers Book Group ("The Worst Hard Time: The Untold Story of Those Who Survived the Great American Dust Bowl," by Timothy Egan), 2 p.m. Saturday, Auntie's Bookstore.
•Auntie's Youth Book Group ("The Lightning Thief: Percy Jackson and the Olympians, Book 1," by Rick Riordan), 2 p.m. Saturday, Auntie's Bookstore.
The reader board
•Doris Woodward ("Harper Joy: Spokane's Man of Many Faces"), reading, 7:30 p.m. Wednesday, Auntie's Bookstore.
•Nancy Leigh Harless ("Womankind: Connection and Wisdom Around the World"), reading, 7 p.m. Tuesday, Lakeside Community Library, 6176 Highway 291, Nine Mile Falls. Call (509) 276-3329. Also: 7:30 p.m. Thursday, Auntie's Bookstore.
•Karen Anderson ("Hear All Creatures! The Journey of an Animal Communicator"), reading, 7:30 p.m. Friday, Auntie's Bookstore.
Local journalism is essential.
Give directly to The Spokesman-Review's Northwest Passages community forums series -- which helps to offset the costs of several reporter and editor positions at the newspaper -- by using the easy options below. Gifts processed in this system are not tax deductible, but are predominately used to help meet the local financial requirements needed to receive national matching-grant funds.
Subscribe now to get breaking news alerts in your email inbox
Get breaking news delivered to your inbox as it happens.
---