News > Nation/World
Young girls were required to have sex in temple
Thu., April 10, 2008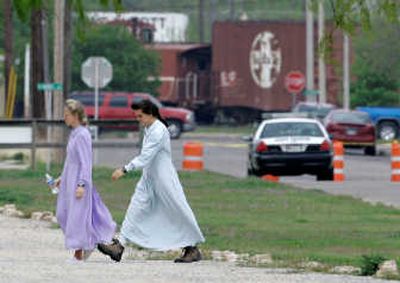 SAN ANGELO, Texas – Young teenage girls at a polygamist compound in West Texas were required to have sex in a soaring white temple after they were married in sect-recognized unions, according to court documents unsealed Wednesday.
The temple "contains an area where there is a bed where males over the age of 17 engage in sexual activity with female children under the age of 17," said an affidavit quoting a confidential informant who left the Fundamentalist Church of Jesus Christ of Latter Day Saints.
Agents found a bed in the temple with disturbed linens and what appeared to be a female hair, according to the affidavit signed by Texas Ranger Leslie Brooks Long. The Rangers are the state's investigative law enforcement arm.
The temple also contained multiple locked safes, vaults and desk drawers that authorities sought access to as they searched for records showing alleged marriages of underage girls as young as 12 or 13 to older men and births among the teens. The affidavit unsealed Wednesday mentions a 16-year-old girl who has four children.
Texas law prohibits polygamy and the marriage of girls under 16.
Also Wednesday, Texas Department of Public Safety troopers completed a weeklong search of the 1,700-acre grounds, said spokeswoman Tela Mange.
Gerry Goldstein, a San Antonio lawyer flanked by nine other attorneys the church hired, said the search of the temple is analogous to a law enforcement search of the Vatican or other holy places. The church lawyers described in documents three men being dragged from the temple as law enforcement sought entry for the search.
Troopers also arrested two men over the week and charged them with interfering with the search.
The search of the compound in Eldorado, 40 miles south of San Angelo, began last Thursday after a 16-year-old girl called a local family violence shelter to report her 50-year-old husband beat and raped her.
Since then, the state has taken legal custody of 416 children, who are being housed at two sites in San Angelo, about 200 miles west of San Antonio. Another 139 women voluntarily left the compound of the Fundamentalist Church of Jesus Christ of Latter Day Saints and were being housed with the children.
Local journalism is essential.
Give directly to The Spokesman-Review's Northwest Passages community forums series -- which helps to offset the costs of several reporter and editor positions at the newspaper -- by using the easy options below. Gifts processed in this system are not tax deductible, but are predominately used to help meet the local financial requirements needed to receive national matching-grant funds.
Subscribe now to get breaking news alerts in your email inbox
Get breaking news delivered to your inbox as it happens.
---