News > Features
Fire grenade may spark more trouble than it's worth
Fri., April 11, 2008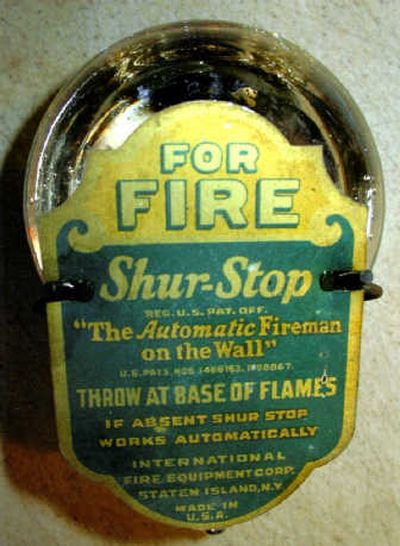 Dear Collector: Our grandparents had this fire extinguisher since the early 1900s. Could you supply any information about the value? It is in perfect condition and has the original fluid in it.
Often called fire grenades, due to their shape and application, these small, glass spheres filled with either water/brine, which reduces freezing, or carbon tetrachloride, a poisonous chemical now outlawed, often were a staple in 19th century households and businesses. They could either be thrown at the base of a fire or placed in a cradle of soft metal mounted on a wall, which upon melting dropped the grenade into the fire. Take warning: Yours appears to be the carbon tet variety, and unless you want to be visited by guys in hazmat suits, under no circumstances should you remove the contents, either accidentally or on purpose. Stored in a safe place and as long as the glass retains its integrity, your grenade should last for another century or two. Oh, its value is about $30 to $40.
Dear Collector: How much is a Brownie Target Six-16 camera worth?
Produced from 1946 to 1951, this small box camera sold for $4. Current value is between $8 and $10.
Dear Collector: Is a 1947 nickel worth anything?
Purchasing power of your coin when minted was enough to mail a letter and postcard. Try that with a nickel today. Unfortunately for you, your nickel is worth just 5 cents today, which means it has far less value than when new.
Dear Collector: This pitcher or ewer came down to my husband from his mother's family. I photographed the mark (could be "GK") as best I could. We don't think it's worth a king's ransom, but it is valuable to us. Could you at least tell us it is very old?
There are two German potters that may be responsible for this porcelain. Coincidentally, they operated during the first third of the 20th century. My bet would go on Graf & Krippner, located in Selb, Bavaria.
Dear Collector: Upon my uncle's death, my wife and I inherited his small collection of old medicine bottles. The one we're most interested in knowing about is a blue "Ayer's Hair Vigor."
A compound of cream of tartar, caustic soda, glycerin and lead acetate, this preparation claimed it could "prevent hair from becoming thin, faded, gray or wiry." As with most snake oils, it offered more than it gave. Your circa 1890 relic is moderately valuable for a quack medicine bottle at $30 to $40.
Dear Collector: Can you help us put a date to this small alarm clock? We think it's old but are not sure. What do you think?
According to the photos you submitted, the clock in question is a General Electric Blue Night model, made in the late 1930s. An attractive timepiece in contrasting materials, including polished chrome, silver and blue mirrored glass, this model sold more than 7,000 units during its production history. If still working, it's worth $100.
Local journalism is essential.
Give directly to The Spokesman-Review's Northwest Passages community forums series -- which helps to offset the costs of several reporter and editor positions at the newspaper -- by using the easy options below. Gifts processed in this system are not tax deductible, but are predominately used to help meet the local financial requirements needed to receive national matching-grant funds.
Subscribe to the Coronavirus newsletter
Get the day's latest Coronavirus news delivered to your inbox by subscribing to our newsletter.
---