News > Spokane
A designer bloom for Lilac City
Thu., April 24, 2008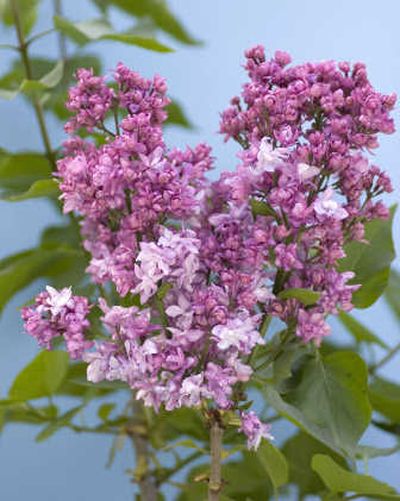 The "Spokane" lilac is being planted in city parks this spring as part of a multiyear effort to get it growing widely in the community.
A cultivar of the common lilac, Syringa vulgaris "Spokane," is known for its large trusses of fragrant double-blooms that change from mauve to pink, silver and finally apple-blossom white as they mature in mid-May – about the same time the city celebrates its annual Lilac Festival.
The introduction has been the project of the Spokane Lilac Society – which invested at least $3,000 along with hours of volunteer efforts after deciding in the late 1990s the Lilac City needed its own lilac.
"We felt like this would serve the city well," said Marva Lee Peterschick, secretary of the society.
The society donated the cultivar to city libraries and parks; 11 shrubs are being planted this spring across Spokane.
"One of our goals was to get it out there in the parks," Peterschick said.
The group also hopes to make the lilac available to churches.
The Spokane lilac traces its heritage to a hybridizer in California who offered the Lilac Society several seedlings as possibilities. In 2003, a seedling bloomed at Peterschick's farm that met the society's criteria for a Spokane lilac.
"It had to be very, very fragrant," she said. It also has fine characteristics such as pointed florets rather than rounded ones. Its dark green foliage is tipped with a burgundy bronze early in the season. They are known to be fast growers, eventually reaching a height of 10 to 12 feet.
To get a large number of the shrubs into production, the Lilac Society paid Briggs Nursery in Olympia to propagate 1,200 starts. The Spokane was registered as a cultivar at the end of 2003.
In 2005, gardeners descended on an Associated Garden Clubs sale and snapped up 700 of the shrubs when they first went public.
Nancy Goodspeed, spokeswoman for the city parks department, said the nickname "Lilac City" is attributed to Dr. S. E. Lambert, W.T. Triplett and John W. Duncan, who in the early 1930s encouraged a local garden club to plant lilac bushes throughout Spokane.
Local journalism is essential.
Give directly to The Spokesman-Review's Northwest Passages community forums series -- which helps to offset the costs of several reporter and editor positions at the newspaper -- by using the easy options below. Gifts processed in this system are not tax deductible, but are predominately used to help meet the local financial requirements needed to receive national matching-grant funds.
Subscribe now to get breaking news alerts in your email inbox
Get breaking news delivered to your inbox as it happens.
---