News > Business
BlueRay selling top two floors
Wed., April 30, 2008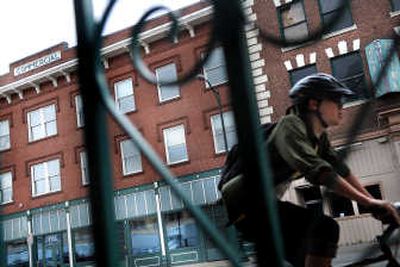 Less than a year after BlueRay Technologies Inc. displaced nearly 50 poor tenants from apartments on the top two floors of the downtown Commercial Building – sparking a lawsuit by former residents – the head of the company wants to sell that part of the structure.
Lawsuit-embattled BlueRay purchased the three-story building at 1119 W. First Ave. out of foreclosure last year through a related company, Pacific First West LLC. Citing security concerns about its basement-level clean room for manufacturing Blu-ray discs, it ousted formerly homeless tenants and a nonprofit mental health agency.
That prompted two former tenants to file a lawsuit claiming the company didn't give them a year's eviction notice as required by state and federal laws. They asked the court to force BlueRay to provide subsidized housing and award other damages.
BlueRay Technologies, whose CEO and president is Erick Hansen, has asked a federal judge to rule on parts of the lawsuit without a trial, arguing the former owner properly gave notice and BlueRay was not privy to a contract to provide subsidized housing.
Offered for $1.5 million, the floors could be executive office suites or apartments, said Mark McLees, a sales and leasing agent for NAI Black.
"The top two floors can be sold as office condominiums, or rented as part of the highest best use of the building," BlueRay attorney Steven Schneider said. "The listing agreement does not restrict the possible uses."
Nonprofit Northeast Washington Housing Solutions, which had administered federal subsidies at the Commercial, would be interested in using the floors for affordable housing, said Executive Director Steve Cervantes.
"There's just such a need for housing downtown," Cervantes said.
The tenants, assisted by nonprofit law firm Center for Justice, want similar housing created elsewhere, said center head Breean Beggs.
"It goes to show kind of our original point that they could have kept the tenants there for the year that was required under the law, because we're just about at a year now and they haven't started production; and they obviously don't need the floors where the tenants were living," Beggs said.
Building tenants were not evicted, were never without their housing subsidy and were allowed to stay in the building as long as necessary to find alternative housing, BlueRay claims in court documents.
"Without the federal contract the court cannot force HUD or the building owner to house federally subsidized tenants," Schneider said.
Pacific First West LLC's sole member is BlueRay Technology Shareholders LLC, a Nevada corporation owned byHansen, he states in recent court documents. "We are in the process of reorganizing the corporate structure to place the LLC (Pacific First West) interest" in BlueRay, Hansen says.
BlueRay also faces lawsuits in Spokane County Superior Court by a shareholder suing to make it turn over corporate records and by an electrical contractor that claims it wasn't paid for work in the building.
Local journalism is essential.
Give directly to The Spokesman-Review's Northwest Passages community forums series -- which helps to offset the costs of several reporter and editor positions at the newspaper -- by using the easy options below. Gifts processed in this system are not tax deductible, but are predominately used to help meet the local financial requirements needed to receive national matching-grant funds.
Subscribe to the Coronavirus newsletter
Get the day's latest Coronavirus news delivered to your inbox by subscribing to our newsletter.
---
Subscribe and log in to the Spokesman-Review to read and comment on this story