News > Features
Doggy bank worth a pretty penny
Fri., Aug. 1, 2008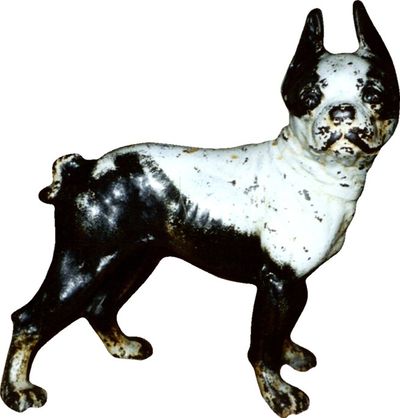 Dear Collector: This bank was given to my mother in the early 1900s. Please tell me about it and its worth.
Probably manufactured by Vindex Toys (a branch of the National Sewing Machine Co.) and modeled after the Boston bulldog or terrier, your canine coin container is currently worth close to $200, paint loss and all.
Dear Collector: I got this small plastic ring featuring Babe Ruth many years ago in a trade with another boy. I swapped one of my older brother's Boy Scout manuals for it. Did I get a deal?
Offered by Kellogg's as a premium in 1949, the year after Ruth died; your keepsake is worth at least $25. I'd say you probably hit a home run in the exchange.
Dear Collector: What do you think this McCoy wall pocket is worth? It's been in my family since it was new.
New would have been in the 1950s for this vase in the form of a Dutch shoe. Today's value is $30.
Dear Collector: I have had a 1958 nickel for years. I do not know how to rate it but it looks to be pretty good. What would you say it's worth?
As old coins go, that year is still relatively new. Whereas a nickel from 1928 could be worth $2, one from three decades later, such as yours, could be valued at only 15 cents.
Dear Collector: We've been trying to figure out who made the porcelain pin tray in these photos. If you cannot read the mark, it is "SDH" under a crown.
The backstamp, which you slightly scrambled, dates your item from 1861 to 1935. It belonged to Stevenson & Hancock of Derby, England.
Dear Collector: Please tell me if our old jack-in-the-box is worth anything. It works, although some of the paint has worn off.
Your 1965 Mattel Porky Pig pop-up toy has a listing of $45 to $80.
Dear Collector: My wife has a modest stamp collection that belonged to her father. Is a fee usually charged for an evaluation?
Most states require licensed appraisers to be bonded or insured, which then becomes a part of their overhead, along with the myriad of other costs of operating an office. Appraisers are in business, supporting their families, providing for government and sustaining the economy. So, the short answer is yes, there is a fee.
Dear Collection: You recently responded that a copy of Monopoly in mint condition would go for $1,000. I have a Monopoly Commemorative Edition that has been stored since purchased 10 to 12 years ago, which should qualify as mint condition. Do you agree, and if so, would you put me in touch with a buyer?
I agree that it's mint. But the operative word you overlooked is "commemorative," which implies that you game dates from 1985 and celebrates the 50th anniversary of Monopoly. Since it is post-1970, I won't comment on its value. Because of ethical and legal concerns, I can't put you in touch with a buyer.
Prices quoted reflect retail values, and as with many antiques and collectibles these values vary. Readers are encouraged to submit questions with photos to The Collector, P.O. Box 229, West Boxford, MA 01885-0229 or ask online at:
www.askthecollector.com
. Please don't ask help in buying or selling your items. Sorry, photos cannot be returned and will become the property of The Collector.
Local journalism is essential.
Give directly to The Spokesman-Review's Northwest Passages community forums series -- which helps to offset the costs of several reporter and editor positions at the newspaper -- by using the easy options below. Gifts processed in this system are not tax deductible, but are predominately used to help meet the local financial requirements needed to receive national matching-grant funds.
Subscribe now to get breaking news alerts in your email inbox
Get breaking news delivered to your inbox as it happens.
---