News > Features
New way to pray Rosary
Jingle writers CDs contain prayers, meditations set to modern music
Sat., Aug. 2, 2008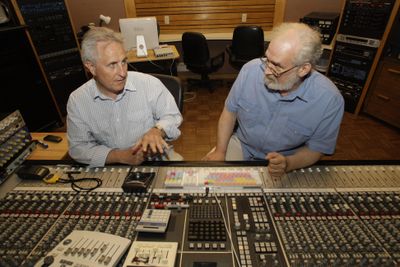 DETROIT – Madonna is on Jennifer Zablocki's iPod. So is "The Madonna."
The Detroit-area 12th-grade teacher works up a sweat to the pop diva's music as well as songs honoring Mary, the mother of Jesus.
Among the hundreds of popular and Top 40 selections Zablocki has downloaded are the Rosary Tapes, a collection of Roman Catholic prayers and meditations for the rosary set to contemporary music by a pair of jingle writers better known for helping Ford Motor Co. sell cars.
"I don't make it to church every week, so it's just kind of my way of keeping in touch with my faith," says Zablocki, a 25-year-old Catholic.
The Rosary Tapes have helped open the centuries-old tradition to other Christian denominations, according to former rock station disc jockey Bill Gildenstern and composer John Giaier, both devout Catholics.
The Michigan-based music consultants have released the fourth CD in the set and have seen more than 1 million free downloads of an earlier CD.
"It's not a Catholic prayer, it's a Christian prayer," Gildenstern says. "We all have our traditions, but the bottom line is we're Christians.
"I see the rosary not as something to, in any way, replace our Sunday worship together, but rather as a way to bring prayer into other areas of our lives where we may typically not pray, such as while driving or exercising."
People with few qualms about listening to something from a different denomination will have no trouble getting into the Rosary Tapes, Zablocki says.
"It's really nice-sounding music," she says. "It's not like preaching to you or anything like that. I don't think anybody would feel uncomfortable – if they weren't Catholic – listening to it."
The rosary is a series of prayers beginning with the Apostle's Creed, Lord's Prayer, three Hail Marys and one Gloria Patri, also known as "Glory Be to the Father."
Catholics believe that as the rosary is recited, it allows a person to see Jesus through Mary. A string of small rosary beads typically is used to count prayers.
Jesus' birth, baptism, crucifixion and resurrection are part of the 20 mysteries that make up the Joyful, Sorrowful, Glorious and Luminous mysteries in the rosary.
Gildenstern and Giaier, who helped compose "Have You Driven A Ford – Lately?" and have written thousands of other advertising jingles in a more than 30-year collaboration, added original lyrics, music, percussion, acoustic and electric guitars, organs, pianos and vocal harmony to the devotional prayers.
Gildenstern was motivated to create the Rosary Tapes to help recite the prayers while driving, but Giaier had to be sold on the project.
"I was selfishly thinking of how it would look in our industry as being religious fanatics," Giaier says. "I thought he was out of his mind. I wanted no part of it."
But Gildenstern took one of the mysteries, tapped out "Silent Night" on the piano and had his wife sing the traditional Christmas hymn while the rosary was recited.
The combination brought Giaier's wife to tears. "From that moment on I've felt drawn to do this," he says.
"Joyful Mysteries" was released in 1992, followed by "The Sorrowful Mysteries" and "The Glorious Mysteries" a year later. Free Internet downloads of the Joyful Mysteries started in 2001, and "The Mysteries of Light" was released last winter.
Outside of the free Internet downloads of the Joyful Mysteries, more than 40,000 sets of the Rosary Tapes have been sold. The four-CD set costs $39.95 online ( www.rosarytapes.com).
The tapes have renewed Cleo LaVoie's eagerness to pray the rosary.
"For a while, the rosary just went away," says the 82-year-old, who lives about 50 miles north of Duluth, Minn. "When you say the rosary at church, it's kind of dry.
"I love the tapes. The music kind of inspires you."
Local journalism is essential.
Give directly to The Spokesman-Review's Northwest Passages community forums series -- which helps to offset the costs of several reporter and editor positions at the newspaper -- by using the easy options below. Gifts processed in this system are not tax deductible, but are predominately used to help meet the local financial requirements needed to receive national matching-grant funds.
Subscribe to the Coronavirus newsletter
Get the day's latest Coronavirus news delivered to your inbox by subscribing to our newsletter.
---