Owners, dealers struggle to move gas-guzzlers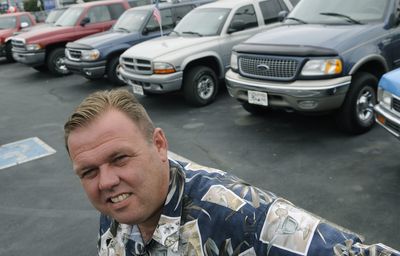 Eight years ago Jon Burke bought a new Chevy Suburban for $40,600.
He estimates that even with after-market upgrades, the sport utility vehicle is worth around $10,000 retail. Even with the sting of inflated gas prices, "There's no way in the world I'm getting rid of that car for what it's worth in today's market," he said.
But as an owner of the Spokane Valley used-car dealership 3 Fat Guys Car & Truck Sales, Burke is well-versed in the changing market for used trucks and SUVs.
"People driving crew-cab diesels to work, those days are over," he said.
Values of gas-guzzling big rigs have plunged over the past several months, dealers say. It's taking some owners longer to sell, and dealers want fewer of the vehicles on their lots.
Meanwhile, consumers looking to trade for or buy more fuel-efficient cars could pay a premium with a gallon of gas averaging more than $4 and diesel near $5 in Spokane last week.
Dealers say prices may have hit bottom, and they foresee a continued market for large vehicles as winter hits. But experts caution would-be sellers to do the math, considering car payments, fuel prices and how much they drive, before putting up for-sale signs. Buying a heavily discounted new or used truck, or hanging on to a gas guzzler but changing driving habits, could be the best option.
"We knew it would be difficult to sell right now because of the diesel prices," said Post Falls resident Verna Hamner, who is trying to sell a 2003 Dodge Ram because of her husband's health.
The couple already sold a 27-foot travel trailer, but not the truck, which they are offering at $26,000. It gets 11 miles per gallon in the city, 15 on the highway. "We're not going to give it away. It will sell eventually, but it's going to take us a while," said Hamner, 76.
"The general consensus of the industry right now is we're really probably bottoming out on the value of the pricing of vehicles," said Kent Votaw, co-owner of Go Green Electric Cars in Post Falls. "You can kind of throw the book out the door on the whole car market."
Car price guide Kelley Blue Book says used large SUVs like Suburbans and Ford Excursions have depreciated about 24 percent – an average of $5,600 – over the past year. It would typically take 18 to 24 months for vehicles to decline that much, said Juan Flores, Kelley's manager of market valuation.
Full-size trucks will have lost about 21 percent, or $3,700, Flores said.
"While it might be tempting to trade in your big SUV after spending $100 to fill the tank," Flores said, "it's important you take everything into consideration … or you may end up spending thousands to save hundreds."
Compact cars, meanwhile, last month were worth an average of 10 percent more than they were a year ago, said Tom Kontos, chief economist for Indiana-based Adesa Inc., which operates 60 North American dealer auctions.
Even as some people trade in their gas guzzlers for more economical cars or buy second vehicles, most truck and SUV owners interviewed by The Spokesman-Review said they wanted to sell for reasons other than mounting fuel bills.
That applies to Newport resident Gary Merrill, who has advertised his 2004 Ford F150 truck for about six weeks. He dropped his asking price to $18,700 and threw in a $500 gas card.
"The only problem I have is nobody wants the thing," said Merrill, 48. "Probably (because of) gas prices. That really has to be the only reason."
Yet fuel prices haven't dissuaded Merrill, who wants to upgrade to a larger four-door truck as the sole vehicle for his family of four. "It takes an adjustment in the budget we do, but driving around's a necessity so you make the appropriate adjustments," he said. "You can't quit driving."
If people do keep their large vehicles, said Votaw, of Go Green Electric Cars, "they need to start looking at ways to conserve," such as driving slower or investigating hybrid conversions.
And, notes Paul Taylor, chief economist for the National Automobile Dealers Association, if gasoline prices fall, SUV values are likely to rebound, as they have in the past. Changing trends have prompted dealers to adjust the mix of vehicles they stock. Dishman Dodge in Spokane carries 15 to 20 percent fewer trucks, said Mark Waltermire, general manager.
At Wendle Auto Group in North Spokane, "We obviously are trying to put more higher-fuel economy vehicles on the lot, both new and used," said Shayne Goff, general manager. "The manufacturers are throwing such great consumer incentives out there that it has made sense for somebody to buy a new gas guzzler or full-size vehicle with rebates."
Dodge, for example, offers a $10,000 rebate on new Rams, Waltermire said. "You can pay for a lot of gas with $10,000," he said.
An overall slowdown in used car sales could be at work, but "I don't think we've seen it as bad as some parts of the country," Waltermire said. "There's a lot of guys out there who will just drive a truck or just need a truck for what they do."
Safety was the reason 56-year-old Patricia Mello bought a 2006 Lincoln Navigator, and now she's trying to sell it for $24,000. Mello was disabled in a head-on accident five years ago and said medical bills have forced her to sell, at least for now.
"To me, safety and my life is worth a lot more," she said. "I intend certainly to buy one again."
Reach Parker Howell at (509) 459-5491 or
parkerh@spokesman.com
. The Associated Press contributed to this report.
---