News > Voices
Artists bring angels into the world
Thu., Dec. 4, 2008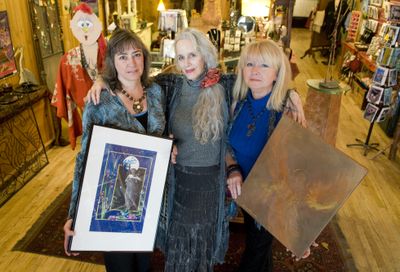 It is a universal design, portrayed in hundreds of ways but easily recognizable; the outline of a wing and the hint of a halo in any language are translated into angel, an ethereal being known for all that is right in the world.
"It's a representation of pure energy," said artist Ellen Blaschke. She, along with artist Sandy Roistacher, will exhibit her angel paintings through December at the Artist's Tree Gallery, 828 W. Sprague Ave., in downtown Spokane.
Blaschke was raised in South America, where her parents were missionaries. About 40 years ago, she moved to the Spokane area and became a hairstylist. She began painting when her kids went to college, mastering her own style, focusing on mountains, the Palouse, tepees and powwows, and vibrant abstracts, all containing airy and somehow heavenly qualities that foreshadowed her current subject matters.
Four years ago, Blaschke was commissioned by Christ's Kitchen to paint a piece for a benefit. She was asked to paint an angel. She told them that she didn't do angels but she did one anyway. "It just came," she said, "After that they just started flying off the canvasses."
She lays a flat acrylic color onto the canvas and then dips her brushes into metallic colors, letting her hand instinctually be guided until shapes form into a large single entity or a handful of smaller ones frolicking and floating. Simple yet filled with movement, her paintings give off a peaceful yet effervescent energy.
In juxtapose to Blaschke's work, Roistacher will exhibit her celestial art prints, a series of 18 images that feature angels, goddesses, women, flowers, stars and moons. She mixed parts of 19th-century woodcuts and copper plate (intaglio) engravings with her original designs in a host of mediums.
The series was created for a friend of Roistacher's, who was recovering at Harborview Burn Center in Seattle. "It was sort of a healing exercise, each piece progressing as she did. The pieces are very personal." Roistacher is only selling them as prints.
Roistacher specializes in contemporary ceramics that she calls touchstones due to the simple fact that her pieces scream to be touched from the smooth to the organic looking surfaces created by pressing leaves, flowers, vintage buttons and textiles into the clay. Using the wheel or her hands, Roistacher forms her pieces into functional sculptures that include lamps and bowls. She also creates wall hangings and unique vessels.
After receiving degrees from San Diego State University, Metropolitan State College in Denver, and the University of Colorado, Roistacher went on to hold creative positions in many arenas.
Both artists have shown their work throughout the Spokane area. Blaschke dedicated a permanent piece to Hospice's new facilities in memory of her mother and Roistacher is represented at Artisans' Wares Gallery and Revival Lighting.
Both artists hope that their work will be a blessing to others. "My goal is simply to bless people with my angels," said Blaschke while Roistacher hopes to "create art that gives tranquility to others in our tumultuous and chaotic world. I always inscribe the word 'peace' hidden within each piece and believe that art can and will change the world."
The Verve is a weekly feature celebrating the arts. If you know an artist, dancer, actor, musician, photographer, band or singer, contact correspondent Jennifer LaRue by e-mail
jlarue99@hotmail.com
Local journalism is essential.
Give directly to The Spokesman-Review's Northwest Passages community forums series -- which helps to offset the costs of several reporter and editor positions at the newspaper -- by using the easy options below. Gifts processed in this system are not tax deductible, but are predominately used to help meet the local financial requirements needed to receive national matching-grant funds.
Subscribe to the Coronavirus newsletter
Get the day's latest Coronavirus news delivered to your inbox by subscribing to our newsletter.
---