News > Spokane
Navy hero's solitary path puzzles many
Hawaiian 'hanai' family claims recluse's remains
Sun., Dec. 7, 2008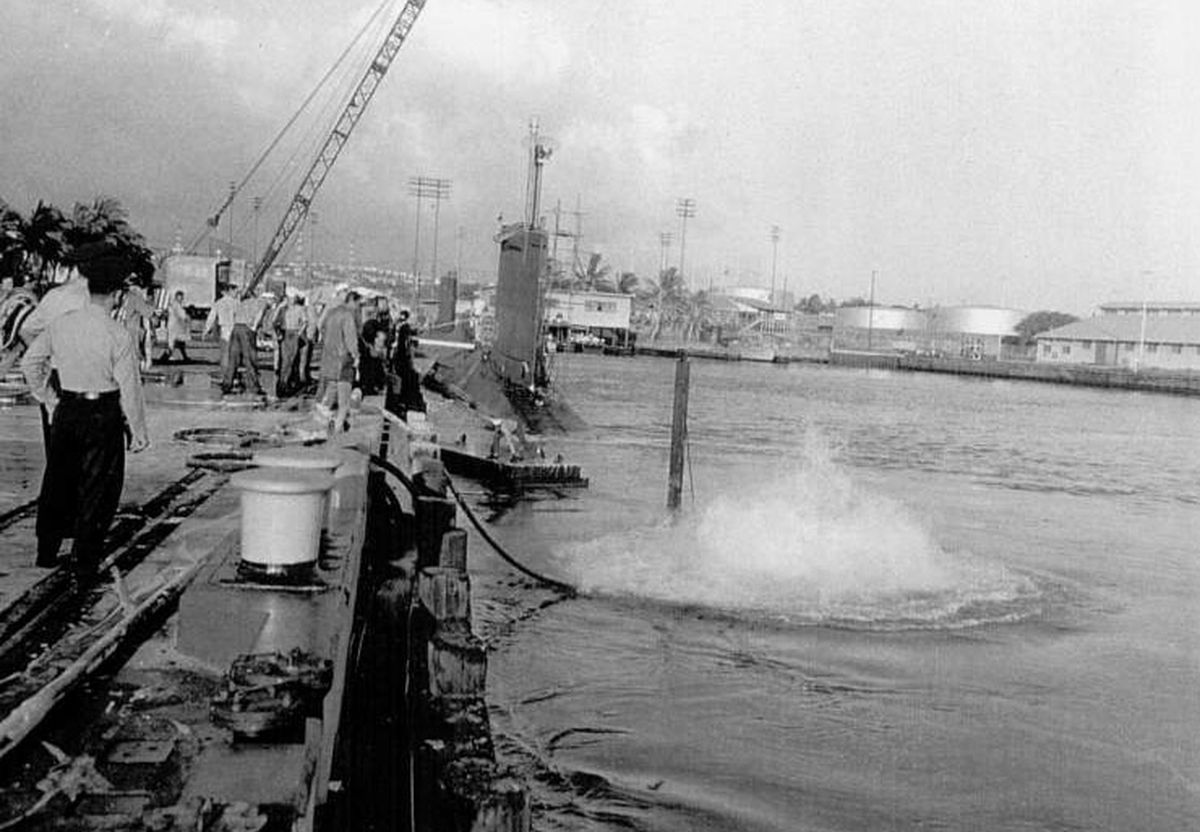 On June 14, 1960, a rupture in the charging hose caused a violent fire and torpedo explosions in the stern room of the USS Sargo. The oxygen-fueled fire was so intense that part of the ship had to be submerged, with the hatches open, to extinguish it. Courtesy of Rufus Reeves (Courtesy of Rufus Reeves / The Spokesman-Review)
The intellectual recluse fatally overcome by smoke last month in his book-and-cardboard-stuffed rental garage in Hillyard was an American hero, but few knew it.
John Yoshikawa Kuapahi, believed to be the first Asian-American assigned duty aboard a nuclear submarine, was awarded a U.S. Navy commendation for averting a "major disaster" when fire struck the USS Sargo on June 14, 1960, while it was docked in Hawaii.
He had been aboard the same sub four months earlier when it became the third U.S. nuclear submarine to pass under the North Pole and the first to do so in wintertime – spending 31 days submerged.
His heroic effort fighting the fire – the first involving a U.S. nuclear-powered sub – occurred at Navy Dock 516 in Pearl Harbor – within eyesight of the U.S.S. Arizona, sunk during the Japanese attack 67 years ago today.
Kuapahi and three other sailors were cited for "risking their own lives" and displaying "heroic efforts" in fighting the fire and helping avert what an inquiry board described as a "major catastrophe" aboard the nuclear sub.
"He played a key role in saving that submarine," said the sub's former commander, John H. "Nick" Nicholson, an 84-year-old retired vice admiral who lives in La Jolla, Calif.
Surprising details about Kuapahi's hidden life have been uncovered as news of his death spreads following the tragedy 18 days ago.
In 1961, Kuapahi got out of the Navy, resumed using the name Yoshikawa, and dropped out of sight – severing contacts with his military buddies and the foster "hanai" family who lived next door and raised him after his widowed mother died when he was 10. He graduated with honors from a Roman Catholic all-boys school.
He moved to Spokane 24 years ago, becoming a close friend of the owners of the Suki Yaki Inn, which became his new home port.
His only other known contacts were bookstore clerks, bus drivers and a favorite supermarket clerk in Airway Heights. They knew him only as John.
His decision to follow a solitary path haunted him, but he wanted to live in obscurity, according to a letter he wrote in 2005.
"I feel certain that Mother and Daddy are both dead," Yoshikawa wrote with perfect penmanship in the letter hand-delivered by a friend to his foster brother, Alex Ho, in Hawaii. Ho's parents raised their daughters and the two boys.
"That I was not there during their last days is a sense of guilt that I will carry as long as I live," Yoshikawa wrote. "To Mother and Daddy I have owed a debt of gratitude I can never repay."
Some people say they heard Yoshikawa attended the University of Southern California and later taught at the university-level in the Midwest. Others say he was emotionally affected by the assassination of President Kennedy in 1963 and was active in the 1968 presidential campaign of Robert Kennedy before he, too, was assassinated.
But confirming those details is as elusive as the man's life.
What can be confirmed is he turned up in Spokane by August 1984, renting a post office box in Airway Heights and living in a trailer on Campbell Road, not far from Fairchild Air Force Base.
He befriended Van "Harry" Omine, the late owner of Suki Yaki in downtown Spokane, and began showing up daily, doing chores in the restaurant's basement in exchange for a bowl of rice or noodles.
Given a basement storage closet by its new owner, Emiko Collett, he packed it full of his books – mostly dealing with science, math, physics and engineering.
He walked extensively, used buses and was a regular at every used bookstore in town.
'Plain friendly'
Bill Folger, the 86-year-old retired owner of the former Spokane Book Center, said Yoshikawa would walk to the store at least once a week and buy an armload of used books – always nonfiction, "the more technical, the better." Folger owned the bookstore at 626 N. Monroe St. from the mid-1980s until it closed in 2004.
"His face would always light up when he walked in and saw me," the retired businessman said. "He was just plain friendly, but at the same time his private life was his. Period."
Folger wanted to give his regular customer a 10 percent discount because "he wouldn't tell me where he worked, and I was concerned about whether he could afford to pay me 100 bucks. He'd add up the prices in his head and wouldn't let me give him the discount."
Folger, who served in the Navy in World War II, was surprised last week when told that one of his best customers also was a Navy veteran and hero.
"He knew I was in the Navy but never said a word about himself," Folger said. "Not a word. Damn. It's beyond me how anybody could be that private.
"I was naturally curious about his background, but he would never tell me. He simply did not want to talk about his past, his family, where he was from, where he lived. But we talked about everything else under the sun, just none of the gossip stuff about other people.
"I thought he was reticent enough that he may have fought for the Japanese," Folger said. "Not that it mattered to me for one minute. He was a wonderful, friendly man, and I thought a lot of him."
By the mid-1990s, Yoshikawa had rented a storage unit – essentially a large, single-car garage – in the former Empire Auto Body Shop on East Gordon in Hillyard.
He packed the place full of cardboard boxes and books, and turned it into his secret home. He used submarine-like tunnels to get from one cardboard cavity to another – surrounded by the books he loved to collect.
The 76-year-old died from smoke inhalation, apparently while sleeping, after a fire broke out in an adjoining unit on Nov. 19.
The Spokane County medical examiner's staff spent a week in an unsuccessful search for next-of-kin.
Alex Ho and his wife, Barbara, contacted The Spokesman-Review after a Nov. 23 story about Yoshikawa, saying they were his "hanai family"; they wanted to claim his body and make funeral arrangements. After initially balking, the medical examiner's office released Yoshikawa's body to the Hos last week.
A memorial service for him will be held at 6:30 p.m. Thursday evening at Community Bible Chapel, 3506 W. Princeton Ave.
The final farewell was organized by Theresa Troyer, a Spokane Transit Authority driver. She met Yoshikawa in 2001 when he showed up at her home as a hospice volunteer when her husband was dying.
He also did hospice volunteer work for other Spokane families.
71 cents in his pockets
At the time of his death, Yoshikawa had 71 cents in his pockets. According to the Hos, the medical examiner also recovered a wallet, a set of keys, pieces of papers with some names, a business card, torn corners from currency and a Washington driver's license that expired in 1999.
It was about that time that he had a chance encounter at the Japanese restaurant with Mike Young, a childhood friend who lives in Honolulu. A University of Idaho graduate who makes annual visits to the Northwest, Young stopped in at Suki Yaki and called Yoshikawa by his childhood nickname, "Jumbo."
After refusing to confirm his identity to Young for several years, Yoshikawa admitted in the fall of 2005 that he was, indeed, "Jumbo." With a smile he called his childhood friend "Mikey" and asked him to deliver the letter to the surviving children of the Ho family.
"He knew who I was all that time, but he never revealed who he was until 2005," Young said.
"This was by design," Young added. "Here's a guy who disappears for 40 years or more. He's not a hobo, just a drifter, and a very intelligent man."
Alex and Barbara Ho still live in the family home on Auwaiolimu Street in what they describe as the old Hawaiian section of Honolulu.
They were stunned when they got the letter from the brother they hadn't heard from for almost 50 years.
"We wondered all these years where he was and how he was doing," Alex Ho said.
"This letter is written to you in confidence," Yoshikawa wrote. "No mention that I have written to you should be made to anyone else."
"You are all living happy lives and that is all I want," the letter continued. "I don't want to do anything that will disrupt that happiness."
"I wish you all well," the letter ended, signed "Jumbo."
"Our kids remember him as Uncle Jumbo," Alex Ho said. "Our daughter said, 'Bring him home,' and that's what we're going to do."
Ho said he knew his foster brother joined the Navy in 1952 and was discharged in 1961, but had no idea he was a hero in the 1960 submarine fire.
The fire started when an oxygen supply line on the dock malfunctioned, quickly and dangerously spreading to the torpedo room of the moored submarine. Kuapahi – as he was known at the time – was at his duty station as the ship's nuclear operator in the adjoining engine room.
He and Nicholson, the submarine's commander, and a handful of other sailors sealed off compartments and sank the stern of the submarine to put out the fire.
As the fire burned and destroyed wire leading through the bulkhead to the nuclear operator's controls, Kuapahi frantically plugged the holes as the fiery stern filled with water, Nicholson said.
When a crane later lifted the 2,580-ton submarine out of the water, Navy personnel discovered that heat from the oxygen-fueled fire had "cooked off" two conventional warheads on two torpedoes. The heat also warped the sub's stern hull and damaged its shaft and the bulkhead between the torpedo room and engine room.
The submarine's First Class Petty Officer, Frank A. Munroe III, who now lives in Olalla, Wash., described Kuapahi as a loner, but said he was "a terrific reactor operator – the best I ever saw for paying attention to detail.
"The reactor operator is the key guy to the safety of a nuclear submarine," Munroe said.
The submarine was repaired in Pearl Harbor and returned to fleet duty 60 days later, embarking on a still-classified assignment, Nicholson said.
When he learned last week what had happened to the man he recommended for commendation, Nicholson was saddened.
"It was unbelievable," the retired vice admiral said. "He was really a very bright, dedicated petty officer. They don't come much higher trained.
"It makes you feel so sad," Nicholson said. "He deserved a better life after the heroic job he did."
Yoshikawa's cremated remains – packed in an 8-by-6-by-11-inch cardboard box – will be returned this week to Hawaii for inurnment at the National Cemetery of the Pacific at Punch Bowl.
Alex Ho says there will be a small memorial service – a farewell Hawaiians call "ho'olewa."
He hopes to find an Old Salt to utter those final eternal patrol words for Navy vets who have passed on: "Sailor, rest your oar."
Local journalism is essential.
Give directly to The Spokesman-Review's Northwest Passages community forums series -- which helps to offset the costs of several reporter and editor positions at the newspaper -- by using the easy options below. Gifts processed in this system are not tax deductible, but are predominately used to help meet the local financial requirements needed to receive national matching-grant funds.
Subscribe now to get breaking news alerts in your email inbox
Get breaking news delivered to your inbox as it happens.
---