Sports > Gonzaga basketball
Rochestie calls out the shots
Cougars' normally accurate playmaker looks for touch
Wed., Dec. 10, 2008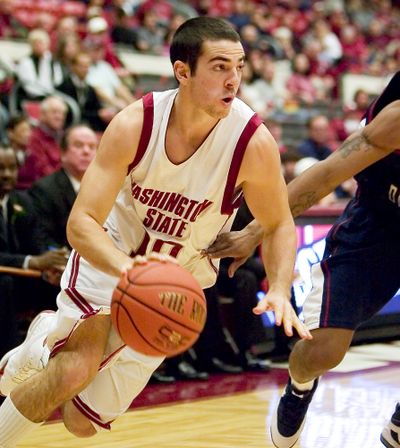 PULLMAN – Taylor Rochestie was nearly finished with a lengthy interview.
But there was one more elephant in the room that had yet to be discussed, so Washington State's senior point guard didn't wait for it to run him over. He grabbed it by the tusks.
"As far as myself, personally, and the shooting," he said, unprompted, "it's getting to the point where I'm not really worried about the shooting. I would love to be making the shots as opposed to missing them, (but) it's more I'm trying to help the team, and you can't help the team when you're shooting at the percentage I'm shooting taking the shots I'm taking."
There it was.
Going into the Cougars' second game in two weeks against the No. 4 team in the nation – tonight it's Gonzaga, WSU's neighbor from 80 miles to the north – Rochestie called himself out for his 34.7 percent shooting this season (35.5 from beyond the arc), which includes a 3-of-14 effort in last Saturday's 58-52 home loss to then-No. 24 Baylor. For his Cougars career, Rochestie is a 44.3 percent shooter, 41.2 percent from long range.
"I'm getting the shots I want," Rochestie said. "I feel confident shooting the shots. I'm not mentally down about any of that. I'm just so anxious to help the team more. Whether that's passing or shooting, I'm just trying to do what I can.
"When you care about the team so much and trying to win and trying to do what's right for the team, you can get frustrated at the end of the game (knowing) you're not helping with all the misses that build up."
The Cougars' offense has struggled in its two tests, against then-No. 4 Pitt (a 57-43 loss) and Baylor. Rochestie, who shot 2 of 9 with eight turnovers against the Panthers, is willing to grab the lion's share of the blame.
"I think I'm trying to figure out a little less who I am but a little more on how we can win the big games," he said. "We've had two games that have been close. I mean, two games against teams who are ranked. We haven't found a way to win.
"My role is to try to make the team as mistake-free as possible."
But that's not his entire role. Though Rochestie considers himself a pass-first point guard – "a lot of the shots I'm getting, 50 percent of them, are coming at the end of the shot clock," he said – he knows he has to score for WSU's offense to click.
"Like I said, I've been getting a lot of the shots I want, it's just a matter of knocking them down," he said. "It just comes down to I've got to put the ball in the basket. Enough said."
Gonzaga coach Mark Few, who watched as Rochestie helped the Cougars to a 51-47 win at GU's McCarthey Athletic Center last season, understands the 6-foot-1 left-hander has been the guy knocking down the big shots for two years now.
"He's as good a point guard probably as there is out West. He runs his team, he leads his team," Few said. "He's not only a floor general, but he can make you pay with big baskets. He made big basket after big basket last year when (Derrick) Low and (Kyle) Weaver were supposedly the guys. He made a lot of big baskets for them, not just in our game, but afterward.
"He's tough. He epitomizes what their program is all about."
WSU coach Tony Bennett knows that as well.
"I don't care how good your offense is, you're still going to come down to situations in games where you have to make some plays," Bennett said. "And certainly Taylor's our guy to do that. … Maybe it's not always making the shot, but making the play that leads to the next open shot."
That's been hard for Rochestie this year, with the unranked Cougars (6-2) losing Weaver, Low and Robbie Cowgill off last year's 26-9 team and replacing them with freshmen such as Klay Thompson, DeAngelo Casto and Marcus Capers.
"With the team last year, we played for a couple years together," said Rochestie, who led with 165 assists while shooting 46.5 percent from the floor. "It was less about the talent and more about we had a lot of experience together. We're getting there. It takes the games like Pitt, it takes the games like Baylor, to learn from our mistakes."
There won't be room for many mistakes tonight.
"If you watch them on TV, if you read anything about them, you hear about the high-octane offense," Rochestie said of the 6-0 Zags. "It's going to be a clash of styles, similar to last year. They've got a real great offense with a lot of weapons that can score from basically every angle, outside, inside.
"They don't really seem to have a weakness."
His counterpart, GU senior point guard Jeremy Pargo, will be a challenge, especially after suffering through a 3-of-11 shooting night last year against WSU.
"Their offense is fast, especially Pargo," Rochestie said. "He's one of the best in the country taking it end-to-end."
Pargo runs an offense that is 32nd in the nation in scoring, averaging 80 points per game.
"Our defense only works if we get them stopped and we can get set," Rochestie said. "They get moving, they get in streaks and we need to be able to slow them down all game. We can't have them getting easy baskets because they're a good enough team scoring as it is.
"If we start giving them easy baskets, it's not going to give us a chance."
Rochestie will probably have to make shots.
"I feel confident shooting the ball, so it just comes to a point where I have to just stop talking about it and put it in," he said.
Notes
Though Gonzaga's offense gets most of the ink, the Bulldogs have stepped it up on defense this season. WSU leads the nation in field-goal percentage defense at 31.7 percent, but GU is not far behind, ranked fifth at 34.4 percent, playing one of the tougher non-conference schedules in the nation. … Against Gonzaga last season, the Cougars shot 43.8 percent from the floor and held GU to 25.9 percent shooting. WSU outrebounded the Zags 43-30. … Rochestie had eight points and four assists in that game, but also six turnovers. … Bennett feels Gonzaga has one of the better offensive teams he's seen in a while. "We're playing one of the finest offensive teams in the country," Bennett said. "They can score in a bunch of different ways." … The Zags' firepower, Bennett feels, will test his team's defense like no one else WSU's played. "Whenever you play against a team that can put five guys on the floor who can all score, it puts a lot of strain on your defense," he said. "They almost always do that." … Few has his own concerns. "It's going to be challenges on all kinds of fronts," he said. "It's a road game, tough environment, very well-coached team that plays a very slow, deliberate style, which isn't the way we normally play. … We've got to understand we're going to play in the 50s." … The Cougars, according to Few, are "great on the defensive end and very patient and opportunistic on the offensive end." … WSU center Aron Baynes, who was recruited by Gonzaga, earned Few's praise. "They have probably one of the best low-post players out West, if not the best," Few said.
Local journalism is essential.
Give directly to The Spokesman-Review's Northwest Passages community forums series -- which helps to offset the costs of several reporter and editor positions at the newspaper -- by using the easy options below. Gifts processed in this system are not tax deductible, but are predominately used to help meet the local financial requirements needed to receive national matching-grant funds.
Follow along with the Zags
Subscribe to our Gonzaga Basketball newsletter to stay up with the latest news.
---
Subscribe and log in to the Spokesman-Review to read and comment on this story