News > Spokane
Large nose leads the way to a small world
Thu., Dec. 11, 2008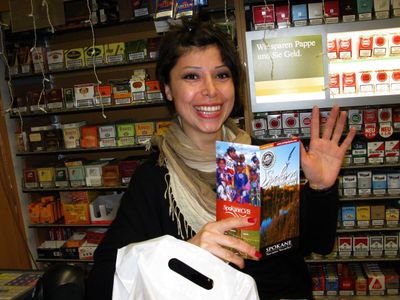 COLOGNE, Germany – It's a weird, wacky world out here on the global vaudeville circuit.
During my tag-along trips with Charlie Schmidt, Spokane's Lord of the Nose Dance, I've encountered oddballs galore, such as …
A one-armed archer who shot apples off her husband's head; a handcuffed guy who tumbled around the soapy insides of a running industrial washing machine; and a man dressed only in a Speedo who shared a glass coffin with dozens of ticked-off crabs.
Add to this the ventriloquists, the magicians, the jugglers and one master of the shadow hand puppet art.
And here in Cologne I met Amy Gordon, a Seattle native who has taken kazoo playing where kazoo playing has never gone before.
What a crazy coincidence to bump elbows with another Washingtonian way out here in Germany's Rhineland.
And a naughty, kazoo-playing Washingtonian at that.
Gordon, 34, told me she has performed her act many times since earning a theater arts degree from Western Washington University.
Unfortunately, the laws of newsprint decency prevent me from being too graphic about where Gordon pretends to put her, ahem, kazoos.
She's fully clothed, mind you. This is all about the theater of the mind and innuendo.
Let's just say that the tall and leggy brunette somehow performs "America the Beautiful" – in three-part harmony.
Real estate isn't the only profession where location is everything.
Gordon's semi-bawdy act got the Germans guffawing in disbelief during the final taping of the "World of Comedy" show in a TV studio outside Cologne. German television has waaay less trouble with censors than our red, white and prude broadcasters.
Charlie knocked them dead, too. As always, he put his sizable nose to sheet of glass and delivered a moving performance set to a Tom Jones classic.
Why this guy hasn't landed a commercial for Afrin or Dristan or Kleenex is beyond me.
And so now our journey to Germany is nearing an end.
All that is left is to get this column filed before morning, when we must catch a plane and say "auf Wiedersehen" to this lovely, historic and appealing country.
I'll miss many things about Cologne.
The beer, for example. Cologne has its own municipal brew called Kolsch. This amazingly light and dry beverage is specifically designed to help the bratwurst go down.
Alas, I must report mixed results in my mission on behalf of our Convention & Visitors Bureau. As I mentioned previously, the CVB's Pam Scott gave me a load of Spokane propaganda to spread to the Germans.
And like a good soldier I filled a pamphlet rack at the Cologne Hilton with Spokane brochures.
Unfortunately, I passed the rack a few hours later to discover that some killjoy (hotel staff, I'm guessing) had taken them all away.
I also left Spokane pamphlets and souvenir pins all around Cologne. I gave a few to Barfen Parlak, who was working the counter at the Kiosk convenience store.
Parlak was such a good sport. She posed for a photograph even though she honestly didn't know Spokane from Spokan't.
I had to scrub my plan to win Düsseldorf as our new sister city. Our only time in Düsseldorf was at the airport, coming and going.
Perhaps next time I can shoot for a closer and more gullible Bavarian-style burg to hoodwink.
Leavenworth, say.
Visiting Cologne was such a great change of pace. On Tuesday Charlie and I spent several hours rummaging through the Christmas wares in several holiday markets.
And I must say, the people here are very friendly and open.
I mean really open.
Take the cute young couple who walked arm in arm on a sidewalk near the Dom.
"And we shall not have sex until one o'clock in the morning," she announced loudly to her companion as they passed by.
No doubt about it. It's good to have a goal.
So go put that in your kazoo and toot it.
Doug Clark is a columnist for The Spokesman-Review. He can be reached at (509) 459-5432 or
dougc@spokesman.com
.
Local journalism is essential.
Give directly to The Spokesman-Review's Northwest Passages community forums series -- which helps to offset the costs of several reporter and editor positions at the newspaper -- by using the easy options below. Gifts processed in this system are not tax deductible, but are predominately used to help meet the local financial requirements needed to receive national matching-grant funds.
Subscribe to the Coronavirus newsletter
Get the day's latest Coronavirus news delivered to your inbox by subscribing to our newsletter.
---
Subscribe and log in to the Spokesman-Review to read and comment on this story