News > Features
Ledger's The Joker strengthens 'Knight'
Fri., Dec. 12, 2008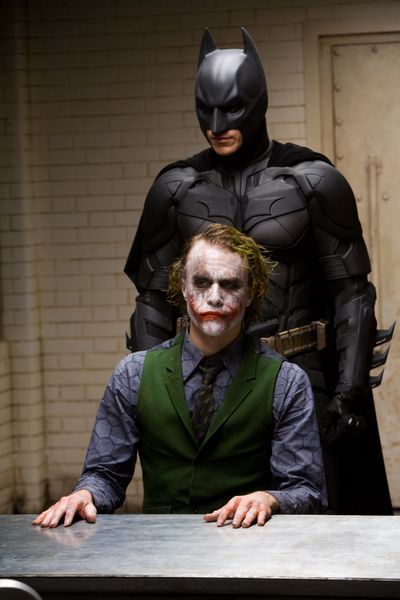 "Deadwood: The Complete Series"
•••1/2
In HBO's miniseries pantheon, "Deadwood" never gained the heights of popularity enjoyed by "The Sopranos" (20-odd Emmys), nor did it achieve the sustained success of "The Wire" (which went for five seasons).
And if younger viewers were turned off by the Western setting, some of them at least were attracted to the contemporary attitudes and persistent use of profanity (which turned off many older viewers).
All that said, "Deadwood" – the complete third season of which is now available in a special edition – manages to balance powerful drama with intriguing character development, blending facets of the Western myth with overtly realistic views of real-life personalities such as Wild Bill Hickok, Calamity Jane and Wyatt Earp.
Then there's the superb acting of Ian McShane as the belligerently tough saloon owner Al Swearengen, Timothy Olyphant as the principled/prone-to-be-violent town sheriff and, most notably, Robin Weigert as the drunkenly vulnerable Calamity Jane.
The result is television as it's never been seen.
DVD includes making-of featurettes, Q&A with cast and crew. (19 discs; not rated)
"Europa – Criterion Collection"
•••1/2
Long before he became one of the founders of the Dogma movement – which adopted such "rules" of cinema as natural lighting, hand-held cameras and a spurning of genre filmmaking – Danish director Lars von Trier crafted this dark, moody and impeccably made study (also titled "Zentropa") of post-World War II Europe.
Jean-Marc Barr stars as an American who improbably goes to work for Zentropa Railways. Kafkaesque is an overused descriptor, but it's particularly apt here: Trust no one, especially von Trier himself.
DVD includes commentary by (and conversation with) von Trier, making-of featurettes, cast and crew interviews. (1:52; rated R for mature treatment of Holocaust issues)
"Dr. Seuss' Horton Hears a Who!"
••1/2
Most parents are familiar with Theodor Geisel, aka Dr. Seuss, the author of children's books such as "Green Eggs and Ham," "The Cat in the Hat" and "How the Grinch Stole Christmas!"
This G-rated family film, which tells the story of an elephant's quest to save Whoville (a world of creatures the size of a speck of dust), hits all the right visual notes. It fails, unfortunately, to emphasize what brought fans to the work in the first place: the rhythms and tones of Dr. Seuss' poetry.
Featuring the voices of Jim Carrey, Steve Carell and Carol Burnett.
DVD, which is available in Blu-ray, includes commentary by directors Jimmy Hayward and Steve Martino, making-of featurettes, films shorts. (1:26; rated G)
Also available: "Anamorph," "A Hole in a Fence," "If I Didn't Care," "Man on Wire," "The Man Who Came Back," "Three Short Films by Werner Herzog."
Local journalism is essential.
Give directly to The Spokesman-Review's Northwest Passages community forums series -- which helps to offset the costs of several reporter and editor positions at the newspaper -- by using the easy options below. Gifts processed in this system are not tax deductible, but are predominately used to help meet the local financial requirements needed to receive national matching-grant funds.
Subscribe now to get breaking news alerts in your email inbox
Get breaking news delivered to your inbox as it happens.
---