News > Features
Nat naked in his love for Obama
Fri., Dec. 12, 2008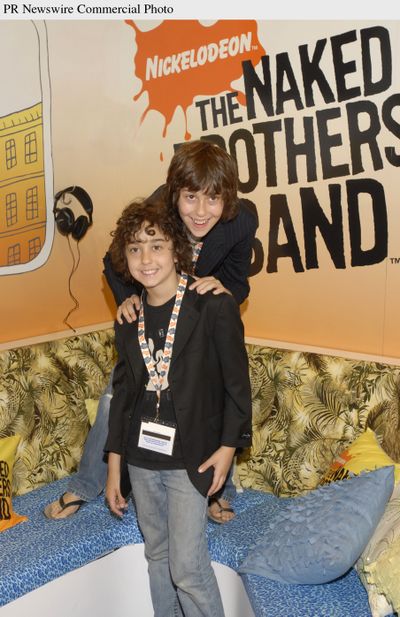 Still at a loss to explain why Barack Obama won November's presidential election?
Listen to Nat Wolff, 13-year-old star of the Nickelodeon show "The Naked Brothers Band."
Wolff, who writes the music for the show that also stars his 10-year-old brother Alex Wolff, recently met the president-elect and calls him "the coolest guy ever."
"I just saw him, and it was the most inspirational thing," Wolff said. "He made me feel like he could make America so cool."
Wolff was so inspired that he wrote a song titled "Yes We Can," which will be featured on the show's Christmas special, which airs Saturday and guest-stars Whoopi Goldberg and Natasha Bedingfield.
According to Wolff, the entire Obama family, including daughters Sasha, 10, and Malia, 7, have listened to the tune.
"It's cool that kids are going to be able to hear it because kids need to be part of politics because it's their world as well," Wolff said
No luck in Culkin
Used to be that if you read the name Culkin in the paper, bad news followed. Today is no different. "Home Alone" star Macaulay Culkin's sister Dakota Culkin, 29, was killed after she stepped in front of a car in west Los Angeles.
Police spokesman Richard French said Dakota Culkin was struck Tuesday night. She died a day later at an L.A. hospital after suffering massive head injuries.
How about some free press?
Do those London tabloids ever win any libel suits? Actor Josh Hartnett is just the latest celeb to win a case, taking the equivalent of $30,000 in damages from a British tab that claimed he engaged in "steamy shenanigans" in a public area of a London hotel.
Lawyer Victoria Jolliffe for the Daily Mirror acknowledged that the allegations were false. Jolliffe told London's High Court that the newspaper apologized for any "distress, hurt and embarrassment" it had caused.
No, this is no slapstick joke
Jerry Lewis, 82, is finally getting an Oscar, even if it's just honorary The actor-director will receive the Jean Hersholt Humanitarian Award at the Oscar ceremony on Feb. 22. Lewis, who began making films in 1949, has never been nominated for an actual Academy Award.
Temperature rising in GQ land
Tired of Jennifer Aniston yet? Readers of GQ magazine likely aren't. Aniston wears a tie – and nothing else – on the mag's January cover of GQ magazine. The 39-year-old actress shows off her toned body next to the headline: "Is it just us or is Jennifer Aniston getting hotter?"
But it's even hotter in Chile
Catholic Cardinal Jorge Medina took aim at Madonna before her Santiago, Chile, show on Wednesday. "This woman comes here and in an incredibly shameless manner, she provokes a crazy enthusiasm, an enthusiasm of lust, lustful thoughts, impure thoughts," he said.
The birthday bunch
Game show host Bob Barker is 85. Singer Connie Francis is 70. Singer Dionne Warwick is 68. Singer-guitarist Dickey Betts is 65. Actor Wings Hauser is 61. Actor Bill Nighy is 59. Actress Sheree J. Wilson is 50. Percussionist Sheila E. is 51. Guitarist Eric Schenkman of Spin Doctors is 45.Actress Jennifer Connelly is 38. Actress Mayim Bialik is 33.
Local journalism is essential.
Give directly to The Spokesman-Review's Northwest Passages community forums series -- which helps to offset the costs of several reporter and editor positions at the newspaper -- by using the easy options below. Gifts processed in this system are not tax deductible, but are predominately used to help meet the local financial requirements needed to receive national matching-grant funds.
Subscribe now to get breaking news alerts in your email inbox
Get breaking news delivered to your inbox as it happens.
---