News > Features
'Experiences as opposed to gifts'
Traditions can enrich holiday season like nothing else
Mon., Dec. 15, 2008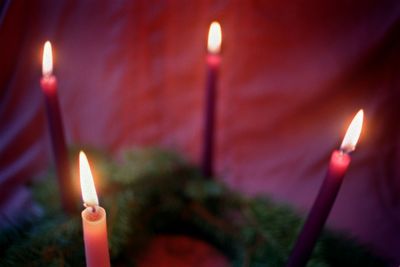 In the weeks before Christmas, members of the Janzen family of Spokane gather together to light candles on their Advent wreath.
For a few short minutes as they watch the glow from the ring of evergreens, Nancy and John Janzen and their two daughters recite a poem or a passage from the Bible, share their thoughts and take a moment to reflect on their blessings.
"It has helped us focus on the meaning of Christmas," said Nancy Janzen, whose family has been lighting an Advent wreath at home for the last 10 years.
Although the Janzens attend a nondenominational Christian church, they adopted the longstanding Roman Catholic tradition as a means of centering themselves – to remind them to stop and reflect instead of rushing through the season.
For some people, the holidays can become more jeer than cheer as they scramble to shop for gifts, finalize travel plans, run errands, decorate the house and cope with all the stress.
With all the pressure surrounding Christmas, New Year's, Kwanzaa (Dec. 26), Winter Solstice (Dec. 21), Hanukkah (beginning Dec. 21), Eid al-Adha (which started last Monday) and all the other holidays this month, more families are seeking concrete measures to ensure that these special days remain personal and meaningful.
Some turn to family traditions: feasts, gatherings, baking cookies and other customs that have been passed from generation to the next. Others look to the rituals of their churches, synagogues and other faith communities.
Still others try to create new traditions – ways to celebrate the season while taking into account the individuality of their own families and clans.
"Everyone is aware of our country's level of consumerism and the fact that we have become so commercial," said Nancy Janzen, who offered an Advent Workshop earlier this season at New Community Church in Spokane.
"I wanted to step outside my culture and be more intentional. I wanted us to spend time with people and focus on being together and having experiences together as opposed to gifts."
So during the four weeks of Advent, she and her family sit at the dinner table and light the candles on their wreath – one during the first week, two during the next, until all four are lit in the days before Christmas.
Each candle has a theme, Janzen explained. The first one is for hope, the second for peace, the third for joy and the fourth for love.
By using the centuries-old Catholic ritual, she said, "I felt like I was latching on to this tradition that's deep and time-tested and celebrated by millions of people."
It's something that most families can do, and it doesn't necessarily have to be tied to religion, Janzen added.
Some families like to prepare for Christmas by obtaining a permit, venturing into the woods and cutting down a tree. Others get in the mood by making their own ornaments, covering the house in lights and flashy decorations, or baking a Yule log and other treats.
It's not unheard of for some families to spend Christmas Day playing board games, engaging in flag football or going to the movies together.
The key is to establish traditions that work for your loved ones without creating additional stress, Janzen said. You also have to be intentional – otherwise it's easy to get caught into what everyone else is doing, or falling back into old habits and just going through the motions.
Don't expect a perfect experience, Janzen advised. Little kids cry, a candle might fall over and burn a hole in the table, other mishaps can happen. Accepting these things and just being grateful for time together can bring about a sense of peace and joy during a time of year that can become stressful when people have all kinds of unrealistic expectations.
This past year, the Revs. Craig and Nancy Goodwin and their children sponsored a child through Compassion International, a Christian ministry that helps more than 1 million children in 25 countries.
On Christmas Day, they're leaving for Thailand to visit her. The daughters have bought her presents and the family also plans to bring gifts to children at an orphanage.
Their two-week trip to Thailand "is the culmination of a yearlong family journey that started last December as Nancy and I reflected on some of our discontent with the hyper-consumption of the Christmas season," Craig Goodwin wrote to members of Millwood Presbyterian Church in his December newsletter.
"We were wondering if there were some new rhythms that might be more meaningful, more life giving. We came up with some ideas and have been learning as we go."
He also quoted the Rev. Earl Palmer, author of "24-Hour Christian" and one of his mentors: "An adventure is a good way to spend money and can have permanent good results. An adventure is a shared experience that you can talk about for the rest of your life. It usually costs a lot less than a car, but unlike a car, it appreciates in value. …
"My advice is that we aim to include an adventure in our lives as soon as possible. It is one of the best ways to outwit the 'need' to buy a new car or TV."
For some families – including those who took part in the recent alternative gift fair at the Unitarian Universalist Church of Spokane – the holidays are a time to give to others instead of accumulating more stuff.
Rather than putting presents under the tree, some families pool together the money they would've spent on gifts for each other to sponsor a child or provide financial support to local and international nonprofits.
Some organizations, including OxFam, Heifer International and the Spokane-based Partners International, provide charitable gift catalogs with options of buying a goat, a flock of geese or basic necessities for impoverished people throughout the globe.
Some people also choose to volunteer their time at a local church or nonprofit as part of their holiday traditions. It's about giving instead of receiving, they say, which is what the holidays are all about.
While preparing for the Advent workshop at her church, Janzen turned to several sources to help teach others about the season and to promote "family community," which she defines as "the place where children learn most of their life families and a sense of belonging."
One of the sources she found was a Christian Web site, www.adventcosnspiracy.org, that emphasized worshipping fully, spending less, giving more and loving everyone.
"It challenges people to give presence instead of presents," she said. "Any time you involve others, it becomes special because the focus is on community."
Virginia de Leon is a Spokane-based freelance writer. Reach her at
Virginia_de_leon@yahoo.com
. You can also comment on this story and other topics pertaining to families and parenting by checking out The Spokesman-Review's Parents' Council blog: www. spokesmanreview.com/ blogs/parents.
Local journalism is essential.
Give directly to The Spokesman-Review's Northwest Passages community forums series -- which helps to offset the costs of several reporter and editor positions at the newspaper -- by using the easy options below. Gifts processed in this system are not tax deductible, but are predominately used to help meet the local financial requirements needed to receive national matching-grant funds.
Subscribe to the Coronavirus newsletter
Get the day's latest Coronavirus news delivered to your inbox by subscribing to our newsletter.
---
Subscribe and log in to the Spokesman-Review to read and comment on this story