Sports
Kiffin still rankling Raiders
Cable not happy assistant joining old boss with Vols
Tue., Dec. 16, 2008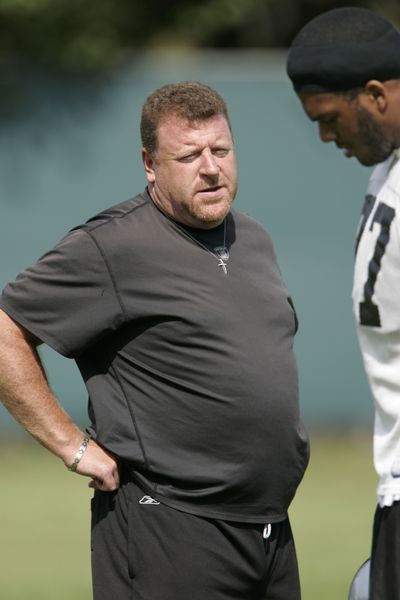 ALAMEDA, Calif. – Former Oakland Raiders coach Lane Kiffin won't be receiving a Christmas card from current Raiders coach Tom Cable anytime soon. Not after the manner in which Kiffin lured away assistant offensive line coach James Cregg to join him at the University of Tennessee.
Cregg phoned Cable after Sunday's game against the New England Patriots and informed Cable of his resignation, effective immediately. Cable likened it to quitting on the Raiders.
"You got to understand offensive linemen," Cable said during his weekly news conference Monday. "This is our world. If I can speak freely here, it's about pride, it's about commitment, it's about trusting everybody next to you. So, to walk your (self) out of here is about as bad a deal as you could possibly do to that group of guys."
Cable didn't mince words when it came to giving his thoughts on Cregg, Kiffin and the way the situation unfolded.
In response to Cregg's resignation, Cable called in former Kiffin loyalists Mark Jackson and Stephen Reaves – Kiffin's brother-in-law – and dismissed them Monday morning.
He then addressed the situation at a team meeting and polled the remaining coaches to see if they had any intention of following Kiffin to Knoxville, Tenn. Special teams coach Brian Schneider and tight ends coach Kelly Skipper coached with Kiffin in college. No other Raiders coach expressed a desire to join Kiffin at this point.
Raiders managing general partner Al Davis fired Kiffin on Sept. 30 "for cause." A short time later, Kiffin filed a grievance with the league office seeking compensation for the remainder of this season and next season. The case remains under review.
Cable said Cregg's resignation caught him off guard. After all, Cable took Cregg under his wing in 2007 and taught him the nuances of coaching offensive linemen at the NFL level.
"If you taught me everything I know and then I said, 'You know what, I'm out of here,' that's exactly how you would feel," Cable said. "I'm pissed. That's the best way to put it. Quite frankly, that's the only way I can put it."
Perhaps the most galling aspect of Cregg's abrupt departure, Cable said, is that the Raiders' season ends in 12 days, and Tennessee enters a so-called dead period at the end of this week.
"Sure I am," Cable said, when asked if he is upset with Kiffin. "That's the wrong way to handle things. Anybody in their right mind would understand the college rules. … I got a lot of respect for him – had a lot of respect for him – and then to do this is ridiculous. It's wrong."
Coaches typically follow protocol and ask another team for permission to interview or hire one of their employees, even if it isn't required.
Cable said he didn't receive a call from Kiffin. Yet, Kiffin can expect a call from Cable at any time, Cable said. And it won't be to wish Kiffin a merry Christmas.
Local journalism is essential.
Give directly to The Spokesman-Review's Northwest Passages community forums series -- which helps to offset the costs of several reporter and editor positions at the newspaper -- by using the easy options below. Gifts processed in this system are not tax deductible, but are predominately used to help meet the local financial requirements needed to receive national matching-grant funds.
Subscribe to the sports newsletter
Get the day's top sports headlines and breaking news delivered to your inbox by subscribing here.
---