Ex-Bronco Lepsis gives up drugs for faith
Lineman walked away from big contract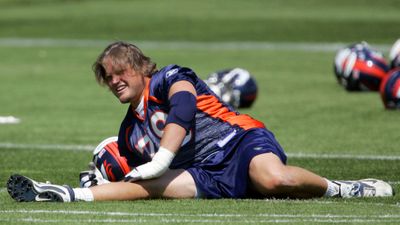 DENVER – Matt Lepsis was living the good life last season, making millions in the NFL and finally fitting in when he locked himself in a closet and screamed for help: Please, God, help me kick this drug habit.
The Denver Broncos left tackle, who called it quits after last season and enrolled in seminary, admitted he was high on drugs for the first six games of his final season.
"There are times my mind was completely in a different place than concentrating on the next play," Lepsis told The Associated Press. "I was in another world."
There, in that closet in his house, struggling to kick a habit that intensified after knee surgery following the 2006 season, Lepsis begged for help.
He believes he was heard – and rescued.
The drug habit now gone, Lepsis – who declined to identify which recreational drugs he abused – is taking classes at Dallas Theological Seminary, learning Greek and taking an introduction to theology course.
The offensive lineman had nearly $9 million left on his contract over two years. But he walked away, retiring after last season.
"People hear this story and think, 'He was at rock bottom and had nowhere to go and was trying to find answers to all these problems. So naturally he looked to God,' " said Lepsis, who first told his story to the Colorado Springs Gazette. "That's not what happened. I can't stress this enough: I was loving life."
The drugs transformed Lepsis from a "wallflower" into a "social butterfly," he said. After struggling with social anxiety issues, he was suddenly more outgoing and personable.
"I felt like it was making me a better person," he said. "I felt like I could communicate with people better. It was helping me."
Not in football, though.
Not that he gave it much consideration.
"It was to a point I was willing to sacrifice that," said Lepsis, who didn't want to address how he dodged the league's drug tests. "Just because I felt like it was helping me with every other way in my life."
The week before the Broncos were scheduled to play Jacksonville in September 2007, Lepsis was outside playing with his kids when his phone rang.
No one there, just music.
Not just music, though, but the "Dave Matthews Band," his favorite group.
Not just any song, either, but a song he knew well – "No. 41" – and Matthews was singing the lyrics, "The difficulty is coming."
A few days later, he put on his head phones at his locker – same song, same lyrics.
His initial reaction was he was going to perish in a plane crash.
At a birthday party, he explained it to a friend, who reassured him.
"She said, 'There's nothing for you to worry about. God's in control,'  Lepsis said. "If it's your time to go, it's your time to go. For the first time in my life, I was like, 'What?' I had never entertained that thought."
Lepsis had never been particularly religious. Still, the music intrigued him. He was sure a message was being delivered.
On a plane ride to Indianapolis the following week, Lepsis asked kicker Jason Elam if he could sit next to him. Elam, a devout Christian who now plays for Atlanta, was willing to listen.
"He just said, 'I think I'm going to need you for the entire flight,' " Elam said. "I really didn't have any pearls of wisdom, just tried to steer him the right way."
Lepsis went to chapel before the Colts game, where the topic of the sermon was fear.
"I was blown away," he said. "I'm hanging on every word."
After returning, he sought out Elam again. This time, Lepsis told the entire story, how he was dealing with a drug addiction.
"I was like, 'Can I do this thing with my addiction? Can I become a Christian and a believer and still continue to do this?' " Lepsis said. "Jason said, 'No, you can't.' "
So into the closet Lepsis went. He asked for help, didn't get high that day and had a horrible practice.
"I couldn't wait for it to end," Lepsis said. "I went into work sober for the first time in a long time and I had a miserable day. … I'm angry for believing that God was going to supernaturally help me."
His wife, Shana, convinced him to try again.
Back into the closet he went.
The next day at practice he was talking to a few of his teammates, sharing his story, when it hit him: Here was Lepsis, someone who used drugs as a crutch to make himself more sociable, opening up to teammates.
"I get what I got through the drugs, but I get it through sharing my testimony for what God has done in my life," Lepsis said.
"I've never seen a change in someone so drastic and so genuine as with Matt," Elam said. "He's a completely different person. … It's a pretty incredible story."
---