Sports
Brees finishes 15 yards shy of Marino's mark
Mon., Dec. 29, 2008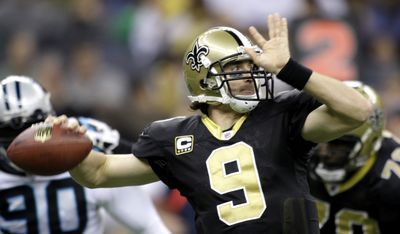 Drew Brees was comfortable with falling just short of breaking the NFL single-season passing record.
The New Orleans Saints quarterback finished 15 yards shy of Dan Marino's mark, but still led the league in passing for the second time in three years.
"When I sit back and look at it, that record's stood for a long time. One of greatest quarterbacks to ever play the game owns it," Brees said after losing 33-31 to the Carolina Panthers on Sunday.
Brees passed for 5,069 yards this season, making him just the second player to top 5,000. Marino set the mark in 1984 with 5,084 yards.
The Minnesota Vikings' Adrian Peterson led the NFL in rushing in just his second season in the league. He became the fifth player in league history to reach 3,000 yards in his first two years, joining Eric Dickerson (Rams), Edgerrin James (Colts), Earl Campbell (Oilers) and Clinton Portis (Broncos).
Peterson finished with 363 carries for 1,760 yards (a 4.8 average) and 10 touchdowns.
The Houston Texans' Andre Johnson had 1,575 yards receiving this season, the most in the league since 2003.
Crennel's fate to be known soon
Romeo Crennel will meet with owner Randy Lerner today, heightening the likelihood the Browns' embattled coach will be fired one day after Cleveland concluded its dismal season.
Lerner, who is also mulling general manager Phil Savage's fate, wanted to wait until after the season out of respect for Crennel, who dropped to 24-40 in four seasons after the Browns were blanked 31-0 at Pittsburgh on Sunday. Crennel is also 0-8 against the archrival Steelers and just 5-19 inside the AFC North.
If he is dismissed, Crennel will end his tenure as the only full-time coach in Cleveland history to not beat Pittsburgh.
Jets' Favre to have MRI
Brett Favre will have an MRI exam Monday on his ailing right shoulder, saying it would affect his decision on whether he'll come back for another season with the New York Jets.
The 39-year-old struggled down the stretch in his first season with New York, throwing two touchdowns and nine interceptions in his last five games.
Local journalism is essential.
Give directly to The Spokesman-Review's Northwest Passages community forums series -- which helps to offset the costs of several reporter and editor positions at the newspaper -- by using the easy options below. Gifts processed in this system are not tax deductible, but are predominately used to help meet the local financial requirements needed to receive national matching-grant funds.
Subscribe to the sports newsletter
Get the day's top sports headlines and breaking news delivered to your inbox by subscribing here.
---