News > Idaho
Deal brings new rest area to Idaho
Wed., Feb. 13, 2008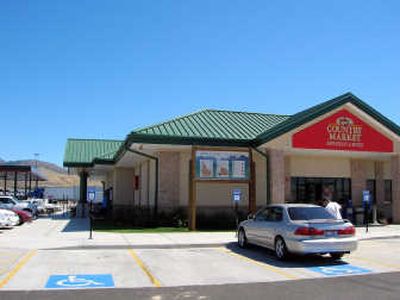 BOISE – Idaho's newest official state rest area is a Flying J truck stop.
Wrapping the rest area into the truck stop through a public-private partnership cost the state just $300,000, instead of the $14 million it would have taken to replace an aging rest stop at Inkom in eastern Idaho – and now the state Transportation Board has decided that's how all future Idaho highway rest areas should be built.
It's a sign of the penny-pinching ahead for the state's Transportation Department, which is coping with flat revenues, aging bridges, massive traffic and cost increases and the prospect of little increase in federal transportation funds.
"We've asked the department to be more efficient – they're doing that," said Senate Transportation Chairman John McGee, R-Caldwell. "But still there's not enough funding for a state that's growing as quickly as we are."
Gov. Butch Otter is calling for a vehicle registration fee increase, new local-option taxes to pay for local transportation improvements, and shifting funding for the Idaho State Police from the gas tax to the state's general fund, to free up $17 million for transportation.
Of the three ideas, only the funding shift for the State Police has surfaced so far at the Legislature. It's in the proposed $682 million Idaho Transportation Department budget that state Transportation Director Pam Lowe presented to lawmakers this past week. The first half of ISP funding would be shifted in the coming year, with the second half the following year.
But McGee said other bills are in the works.
"I can tell you there are discussions going on right now between the governor's office, myself and members of the House to come up with a proposal" on a registration fee increase, McGee said Friday, predicting that a proposal will be introduced this week.The local-option tax legislation has been held up in the House because of demands by GOP leadership that lawmakers pass a constitutional amendment rather than just a bill authorizing the new taxes. That would add at least a year to the process, requiring two-thirds votes in both houses of the Legislature plus a majority vote at the next election.Meanwhile, the crimp in funding for transportation in Idaho has forced a $10 million holdback at the Transportation Department this year, due to a revised revenue forecast. "Those cuts were severe," Lowe told the Legislature's Joint Finance-Appropriations Committee. If revenues fall further, some planned road projects may have to be canceled, she said.
Idaho's main source of funding for transportation improvements is the state's 25-cents-a-gallon gas tax, which hasn't been increased since 1996. And while there are more vehicles on the road, they tend to be more fuel efficient, so the number of gallons taxed hasn't risen nearly as fast as the number of cars on the roads.
Federal funds are making up an increasing portion of Idaho's road funding, Lowe told lawmakers, rising from 45 percent in 1996 to 57 percent this year. Congress will debate a new highway bill in 2010, and Lowe said large "donor" states that pay in more than they get back are expected to lobby for bigger slices of the pie. Idaho is a "donee" state that gets back more in federal funds than it pays in. "I don't see anything good coming out of that debate for Idaho," Lowe told lawmakers.
Idaho also has another pending big expense: Half of the state's bridges will hit their expected 50-year lifespan within 10 years.
McGee said changes like the privatized rest area – Flying J does all the maintenance, and people can access the public restrooms without having to enter the truck stop's convenience store – make sense.
"It's an example of a public-private partnership where it works out great for everybody," he said. "We're not spending valuable dollars that could be put into roads on restrooms."
Local journalism is essential.
Give directly to The Spokesman-Review's Northwest Passages community forums series -- which helps to offset the costs of several reporter and editor positions at the newspaper -- by using the easy options below. Gifts processed in this system are not tax deductible, but are predominately used to help meet the local financial requirements needed to receive national matching-grant funds.
Subscribe to the Coronavirus newsletter
Get the day's latest Coronavirus news delivered to your inbox by subscribing to our newsletter.
---
Subscribe and log in to the Spokesman-Review to read and comment on this story