News > Features
Flutist Christina Jennings, a master of modern music
Thu., Feb. 28, 2008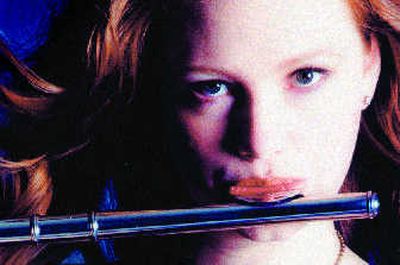 Christina Jennings grew up immersed in music, most of it modern.
Now a star in the modern world of flute players, Jennings will perform with the Spokane Symphony this weekend at the Martin Woldson Theater at The Fox.
Her star spotlight will be Christopher Rouse's Concerto for Flute, written in 1993 for Jennings' teacher, Carol Wincenc.
The orchestra program, conducted by Associate Conductor Morihiko Nakahara, will include Samuel Barber's Overture to "The School for Scandal" and Antonin Dvorak'e Symphony No. 7.
"My father taught at Dartmouth, and he was a member of the Concord String Quartet," Jennings, who grew up in Vermont, said in a phone interview from her home in Boulder, Colorado.
"His quartet played a lot of contemporary music, so I grew up just thinking new music was just normal. I never had to hear modern music and think, 'This is the stuff I'm not supposed to like.' "
She has often performed recently composed music such as concertos by Shulimit Ran, Joan Tower and Ellen Taafe Zwillich.
"When you're getting started as a soloist, you need to establish a niche," she says. "But I hope I have not neglected the standards like Bach and Mozart and the rest."
With a violinist father and a pianist mother, and two younger sisters busy becoming professional violinists, Jennings admits her choice of the flute had a hint of musical rebellion.
"I loved the sound of the flute, but I think maybe I play the instrument somewhat like a violinist or maybe even more like a singer," she says.
Her growing-up years took her into dance as well. She has enjoyed working with dance troupes as well as with a wide variety of chamber music ensembles.
Jennings is a member of the River Oaks Chamber Orchestra in Houston, and is a faculty member at the Texas Music Festival there. She also is in her second year as a member of the music faculty at the University of Colorado at Boulder.
Her husband, violist Matthew Dane, teaches at the University of Oklahoma.
"When I was a student at Juilliard," she says, "my teachers included Carol Wincenc, who is a soloist who tours a lot, and Jeanne Baxtresser, who is a member of the New York Philharmonic.
"I have only recently become a teacher myself, so I try to bring those qualities of professionalism of those teachers to my own students."
Another result of her studies with Wincenc drew Jennings to Christopher Rouse's Concerto for Flute.
"Carol played the premiere of this concerto and told me, 'You should look at this piece, it really speaks to people,' " Jennings says. "That's certainly been true. It's captivating to listeners, and orchestra players and to the soloist.
"There is a great background story to the concerto, but even if you don't know that story, it is still a piece that often causes people, even orchestra members, to come up to me in tears after the performance saying how much it moved them."
Rouse has recounted how, when we was working on the concerto, he learned of the death of the 2-year-old English boy James Bulger, kidnapped and killed by two 10-year-old boys.
The concerto's central movement is an elegy for Bulger. "But it is really an elegy for the cruelties of which we are capable of to our fellow man," the composer has said.
"A lot of this concerto has a Celtic flavor," says Jennings. "The beginning and the end sound like an Irish singer, and the fast movements sounds like they really want to be a jig."
To complement Rouse's concerto, Nakahara has selected Barber's early success, the Overture to Sheridan's "School for Scandal" (the composer's graduation thesis at the Curtis Institute), and Dvorak's late success, his Symphony No. 7.
Nakahara will give a pre-concert talk about the music at hour before curtain time on Saturday and Sunday as a part of the Gladys Brooks Pre-Concert Lecture series.
Local journalism is essential.
Give directly to The Spokesman-Review's Northwest Passages community forums series -- which helps to offset the costs of several reporter and editor positions at the newspaper -- by using the easy options below. Gifts processed in this system are not tax deductible, but are predominately used to help meet the local financial requirements needed to receive national matching-grant funds.
Subscribe to the Coronavirus newsletter
Get the day's latest Coronavirus news delivered to your inbox by subscribing to our newsletter.
---
Subscribe and log in to the Spokesman-Review to read and comment on this story