News > Home
The Finnegan family
Tue., Jan. 1, 2008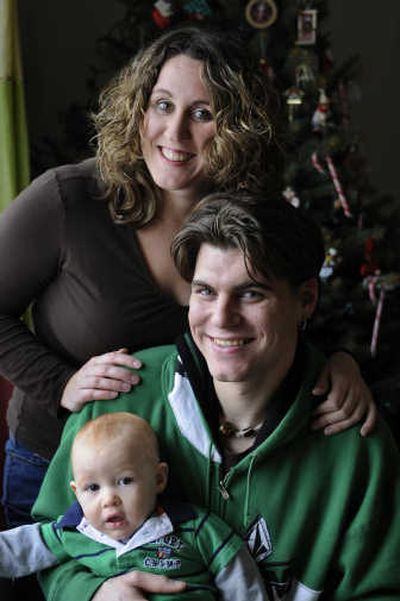 A new baby changes things.
For Charlotte and Justin Finnegan, the birth of their son meant a change to a Spokane address.
They were living in Phoenix when baby Caden arrived. After her maternity leave, Charlotte grew tired of the long commutes and long hours that made for long days away from her baby.
"It was stressful," she says.
Spokane promised family nearby and a simpler life. So the couple decided to test her brother-in-law's theory that "Spokane is the greatest city in America" and started looking for work here.
Justin, a chef, took a hotel banquet job in July while Charlotte and Caden stayed behind in Phoenix, waiting for the family's home to sell. After a week's vacation to Spokane in August, Charlotte says she realized they couldn't return south.
"I decided I wasn't going back."
Charlotte wasn't unemployed for long. A July phone interview with the Convention and Visitors' Bureau for the Spokane Region earned her a face-to-face interview in August. In September, she started work there as a sales manager for southwest recruitment.
"I recruit companies to have annual events and meetings in Spokane," she says. "I call them and tell them about the new convention center. It's green."
Why Spokane?
Charlotte's connections to Washington state go deep. She grew up on the West Side and met Justin when they both worked for the Hyatt in Seattle. Charlotte's parents live on Orcas Island, and her sister's family moved to Spokane several years ago.
Justin, a Rhode Island native, says he loves Washington and was happy to move back. Having family nearby makes child care easier, he says. He just started a new job at Scratch, a downtown restaurant, and Charlotte's work requires occasional travel.
"We have baby sitters here if need be," Justin says. "The stress goes down."
Real estate
For now, the Finnegans live in a furnished townhouse in North Spokane owned by Charlotte's parents. It's small and secluded and fits their immediate needs, she says.
The couple considered building a new home but the downturn in the housing market has changed their minds. Once their Phoenix home sells, they'd like to buy a four-bedroom home with a fenced backyard for their rat terriers, Rocky and Piper.
"There are so many houses on the market. I feel like I'd like to help out someone in the same predicament as we are," Charlotte says.
They plan to look on Five Mile Prairie, where Charlotte's sister lives with her husband and 18-month-old son.
Settling in
Justin says he misses friends from Phoenix, but he loves that a 20-minute drive takes him outside the city and into the country. "There's a place to get away."
They both say Spokane's cost of living is cheaper than previous locations. "It's little things, like parking and shorter commute times," Charlotte says, adding the lack of a state income tax helps. "It's a better quality of life."
She misses a few stores, such as IKEA and Trader Joe's, but she figures she can visit those when she goes to Seattle.
"A lot of things are here, like Nordstrom and Macy's," she says. "I really like that it's easy to get around and not too huge of a place.
"And people really like living here. They're proud of their city, and it shows."
Local journalism is essential.
Give directly to The Spokesman-Review's Northwest Passages community forums series -- which helps to offset the costs of several reporter and editor positions at the newspaper -- by using the easy options below. Gifts processed in this system are not tax deductible, but are predominately used to help meet the local financial requirements needed to receive national matching-grant funds.
Subscribe to the Coronavirus newsletter
Get the day's latest Coronavirus news delivered to your inbox by subscribing to our newsletter.
---