A&E > Entertainment
The Kinder-Pyle family
Tue., Jan. 15, 2008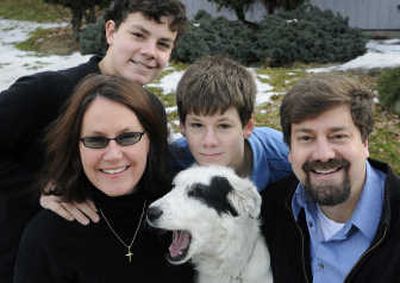 Sheryl and Scott Kinder-Pyle like adventures, especially those they're called to.
As Sheryl sips tea and Scott drinks coffee, they share a pastry and talk about God and church and a move last year that took them all the way across the country.
"We're called as trailblazers," says Sheryl. "We like to start new things."
Scott and Sheryl, both Presbyterian ministers, and their two sons, Ian, 16, and Philip, 13, were living in Limerick, Pa., a suburb of Philadelphia, when Scott learned of plans to build a new church in southwest Spokane.
In the late 1980s, the couple served at the downtown First Presbyterian Church shortly after finishing Princeton Theological Seminary. They loved the Northwest and the idea of returning. Several of their fellow seminary students, graduates of Whitworth University, described the region as "God's country," Sheryl says. "It's the natural beauty."
While it was clear Scott was answering a call to start a new church, Sheryl says, she had to wait a bit. "I was kind of waiting, waiting on God."
The Kinder-Pyles moved here in November 2006, and shortly afterward, Sheryl took the interim associate pastor post at Hamblen Park Presbyterian Church, the parent church to Scott's Latah Valley Church. Sheryl is comfortable with her temporary post, a job that requires her to help find a permanent replacement.
"Sheryl is an awesome pastoral leader, helping other people do what God asks them to do," Scott says.
Sheryl returns the praise, "Scott is a great pastor, a great visionary," she says.
Why Spokane?
The Kinder-Pyle's oldest son, Ian, will be going to college in two years, Sheryl says. The couple wanted to move to a likely retirement spot before he chose a school. "We're setting ourselves up here to stay."
The couple is amazed at how Spokane has evolved in the past 20 years. "When we were here before, the Davenport was boarded up, and the Fox Theater was in shambles," Sheryl says. "It's so encouraging and hopeful to see the community develop."
Spokane offers the best of urban and suburban life, Scott says. And the rural isn't too far away.
"Years ago, when we would go along High Drive, that was the end of the world," he says. "Ironically, that's where we're called to."
Real estate
During a two-day visit in October 2006, the Kinder-Pyles looked at 20 houses.
The fifth home they saw had tall Ponderosa pines and a double Jacuzzi tub. Scott was sold, but Sheryl had to keep looking, he says, laughing at the memory. "We had to go see 15 more after that."
The family has been overwhelmed by the South Hill neighborhood's generosity. "Within the first month, three families within the block asked us over to dinner," Sheryl says. "It really touched us."
Settling in
The couple's two adolescent sons struggled with the move, but both quickly made connections, Sheryl says. They played football and ran track this fall, and they're involved in Hamblen's youth group,
As a family, they ran Bloomsday. Philip played in Hoopfest. They've gone to a symphony concert, U.S. Figure Skating Championships and the NCAA Tournament.
"Even though it's a smaller city (than Philadelphia), we're doing more because things are so much more accessible," Sheryl says. "I could be your Chamber of Commerce poster child."
Scott's church held its first service last month in Moran Prairie Elementary School, and more than 100 people attended. A permanent building in Latah Valley is a few years away, he says, which means he has to be more creative as he builds a congregation.
"What is church? When you don't have a building, church isn't the place, it's the people," Sheryl says. "We're forced into a deeper meaning of what it means to be a church."
Local journalism is essential.
Give directly to The Spokesman-Review's Northwest Passages community forums series -- which helps to offset the costs of several reporter and editor positions at the newspaper -- by using the easy options below. Gifts processed in this system are not tax deductible, but are predominately used to help meet the local financial requirements needed to receive national matching-grant funds.
Subscribe to the Spokane7 email newsletter
Get the day's top entertainment headlines delivered to your inbox every morning.
---