News > Spokane
Man says novelty Love Roses feed drug problem
Fri., Jan. 18, 2008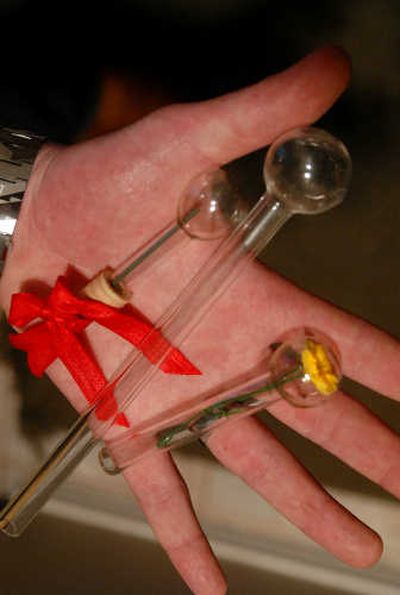 Late on Valentine's Day, while gassing up your car, a sinking feeling creeps into your stomach. You've forgotten a gift for your mate.
No problem. The gas station has a mini-mart. At the counter, there are tiny plastic flowers stuffed inside half-inch glass tubes, only $1.25 apiece. Perfect.
They're marketed as Love Roses, Happy Valentine Glass Roses or Romantic Roses.
But the novelty gifts have a more common name on the street: crack cocaine pipes. Or methamphetamine pipes, depending on the user's preference.
Spokane resident Mike Conrad was outraged when he discovered retailers were selling the tools of crack and methamphetamine users as novelty gifts.
"We already have a meth problem in Spokane," said Conrad, 23, adding that he's found the pipes at 12 Spokane stores. "Why give access to another generation of it?"
Conrad, who is trying to have the pipes banned from stores, went to the Spokane City Council and Mayor Mary Verner earlier this week, asking for an ordinance.
"We are carefully studying the request to see if an ordinance is the appropriate way to proceed on this issue," said Spokane City Attorney Jim Craven. "An ordinance has to be rather specific about what can and cannot be sold in stores, so that the law is understandable by the public and enforceable by law enforcement."
Craven, along with Spokane Police Chief Anne Kirkpatrick, said a Love Rose ordinance could be difficult to enforce and prosecute.
Although it's impossible to prove, drug experts say there's little question the novelty items are designed with drug users in mind. The U.S. Drug Enforcement Administration calls them crack pipes.
The thin glass tubes are finished off with a tiny hole pierced in a bulb at the end. Or the tube has no bulb, but is capped with foil. They're found at convenience stores and gas station mini-marts throughout the United States, ranging in price between 99 cents and $2.99.
Outlawing drug paraphernalia is complicated because it's hard to define, Seattle DEA spokesman Rhett Fonseca said.
"How can we prove that the Love Rose was made to be used to smoke crack?" Fonseca said. "If a product is made for one intent but users find a way to convert it, there's nothing we can do."
In 2004, however, a DEA team in Detroit seized more than 334,000 Love Rose pipes destined for stores there. In that case, the agency proved "the defendants knew and intentionally were selling the roses for use with illegal narcotics," Fonseca said.
Drug users are crafty, said John Willard, a detective in the Spokane police drug unit. "They'll turn just about anything into a smoking device, including a Bic pen or car antenna. They're going to smoke their crack whether these pipes are sold in stores or not."
Fonseca said trying to solve the problem with laws "could be a mess."
"The immediate solution would be for sellers in good faith to pull the product," he said.
Randy Singh, the manager of an Exxon mini-mart in Spokane, said he would stop selling Love Roses if authorities asked. Singh said he didn't know they are used for drugs.
"We sell a lot of stuff, but we can't control what people do," he said.
Local journalism is essential.
Give directly to The Spokesman-Review's Northwest Passages community forums series -- which helps to offset the costs of several reporter and editor positions at the newspaper -- by using the easy options below. Gifts processed in this system are not tax deductible, but are predominately used to help meet the local financial requirements needed to receive national matching-grant funds.
Subscribe to the Coronavirus newsletter
Get the day's latest Coronavirus news delivered to your inbox by subscribing to our newsletter.
---