News > Features
Voice for peace: Kathy Kelly to share stories at GU talk
Sat., Jan. 19, 2008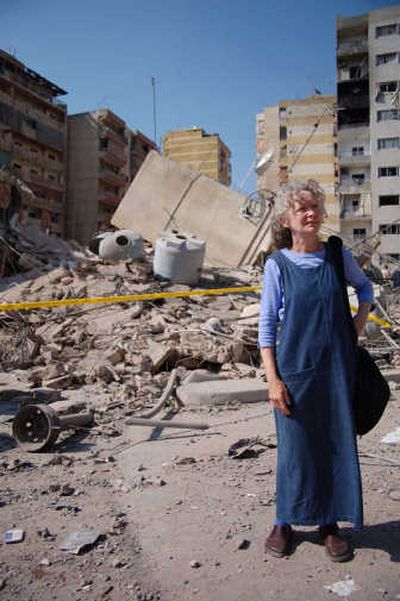 When coalition forces invaded Iraq in 2003, Kathy Kelly was waiting for them.
She and other peace protesters carried a banner that read "Courage for peace, not war."
"The Marines coming into Baghdad that day must have looked up and thought, 'Who are these people? What in the world is this message supposed to have to do with our arrival?' " Kelly said in a recent phone interview.
Good question. And it's one that Kelly will be happy to answer at 7 p.m. Friday at Gonzaga University when she gives a talk titled "Courage for Peace."
Kelly, 55, is an antiwar protester and cofounder of the peace group Voices for Creative Nonviolence.
As a member of another group, Voices in the Wilderness, she had been working since 1996 to end the sanctions that had been imposed on Saddam Hussein's government by both the U.S. and United Nations – sanctions, she says, that did irreparable harm to thousands of Iraqi children.
A former high school and community college instructor, the Chicago native has been active in the Catholic Worker movement. Her antiwar activities have taken her to many of the world's hot spots, including Iraq, Bosnia, Haiti and Lebanon.
Kelly's protests, determinedly nonviolent, have cost her. She served nine months of a one-year sentence for planting corn on a Missouri nuclear missile silo. In 2004 she served three months at Pekin, a federal prison in Illinois, for protesting at Fort Benning, Ga. – an experience she wrote about in the book "Other Lands Have Dreams: From Baghdad to Pekin Prison."
In the past few months, she says, she's been arrested three times for protesting in the offices of presidential candidates Barack Obama, Mike Huckabee and Rudy Giuliani.
At the same time, Kelly is well aware that her ability to protest U.S. actions are protected by the Constitution.
"One of the realities is that we do have a great deal of free speech in this country," Kelly said, "and the risks we face, if we exercise it – even in the context of nonviolent civil disobedience – are very, very minimal."
At least, she quickly added, "Compared to other countries."
"There's never going to be a death squad at our door or a massacre of our village," she said. "And generally we don't face any great physical risks."
Note the qualifier "generally."
There was that time at Fort Benning, in 2003, where she says she was the subject of what she described as "a pretty aggressive search."
"People were shouting, squeezing and shoving," she said. "At one point I said, 'I'm sorry, I'm not going to be able to cooperate with this any longer.' And as soon as I said that and lowered my arms, I was down on the floor in seconds. And the person, one of the five that was doing the search, was kneeling on me. And I was bleeding, saying, 'I can't breathe, I can't breathe.' And finally he decided – I think because one of the supervisors told him to – to get off of me."
That, experience, she said, "Was a real eye-opener."
Yet it hasn't stopped her from doing what she says needs to be done: pushing those in power to stop the war.
"When the war continues to be horrific, no matter how hard the mainstream media might try to push it off the radar screen, it's still the No. 1 issue," Kelly said. "We saw that in Des Moines (during the Iowa caucus) and I think we see it in national polls."
The problem, as Kelly sees it, involves perception: "(M)any people lose their courage, in a sense, because of the feeling that's promoted by people in very powerful places in our country that we're not secure. …"
Kelly wants to change that perception and transform it into a call for action, not just to stop war but also to help solve the other problems facing the world.
" 'Courage for Peace, Not for War,' then, means to not allow ourselves to be goaded into such fearful and insecure perspectives that we would bankroll ongoing wars in Iraq, Afghanistan and possibly Iran in the future," she said.
"I think we get goaded into acting like big children," Kelly said, "like we can't take personal and adult responsibility for issues that our children really are going to be saddled with – inescapably, inevitably, particularly in regards to the environment and weapons proliferation. Are we going to look at the children and say, 'Are you going to do something to solve this?' "
Does she ever get frustrated by the lack of results? Sometimes, Kelly said. But she also remembers the Marines in Baghdad and the relationships she worked to forge during the first 10 days after the invasion.
"They, I think, saw us as the do-gooders on the corner because we pretty quickly went down with water and dates for them and tried to hear from them what their experiences had been," she said. "And some of them, then, became more curious about what ours had been."
Besides, she added, whenever she lacks for inspiration all she has to do is look back at those who fought for, and ultimately won, their U.S. civil rights during the 1950s and '60s.
"Some of the most dispossessed and humiliated people this country had ever seen in its history went door to door, risked lynchings and persisted when it looked outlandish, crazed, for them to think that they could get somewhere," Kelly said.
Local journalism is essential.
Give directly to The Spokesman-Review's Northwest Passages community forums series -- which helps to offset the costs of several reporter and editor positions at the newspaper -- by using the easy options below. Gifts processed in this system are not tax deductible, but are predominately used to help meet the local financial requirements needed to receive national matching-grant funds.
Subscribe now to get breaking news alerts in your email inbox
Get breaking news delivered to your inbox as it happens.
---