News > Spokane
EWU salary negotiations deadlocked
Thu., Jan. 31, 2008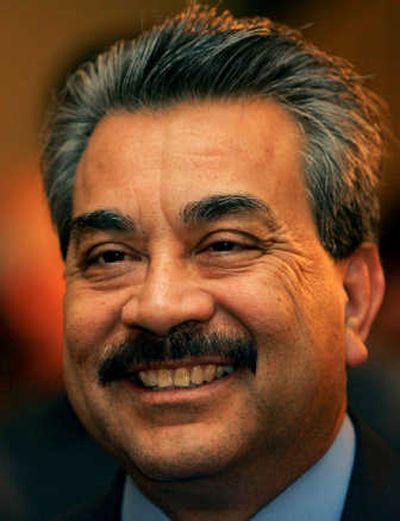 The faculty and administration at Eastern Washington University are again at an impasse over salaries, with contract talks scheduled to move into mediation today.
Professors complain they're consistently the lowest paid of the 15 colleges EWU considers "peer institutions," and some are incensed the university is offering annual raises of roughly 4.2 percent just months after President Rodolfo Arevalo got more than a 13 percent bump in salary and deferred payments.
"There seems to be a continued pattern of not taking care of the faculty," said Don Richter, president of the United Faculty of Eastern and an associate professor of mechanical engineering. "The faculty are not a priority."
Arevalo said he recognizes the faculty is underpaid and said the raises offered by the administration are intended to help correct that.
"I'm trying to catch them up because I do realize we're a little behind Central and Western, and I definitely don't think we should be," he said. "I'm trying to squeeze the most from our budget to see if we can catch them up as much as we can."
The UFE says Arevalo could squeeze more. In its latest newsletter, the union notes that the university has a reserve fund approaching $20 million and less than a tenth of that would fund the raises sought by faculty.
The administration has offered 8.5 percent over two years; the UFE is seeking 12.5 percent. There are a handful of other issues under negotiation as well, including workloads for department chairmen and an administrative proposal to allow merit raises.
The faculty had planned a campus rally today in Cheney, but it's been canceled because of the snowstorms. Mediation is scheduled to begin today but could be delayed if the weather creates problems, Richter said.
He said recent faculty raises and the current administration proposal wouldn't bring the faculty up to par with other schools, they would just keep pace. By several measures – compiled separately from a federal database by the union and administration – EWU salaries have been last or second last among peer institutions the past three academic years.
Eastern's average instructional salary for 2006-07, averaged over the typical nine-month academic year, was $55,295. That includes associate, assistant and full professors. The average at the other schools was $63,666.
At Western, it was $61,167. At Central, it was $58,260.
Meanwhile, Eastern had the fourth-highest number of administrative and management staff among the schools for the 2005-06 school year, according to a union analysis of data from the Integrated Postsecondary Education Data System. Differences in accounting and definitions between states can affect such rankings. Both Central and Washington had high numbers of administrators, as well.
"The budgetary priorities are for making more and more managers," Richter said. "The priorities are not the people in front of the class, teaching students and affecting lives."
Arevalo's salary has been a subject of much discussion among professors. After a year on the job, he was given a $16,400 raise over the summer and a $10,000 increase in payments he'll get after several years on the job. That amounted to a 13.2 percent increase in his $200,000 annual salary.
One sticking point in the negotiations is Arevalo's desire to provide merit bonuses or raises to the "outstanding or most productive" faculty members. Arevalo said such bonuses are important to retaining the best professors.
Richter said the union opposes merit pay until faculty compensation is improved across the board.
Negotiations were similarly contentious the last time faculty entered contract talks. They settled in 2006 for raises of 9.45 percent over two years, enough to keep pace with inflation but not to get Eastern professors closer to their peers, Richter said.
A particular item of contention for the faculty is the administration's decision to withhold a raise of 3.2 percent already approved by the Legislature. Arevalo said that funding is part of the total salary package under negotiation.
"It's kind of hard to piece it out," he said.
Richter said such raises have been granted in the past while negotiations were ongoing and that the move seems like "brinkmanship" to force a settlement.
Local journalism is essential.
Give directly to The Spokesman-Review's Northwest Passages community forums series -- which helps to offset the costs of several reporter and editor positions at the newspaper -- by using the easy options below. Gifts processed in this system are not tax deductible, but are predominately used to help meet the local financial requirements needed to receive national matching-grant funds.
Subscribe to the Coronavirus newsletter
Get the day's latest Coronavirus news delivered to your inbox by subscribing to our newsletter.
---
Subscribe and log in to the Spokesman-Review to read and comment on this story