Former church up for sale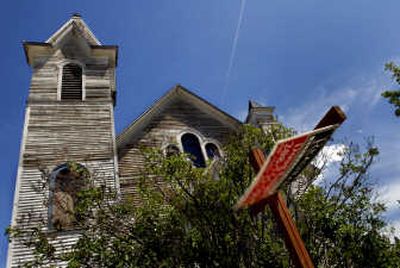 SPIRIT LAKE – A Spirit Lake landmark is for sale, but it's going to take more than prayers to restore to its former glory the century-old church with a tall steeple.
Real estate agent Doug Setters estimates it'll take more than $100,000 worth of work to bring the former St. Joseph's Catholic Church to "usable condition."
The 6,000-square-foot building at the corner of Highway 41 and Jefferson is basically little more than a shell, Setters said, with a small living quarters off the back. The asking price is $145,000 – nearly $40,000 less than the county's assessed value.
It's being advertised as a "really cool old church with a wide variety of possible uses."
Joy Porter, a board member for Spirit Lake's Historical Society, grew up attending the church.
"The acoustics in it are beautiful," Porter said. The church became too small, especially for the summertime crowds, she said. Accessibility for the disabled was also an issue, given the steep front steps, she said.
St. Joseph's built a new church on the south side of town and moved out in 1966, Porter said. Jimmy Hall, a member of the parish, received the old building in trade for constructing the new church.
Porter said Hall sold the church's side lawn to the next-door neighbors and also removed and sold the original stained-glass windows. The bell was sold, too, but has since been purchased back by the church and is still being used at St. Joseph's today.
In 1969, Porter and her husband purchased the building for $500 and operated a secondhand store for a couple years.
They sold it to a family from California. Over the years, the church has had several owners, Porter said.
The roof was replaced at one point and the building was partially painted – paint is peeling from the higher reaches of the church.
"People buy it," Porter said, "and they find out it costs entirely too much to do anything with it."
The current owner declined to comment, but Setters said the building is "in pretty bad repair."
"I would love to see somebody buy it and bring it back up to standards," he said. With 6,000 square feet of space, he said there's a lot of potential.
One possibility that's already been explored is turning the building into a day care, he said.
"It's going to need a lot of TLC," said Chris Murphy, an agent working with Setters on the listing. "It's a solid building, but it needs some work."
For information, contact Setters at (208) 755-9007.
---