Memories of baseball's cathedral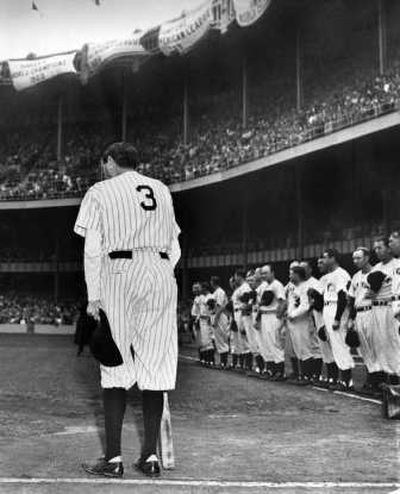 NEW YORK – When Yankee Stadium opened for business on April 18, 1923, an army of writers strained for adjectives to describe the majestic, triple-decked structure that loomed over the landscape like the Coliseum in Rome, somehow relocated to the Bronx.
Babe Ruth, who was largely responsible for its construction, took one look around the place and chose a succinct description, exclaiming, "Some ball yard!"
Some ball yard, indeed.
It was the biggest and grandest of ballparks, a perfect setting for some of baseball's greatest stars and most historic moments. More memories are on the way – now in its final season, the stadium will host the All-Star game on July 15.
From the start, it was the home to Yankee dynasties – seven pennants and six World Series championships in eight years under Joe McCarthy, 10 pennants and seven championships in 12 years under Casey Stengel, six pennants and four championships in 12 straight playoff seasons under Joe Torre.
From Ruth and Gehrig to DiMaggio and Mantle, to Jackson and Jeter, Yankee history is crowded with dynamic players flourishing in a ballpark whose roots date back to a bitter rivalry that was spiced with spite.
The Yankees had been tenants of the New York Giants in an oddly shaped park named the Polo Grounds when Ruth's home run exploits began to make his team a more attractive gate draw. Giants boss John McGraw took notice of the condition and advised the Yankees after the 1922 season that they ought to find some place else to play, preferably in the suburbs of New York, far away from the Giants.
In a fit of pique, the Yankee bosses agreed to move, settling on a plot of land across the Harlem River almost in the shadow of the Polo Grounds. At a cost of $2.5 million – no small piece of change in those days – Yankee Stadium was constructed in 284 days.
It was an instant hit.
A sellout crowd of more than 60,000 watched Ruth hit a three-run homer in a 4-1 victory over Boston in that first game. That October, the Yankees won the first of their 26 World Series championships, beating the Giants, and the Stadium quickly became the crown jewel of the game.
It is as much museum as it is ballpark, this shrine with its sea of monuments and plaques lining the outfield wall. In this special place where stars played and Popes prayed, the Yankees became the most successful franchise in sports history.
Current Yankees captain Derek Jeter was asked about his first memory of the Stadium.
"I can't even tell you who we played, to be quite honest with you," he said. "You're so excited, everything's pretty much a blur. It's a good thing, because I was a Yankees fan growing up, so it was a dream come true for me.
"Everything seemed just larger than life. It just seemed bigger. The stadium was bigger. There were millions of people – even though it was only 50,000."
From the beginning, Yankee Stadium wasn't only a baseball venue.
It was in the Stadium that Notre Dame coach Knute Rockne, preparing for a game against Army, implored the Irish to "Win one for the Gipper." Stirred by the memory of late teammate George Gipp, they did.
It was in the Stadium where the Baltimore Colts won the 1958 NFL championship in the first overtime game in league history, an epic that was properly called "The Greatest Game Ever Played."
And it was in the Stadium where Joe Louis destroyed Max Schmeling in the first round of their heavyweight championship rematch, striking a blow against Adolf Hitler's Nazi racial supremacy theories.
First and foremost, however, Yankee Stadium is a baseball park and in its final season, after 85 years of history, it is the perfect venue for the 2008 All-Star Game.
With its unique decorative facade running along the top of the ballpark, the Stadium was one of a kind.
Longtime Yankees infielder Jerry Coleman once remembered the original place – the ballpark was refurbished in the '70s – with awe. "That stadium," he said, "… that huge triple deck with the facade up there … my God, it was like going to a cathedral, really."
Hall of Famer Yogi Berra, who played, coached and managed in a record 14 World Series, remembered the first time he saw the ballpark.
"It was a kick walking in Yankee Stadium for the first time," he said. "Being in the place where Ruth and Gehrig and all those guys played. What can you say? I always loved that old stadium."
And why not? Berra was behind the plate there on Sept. 28, 1951, when Allie Reynolds pitched his second no-hitter of the season. Yogi was there again on Oct. 8, 1956, when Don Larsen pitched the only no-hitter in World Series history, a perfect game.
Four decades later, David Wells and David Cone would add perfect games at the Stadium, a place renown for sluggers but pretty good for pitchers, too. Dave Righetti, Jim Abbott and Dwight Gooden all threw no-hitters there and Ron Guidry struck out 18 batters in one game.
In the end, though, the trademark of the Yankees and their ballpark became the home run.
Ruth started that on opening day and punctuated it in 1927 when he capped a landmark season by hitting his 60th home run there. His single-season record lasted until 1961 when another Yankee, Roger Maris, shattered it hitting his 61st into the same, cozy right-field seats.
Ruth was a larger-than-life character, an almost mythical slugger who hit 714 home runs, for many years the career record and still the third most in baseball history. His slugging partner was Lou Gehrig, who signed off the Columbia University campus and played in 2,130 consecutive games.
On July 4, 1939, Gehrig stood at home plate and delivered an emotional farewell to a packed Stadium. He had been diagnosed with Amytrophic Lateral Sclerosis, a rare degenerative muscle disease. In a passionate speech, he declared himself, "the luckiest man on the face of the earth."
Two years later, he was dead.
Seven years after that, Ruth, his body riddled by cancer, leaned on a borrowed bat in the same spot to say his own goodbye. Two months after that, he, too, was dead.
Ruth and Gehrig were the centerpieces of the early days of Yankee Stadium. They were followed by a parade of Hall of Fame players who kept the Yankees on top of the baseball world.
Joe DiMaggio hit in 56 consecutive games in 1941, Mickey Mantle won the Triple Crown in 1956 and Reggie Jackson hit three home runs in one 1977 World Series game, each against a different pitcher, each on the first pitch, each one longer than the one before it.
They led a cavalcade of stars through the years, one following another, who together kept the Yankees at or near the top of the baseball world, proud occupants of baseball's proudest ballpark.
---