News > Spokane
Proposed restrictions for summer sprinkler use
Sun., July 6, 2008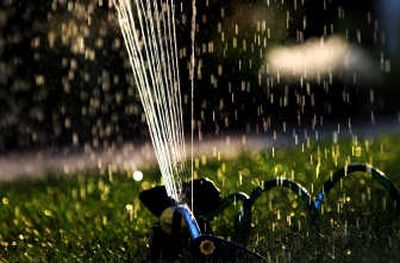 Spokane likes green lawns.
And to keep them that way, the average Spokane County resident uses twice the amount of water as the average person statewide.
To change that trend, Spokane Mayor Mary Verner, following the lead of Post Falls, has proposed watering regulations that would come with fines up to $125.
"This is really intended to save large-quantity consumption of water," Verner said.
The ordinance would outlaw the use of sprinklers from noon to 6 p.m. from May through September – times when much of the water sprayed on a lawn evaporates before hitting the soil. The proposal also would permit odd-numbered addresses to water only on odd-numbered days and even-numbered addresses on even days. Watering by hand with a hose or can would not be regulated. Exemptions to the use of sprinklers include recreational use by children and watering for new plantings.
Some City Council members have voiced concerns about the proposal since it was unveiled at a meeting last month.
"We don't have any kind of water shortage and don't in the future see one," said Councilwoman Nancy McLaughlin. "We should be educating, not regulating."
Some lawn-care experts say green lawns ultimately might be helped by the regulations.
"For most yards, that will save a ton of money and make a lot better yard," said Aron Heartburg, who owns Add A Lawn Quality Hydroseeding. "People just really overwater a lot in Spokane. It's just become a habit."
Heartburg said that too much irrigation encourages weaker root systems and washes away fertilizer. He advises homeowners to give lawns an inch of water a week and only between 5 a.m. and 7 a.m.
The city of Spokane pumped 23.6 billion gallons of water from the aquifer from October 2006 through September 2007, up 2 billion gallons from the amount pumped five years earlier.
Environmental Programs Manager Lloyd Brewer said the annual amount pumped from the ground partly depends on the weather. Water use so far this year is down, likely because the cool spring persuaded homeowners to delay the start of watering, he said.
Although there may not be a water crisis in Spokane, Brewer said the use of water may negatively affect the Spokane River.
Measurements of Spokane River levels taken near Monroe Street for well over a century show a significant decline in flow during summer.
State ecology officials say the amount of water released from Post Falls Dam affects the river's level, but so does the amount pumped from the ground. That's because studies have indicated the river connects to the aquifer. Research also has shown that lower flows damage some native fish populations.
Councilman Bob Apple said the rules are unnecessary.
"All that is is a fundraiser technique," Apple said of the proposed fines.
But Verner said water meter readers – who would be charged with enforcement – would first issue warnings and education would take priority over punishment.
"We won't just allow egregious repeat offenders to continue to ignore the ordinance, but it certainly wouldn't be a heavy-handed approach," Verner said.
Post Falls has prohibited watering between noon and 6 p.m. for the past few summers. The city's public works director said earlier this year that only one person has been fined.
Brewer said Spokane officials would like other areas to create similar rules. If less water were used across the region, it would lower pressure on the city to give up some of its unused water rights.
The city of Spokane has water rights well above what it pulls from the aquifer. Creating a watering ordinance even though the city is nowhere near reaching capacity "would demonstrate good leadership and get others to join in," Brewer said.
The Parks Department would be exempt from the rules until 2011. That's because most parks don't have proper equipment to irrigate within the proposed guidelines, Verner said.
"It isn't a lack of will or lack of desire on the part of the city to have our own facilities be in compliance, just that we have to have a phased approach so that we can pay for the change in the irrigation system," Verner said.
Local journalism is essential.
Give directly to The Spokesman-Review's Northwest Passages community forums series -- which helps to offset the costs of several reporter and editor positions at the newspaper -- by using the easy options below. Gifts processed in this system are not tax deductible, but are predominately used to help meet the local financial requirements needed to receive national matching-grant funds.
Subscribe to the Coronavirus newsletter
Get the day's latest Coronavirus news delivered to your inbox by subscribing to our newsletter.
---