News > Features
Melville's 'Armpits' a work of art, sports
EWU professor's self-published book mixes his two passions
Sun., July 13, 2008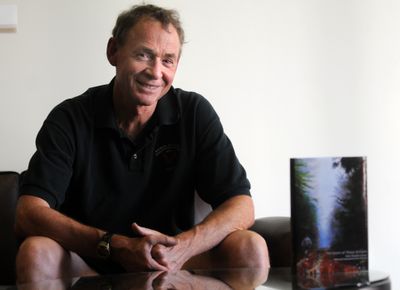 There's nothing poetic about armpits.
Or is there? Walt Whitman obviously found something alluring about them. In his epic poem "Song of Myself," the great American poet included the following lines:
"Divine am I inside and out, and I make holy whatever I touch or am touch'd from,
The scent of these armpits aroma finer than prayer,
This head more than churches, bibles, and all the creeds."
And it was from "Song of Myself" that Scott Melville borrowed the line he would use for the title of his self-published book "The Scent of These Armpits: Poetic Thoughts on Sports."
He'll read from it at 7:30 p.m. Thursday at Auntie's Bookstore.
Melville, a professor in Eastern Washington University's Department of Physical Education, Health and Recreation, combines love of sport with an appreciation of art.
A talented painter whose own work graces the cover of his book, the Pennsylvania native is an avid reader. And over the years, he's obsessively jotted down quotes and passages that have impressed him with their poetic qualities.
Then, he says, "About six or seven years ago I began thinking, 'There's enough here to put together a book.' "
Deciding to focus on sports, Melville began to determine just how to organize the material.
"Mostly I just looked at what I had," he says. "There were some things just about the thrill and excitement and joy of sports. Other ones dealt with death and retirement and aging of athletes and so on. Others I could see more drama or the telling of a sports story, like 'Casey at the Bat.' "
The breadth that Melville's book offers is formidable. From Ernest Lawrence Thayer's poem about a baseball slugger to Virgil's description of a boat race in the "Aeneid," from Lord Byron on cricket to Whitman's opining about the great outdoors, the styles of writing are many and mixed.
Take this prose passage from Pat Conroy's novel "The Prince of Tides," which offers a philosophic view of the benefits of defeat:
"Loss is a fiercer, more uncompromising teacher, coldhearted but cleareyed in its understanding that life is more dilemma than game, and more trials than free pass."
Or this section of Charles Hamilton Sorley's poem "The Song of the Ungirt Runners," which is a paean to the joys of running:
"We know not whom we trust
Nor whitherward we fare,
But we run because we must
Through the great wide air."
Or this passage from Christopher Morley's poem "The Old Swimmer," which is both a praise of swimming and a commentary about things that age takes from us:
"I see my old abundant youth
Where combers lean and spill
And though I kiss the salt no more
Other swimmers will."
The reaction of online critic Joseph Powell, an English professor at Central Washington University, shows that at least one reader appreciates Melville's effort.
"(T)his book essentially celebrates motion, the joys of physicality unperfumed," Powell wrote on Amazon.com. "It is a marvelous tribute to activity, our bodies in the act of striving, taking full pleasure in being alive no matter how old we are."
Like some of the poets whose work resides in his collection, Melville knows about disappointment. Despite three years' labor, researching and purchasing the rights to use copyrighted work, he wasn't able to find a publisher.
"As soon as they see poetry, it's pretty tough," Melville says. "And I don't have a name, in that respect. I couldn't get anyone to read it, but I wasn't going to give up."
Which is why he decided to print the book on his own dime.
"I didn't do it to make money," Melville says, "and I don't care if I've lost a few thousand dollars just trying to put it together. I think it's good enough that I'd like to have it available and for people to know about it who would be interested in it."
Especially those who aren't turned off by the title.
"Whitman had written a number of things about sports, the vigorous lifestyle and so on, and I think to a larger extent that's what this book is about," Melville says, adding with a laugh: "But you definitely need a subtitle there. I recognized that was the situation."
Local journalism is essential.
Give directly to The Spokesman-Review's Northwest Passages community forums series -- which helps to offset the costs of several reporter and editor positions at the newspaper -- by using the easy options below. Gifts processed in this system are not tax deductible, but are predominately used to help meet the local financial requirements needed to receive national matching-grant funds.
Subscribe now to get breaking news alerts in your email inbox
Get breaking news delivered to your inbox as it happens.
---