Seahawks owe it to Engram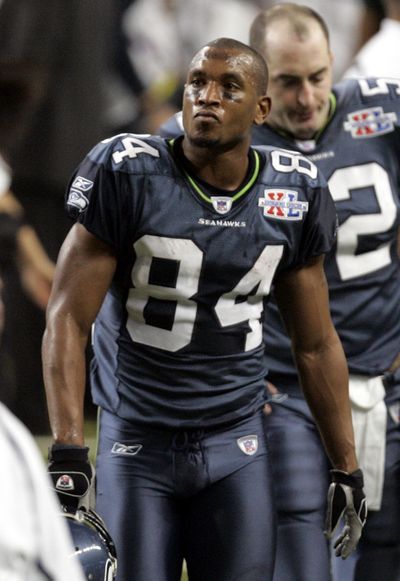 KIRKLAND, Wash. – The rest of his teammates were in the locker room, relaxing after a typically monotonous day of minicamp on a gray April afternoon.
Only two Seahawks remained on the field. Veteran Bobby Engram ran pattern after pattern, catching passes from backup quarterback Charlie Frye.
It was typical Engram, staying late, as if he were an undrafted free agent running remedial routes. He was sweating through his gloves.
This is how the Seahawks receiver has lasted 12 NFL seasons. He's outworked faster receivers. He's out-prepared more talented guys. He's outsmarted each batch of ballyhooed rookies ready to take his place.
Engram is the consummate professional. The perfect face of a franchise that values character above every athletic "measurable."
And because of those traits, because of his unquestioned professionalism and dedication to his job, it was shocking when Engram decided this past spring to miss the Seahawks' voluntary training camp.
The last guy off the field didn't even make it onto the field.
"I was right up front with everything," Engram said late last week in the first extended interview since his brief no-show. "I expressed my issues … I wasn't asking for anything outrageous.
"I just wanted to feel like I was being compensated fairly for the value that I bring. And I wanted some more years so I would know that my days as a Seahawk are not done. I wanted a little bit of security in that way."
For the first time in his life, Engram put himself before his team. He was making a statement that he was worth more than the $1.7 million he would earn this coming season. He wanted an extension.
He had 94 catches for 1,147 yards in the 2007 season. He wanted acknowledgment for that and for the intangibles he has contributed to the team since coming from the Chicago Bears in 2001.
Despite last season's statistics, Engram is somewhere between the 75th and 80th highest-paid receiver in the league, yet the Seahawks have told him they will not negotiate with him until he is a free agent at the end of this season.
"I know that $1.7 million is a lot of money; I make a lot of money," Engram said. "But everything is relative."
Cutting to the chase, Engram said he will be there when the Hawks open their training camp in Kirkland in two weeks.
"I'll be ready to go," he said. "I'm going to be me. I'm going to be ready to work hard, because I don't hold any bitterness. I'm not going to be upset about something that didn't happen. Everybody has to handle his business individually, but I realize nobody is bigger than the team."
Before he missed the voluntary minicamp – the first one he missed in his 12-year career – Engram talked with coach Mike Holmgren, receivers coach Keith Gilbertson, offensive coordinator Gil Haskell and veterans such as Matt Hasselbeck, Walter Jones and Deion Branch.
"The holdout was never a power play," Engram said. "I just needed to take a step back and see where this was going. I just wanted to look at the circumstances from afar for a while. Now, I've got my ideas and I'm going to move on."
Engram wrote a letter to GM Tim Ruskell and copied it to Holmgren, saying he respected the organization's decision not to negotiate a long-term deal. He also said he didn't think it was the right decision.
Engram is in much the same situation former center Robbie Tobeck and former fullback Mack Strong found themselves with the Seahawks. They were veterans whose value to the Hawks was greater than it was to other teams.
"I guess when you get to be a certain age, they put a different value on you," Engram said. "That's what they did with Mack, and that's what they did with Robbie. But I'm not your typical 35-year-old, the way I take care of myself. The way that I train, I think I can play at this level for another four to five years."
As good as Strong and Tobeck were, as solid as they were, their leverage was minimal. There was no incentive to renegotiate with them. And like it was with Strong and Tobeck, the Seahawks also know that Engram wants to stay in Seattle.
"I guess that's what you get for being loyal," Engram said. "But I'm not going to be loyal to a fault. I'm hoping for the best, but I'm preparing for the worst. "If it comes to the point that I have to move on, then I will move on," he said. "And when I do become a free agent, I think teams will step up and I will have a market value. Everybody's looking for professional leadership, somebody who can come in and make plays."
Engram's argument – and it is valid – is that the rest of football is watching how the Seahawks treat their veterans. He wonders why, after all of his years of service, the front office wouldn't reward performance and loyalty. The way the Hawks treat Engram could reflect on their future recruitment of free-agent veterans.
"I'm disappointed this didn't work out, but I realize it's business," he said. "Now we move on. But I was just hoping they would step up and do something fair after all I've done for this franchise. But I guess their inactions are speaking some volumes.
"I was hoping to have something done so that my future as a Seahawk wouldn't be an issue. Now there's a real possibility that I won't retire as a Seahawk."
Engram doesn't possess the wow factor. All he does is catch third-down passes. All he does is catch balls in traffic. All he does is take a beating and pop back into the huddle. He plays through pain from August and into January. He tutors the younger receivers such as Ben Obomanu, Courtney Taylor, Logan Payne and Jordan Kent.
Every team should have 50 Bobby Engrams. While extending his contract probably isn't the most prudent economic move, it would have been the right thing to do.
---