Compact benefits military kids
Defense Department asking states and schools to ease transition for children who move often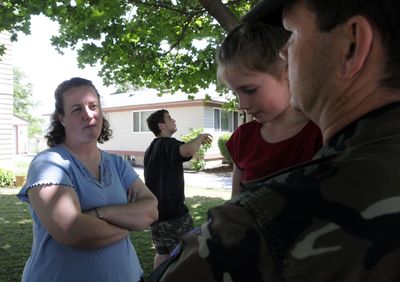 Christopher VanAusdal went to kindergarten in Germany, where the emphasis was on socializing.
That put him behind when his Air Force family moved to Arizona, where first-graders were beginning readers. He was just catching on to phonics when they moved to a California school where reading was taught differently.
Three years later, the family moved to South Carolina. "He was in fifth grade and couldn't read at a third-grade level," said his mother, Chris VanAusdal.
After the family of eight moved to Fairchild Air Force Base last summer, Christopher enrolled at Medical Lake High School, a good fit. But his two older brothers discovered that what they'd learned in South Carolina fell short of Washington requirements. Both seniors, they scrambled to complete culminating projects and meet curriculum requirements.
These are typical challenges faced by kids in military families, who can expect to attend six to nine schools. Now, the U.S. Department of Defense is asking states to sign a compact to ease transitions when military children are moved across state lines.
Last week, Delaware became the 10th state to sign up.
In Washington, the compact passed the state Senate in 2007 but was tabled until a task force could hold hearings. The Idaho Legislature has not yet considered the matter.
The compact asks, for instance, that school districts rely on families' accounting of classes taken – at least until transcripts are obtained from a child's former school.
It asks that students have a chance to turn out for extracurricular activities, even if they missed football or cheerleading tryouts or student-government elections. A child who was in kindergarten in another state could not be turned away from a Washington district for being too young.
The states also pledge to work toward uniform graduation requirements – a thorny issue because education is the prerogative of states and local communities.
Many such steps already are taken at school districts near bases, including the Medical Lake School District, where 48 percent of students come from military families.
The district sends teachers and counselors for special training in helping military children adjust, said Superintendent Pam Veltri.
For districts like hers, the compact wouldn't mean much, said Veltri, a member of the state task force. But for those with few military kids, "this could be a major change," she said. "Some of them aren't willing to waive certain requirements."
And some educators who have spoken to the task force wonder why the same policies shouldn't apply to children whose civilian families relocate.
"No one would stop you from applying it to other students as a district," even though the compact applies only to military children, Veltri said.
The VanAusdal family stresses that moving frequently has advantages.
The oldest brothers spent six years in Germany, where they became enthralled with castles and learned sword-fighting. They've been to 11 countries and many states.
Before any move, they study their soon-to-be home and begin discussing the activities they'll enjoy, the sights they'll see.
The Fairchild assignment brought the anticipation of camping, and the cross-country drive gave them a chance to see Yellowstone National Park.
The youngest children – siblings whom the VanAusdals adopted after serving as foster parents – attend Michael Anderson Elementary, a Medical Lake district school that's located at Fairchild.
Jordan VanAusdal will be in fourth grade in September, his sister Sara will attend kindergarten, and Emelie will be in preschool.
There, classmates understand the challenges of finding new friends.
"On average, you're the new kid every four years," said Tech Sgt. Ron VanAusdal, citing Air Force statistics.
"So every kid is the new kid sometime."
---