Rashad among 20 being enshrined in college hall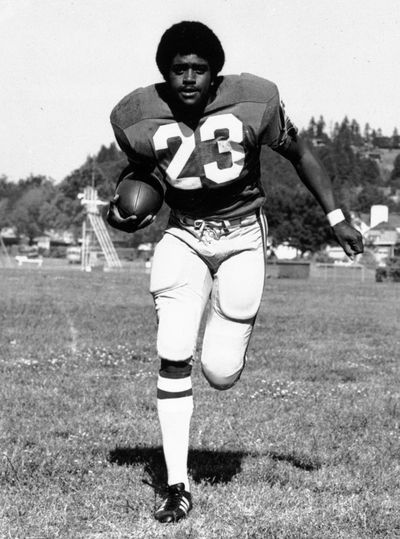 Ahmad Rashad, who starred at Oregon during 1969-71 when he was known as Bobby Moore, will allow himself some time to look back on his football career when he is enshrined into the College Football Hall of Fame on Saturday night at South Bend, Ind., along with Penn State coach Joe Paterno, 1984 Heisman Trophy winner Doug Flutie of Boston College, and 17 others.
"I'm still looking forward, but at least I get a chance to slow down and enjoy the memories of my college football career," Rashad said.
Rashad is among 20 players who will be enshrined, along with Mount Union quarterback Jim Ballard, Oklahoma center Tom Brahaney, Michigan defensive back Dave Brown, Clemson linebacker Jeff Davis, Texas defensive back Johnnie Johnson, Ohio State quarterback Rex Kern, North Alabama linebacker Ronald McKinnon, Texas A&I defensive end John Randle, McMurry halfback Brad Rowland, Indiana running back Anthony Thompson, Houston defensive tackle Wilson Whitley, Dartmouth linebacker Reggie Williams, Southern California linebacker Richard Wood and Notre Dame defensive end Chris Zorich.
Along with Paterno, the coaches being enshrined are Central Michigan coach Herb Deromedi, Jackson State coach W.C. Gorden and Doug Porter, who coached at Mississippi Valley State, Howard and Fort Valley State.
Golf
Johnson aces round
Richard S. Johnson aced the 14th hole on his way to shooting a 63 that gave him a one stroke lead over the Pappas brothers after the first round of the U.S. Bank Championship at Milwaukee.
Deane and Brenden Pappas shot 6-under-par 64 and Robert Garrigus, Dean Wilson and Patrick Sheehan were another shot behind.
Defending champion Joe Ogilvie and Jesper Parnevik were in a group of 10 tied at 66.
•At Springfield, Ill., Christina Kim shot a 9-under 63 to take a one-stroke lead at the State Farm Classic, a tournament she just missed winning last year. Tracy Hanson of Rathdrum opened with a 70 and Wendy Ward of Edwall, Wash., shot 73.
Miscellany
Boxer unconscious
Welterweight contender Oscar Diaz had surgery for bleeding on the brain and was in a coma after collapsing between rounds of a nationally televised bout in his hometown of San Antonio.
The 25-year-old fighter was taking a beating from Delvin Rodriguez on Wednesday night at Municipal Auditorium when he collapsed on his stool before the 11th round.
•The Milwaukee Bucks have signed guard Tyronn Lue and forward Malik Allen, giving new coach Scott Skiles two more veterans with which to work.
•Venus Williams, Serena Williams and Maria Sharapova are among the five past U.S. Open women's champions in the announced tournament field.
Lindsay Davenport and Svetlana Kuznetsova are the other previous winners entered in the hard-court Grand Slam tournament.
The tournament begins Aug. 25 in New York.
From wire reports
---