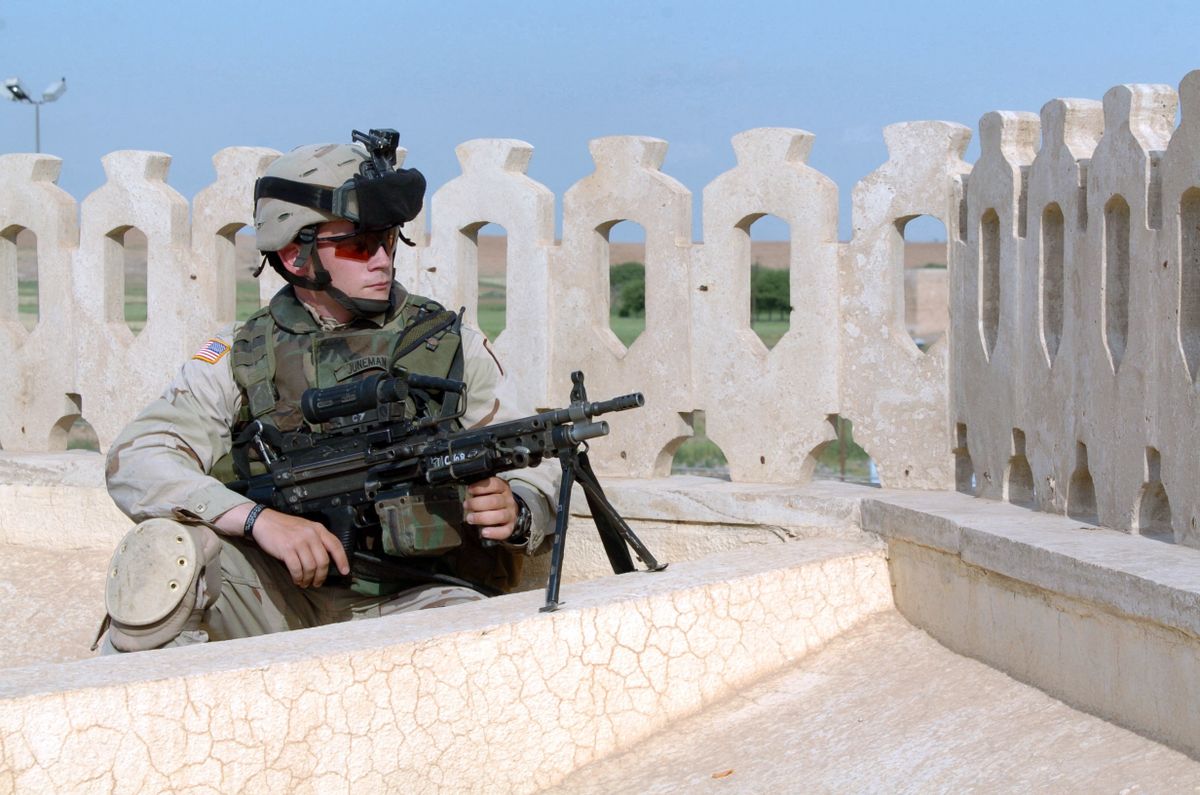 A distraught 26-year-old Navy veteran who had a history of mental illness hanged himself within three hours of seeking help at Spokane Veterans Affairs Medical Center. The July 7 death of Lucas Senescall was the sixth suicide this year of a veteran who had contact with the Spokane VA, a marked increase in such deaths.
Last year, there were two suicides among veterans treated at the local VA.
Senescall's death comes amid heightened concern nationwide over the suicide rate among veterans.
VA officials said the medical center continues to take steps to identify veterans at risk of harming themselves, and it is training all employees in suicide prevention. Citing confidentiality rules, officials would not identify the recent fatalities.
But the identity of one other veteran who killed himself this year became public when his family wrote U.S. Sen. Patty Murray in April about concerns with VA mental health care. Spc. Timothy Juneman, 25, a National Guardsman and former Stryker Brigade soldier who was injured in a roadside explosion in Iraq, died March 5.
The same VA psychiatrist, Dr. William L. Brown, attended Senescall on the day he died and Juneman in early January when he was released from inpatient suicide watch at the Spokane VA. Brown had prescribed Juneman several medications, including potent antidepressant, anti-anxiety and antipsychotic drugs.
Parents of both dead veterans have independently raised concerns that the Spokane VA could have done more to save their sons.
"He was begging for help, and they kicked him to the curb," said Senescall's father, Steve Senescall, of Spokane, who drove his son to the hospital and was with him during a brief consultation with Brown.
Said Juneman's mother, Jacqueline Hergert, of Toledo, Wash.: "This thing should never have happened with my son."
Juneman was a combat veteran diagnosed by the Spokane VA with traumatic brain injury and post-traumatic stress disorder. He was attending Washington State University. "As soon as those diagnoses were made, somebody should have been standing on a soapbox for him, and nothing was done," Hergert said.
Juneman's body was found in his Pullman home March 25, nearly three weeks after he had hanged himself. He had missed several appointments at the Spokane VA. In records obtained by Juneman before his death, Brown wrote that imminent redeployment to Iraq with the National Guard was a "major stressor" contributing to Juneman's condition, his mother said.
The Spokane VA couldn't contact the 161st Infantry of the Washington Army National Guard to advise officials there of Juneman's diagnosis. Without a patient's consent, the VA cannot inform the Department of Defense about the medical condition of "active veterans" such as Guard and Reserve members.
The week before he died, Juneman received final notification that the National Guard had rescinded a promise not to send him back to Iraq for two years.
Brown has declined through VA officials to comment on either Juneman's or Senescall's case. His superiors at the Spokane VA said they were unable to speak about specific cases because of laws protecting patients' confidentiality.
However, Sharon Helman, the medical center's director, and Dr. Gregory Winter, chief of behavioral health, said each of the six suicides this year was being investigated. As of this year, they said, every hospital employee is undergoing suicide prevention training.
"We have dedicated mental health staff who are very passionate about treating veterans, whatever their diagnosis is, to ensure they receive the quality, safe care that they deserve," Helman said. "When there is even just one suicide we are going to do everything we can to look at our process to determine (whether there is) anything we can do to improve that process and that care."
Winter said that when he came to the Spokane VA medical center seven years ago, his staff numbered about 30. Today, largely as a result of increased attention to the mental health of returning veterans, that number has grown to 52 behavioral health workers, who see about 4,500 patients.
"We save lives every day in the mental health service and all the other services as well, but we are not 100 percent," Winter said. "It is a tragedy when we lose a veteran and we ask ourselves many, many questions when that happens."
Senescall's death under review
The Spokane VA is reviewing the death of Senescall, who hanged himself with an extension cord in his garage between 4 and 5 p.m. July 7 after leaving the hospital at 2:30 p.m. His father said the veteran remained depressed and agitated when left the facility.Senescall's father and VA medical records obtained by him describe a troubled young man unable to pull his life together after leaving the Navy, where he had served from July 2000 until September 2002, including service aboard the aircraft carrier USS Kitty Hawk.
"He joined the Navy because his brother Jacob did," Steve Senescall said. "He loved his older brother and emulated him." Lucas Senescall was medically discharged after damaging his knees "hauling fire hoses up and down stairs on the Kitty Hawk," his father said.
The veteran's first visit to Spokane's VA hospital was in December 2002; he was diagnosed with bipolar disorder, compounded by drinking.
In 2004, while traveling between Florida and Seattle, Senescall became despondent and attempted to jump off a ramp at SeaTac International Airport.
A 2005 document from the Puget Sound VA medical center, where Senescall went to renew a prescription, describes Senescall as having "a long history of childhood (attention deficit disorder) and depression." The document said Senescall reported mood swings and severe depression when not on medication, which included several antidepressants and the mood stabilizer lithium.
On the day he died, Senescall had called his father, who agreed to pick up his son and drive him to the medical center. Senescall had been receiving care there, including mental health care.
The veteran was despondent over a recent breakup with his girlfriend and domestic violence and malicious mischief charges stemming from an incident in which he removed an air conditioner from the apartment he once shared with her, his father said. Senescall also was bothered by a low score in a class he was taking at Spokane Falls Community College, where he was studying to become a prosthetics technician.
"Luke was no angel, but he wasn't a rotten kid," Steve Senescall said. "There was nothing mean about him."
By the time father and son arrived at the hospital at 1 p.m., the veteran was agitated and crying, "holding his hands on his mouth just to keep from screaming," Steve Senescall said.
"My heart is just wanting to leave my body," Steve Senescall recalled his son telling him.
By 2:39 p.m., VA social worker Diane Turner had signed a triage note and mental health risk assessment of Senescall. Among her findings:
"Veteran is tearful, angry and expresses hopelessness. He is frustrated with his care at the VA and feels like he is always accused of seeking medication."
"Veteran denies suicide plan but states, 'I don't want to exist.' "
Turner recorded Senescall's alcohol use, legal problems and that he was not taking psychotropic medications. She noted that Senescall was sometimes loud and angry. At other times his father had to speak for him. She noted he had missed mental health appointments in the past.
The social worker's suicide risk management inventory, a standardized questionnaire used to screen patients capable of harming themselves, noted suicidal thoughts and multiple stressors, then concluded, "Risk low. Patient commits to safety plan."
Turner handed Senescall her name, her number, and the number for the VA national suicide hot line. The veteran agreed to stay and meet with Brown, the psychiatrist.
In his notes, signed at 2:46 p.m., Brown recorded treating Senescall for adjustment disorder and that his father did most of the talking because his son was crying. "The patient denied using alcohol or illicit drugs," Brown wrote.
Brown noted Senescall's active medications, including anti-anxiety drugs and painkillers.
He described Senescall's attitude as "irritable, impulsive, intense" and his mood as "depressed, hopeless, helpless, dysphoric, anxious." He wrote that Senescall had no suicidal or homicidal thoughts.
"It's hard to know what is going on with Luc (sic) due to his poor follow-through," Brown wrote.
"I point out to him and his dad that his last presentation to me in 2005 was almost identical. But he has had 2 NO SHOWS with me since then and most recently a NO SHOW with (another VA psychiatrist). If there was a quick solution to this problem, we would have given it to him by now. He is going to need to work at his recovery and show some motivation for this prior to being prescribed medications," Brown wrote.
Steve Senescall described Brown's attitude during the brief examination as callous, arrogant and accusatory. Now the father is asking, "Why didn't he have Luke stay the night, if only for observation?"
Brown scheduled an appointment for Senescall on July 21, two weeks away.
On the way home from the hospital, Senescall became agitated when his father asked him why he had missed earlier appointments at the VA center. When their car was stopped at a stoplight, the veteran got out and walked away from his father's car.
"I thought the walk would do him good," Steve Senescall said.
He never saw his son alive again.
According to VA records, the veteran left a message about 3:24 for VA nurse practitioner Lester Peters to call him. Peters was off for the day. The nurse who took Senescall's message called the veteran around 3:31 to make sure he was OK.
"No, I'm not … OK," was Senescall's reply.
The nurse informed Peters, who called Senescall about 4 p.m.
Peters wrote in his notes from the conversation that Senescall felt anxious and was crying. He reported that Senescall was taking the antidepressant sertraline, but was running out. Peters said he would continue the prescription until Senescall's appointment later in the month.
He advised the veteran to seek help if he felt suicidal or his condition worsened.
Senescall's brother Jacob and his roommate found his body in his garage that evening.
Police told Steve Senescall his son was dead by 5 p.m. About 150 people attended a memorial service July 13.
The investigating officer told Senescall's father he found 16 prescription medications in his son's home. It will be several weeks before a toxicology report is available. In the meantime, the father is engaged in a legal battle with the VA over release of redacted portions of his son's medical records.
Veterans' suicide rate twice that of non-veterans
That legal battle is the type Paul Sullivan, a veteran and former VA employee, knows well. As executive director of the Washington, D.C.-based group Veterans for Common Sense, he has led efforts to correct perceived deficiencies in VA mental health care for veterans returning from Iraq and Afghanistan.
Though his group's lawsuit against VA Secretary James Peake was dismissed last month in U.S. District Court in San Francisco because the court lacked jurisdiction in the case, presiding Judge Samuel Conti wrote that plaintiffs "have demonstrated that their members have suffered injuries in fact."
During the course of the civil case, Veterans for Common Sense produced evidence, including VA documents, showing that in recent years 1,000 veterans a month attempted suicide while in VA care.
A CBS News investigation found that in 2005, the latest year for which numbers are available, 6,256 veterans of all wars in 45 states killed themselves. Five states could not or would not provide information on veteran suicides. The investigation found that veterans were killing themselves at more than double the rate of non-veterans. Veterans age 20 to 24 were two to four times more likely to commit suicide than non-veterans of the same age.
Spokane VA medical center director Helman attributed at least some of the increase in the number of reported suicides to increased awareness of the issue; in the past, the VA might not have heard of all such cases.
Sullivan said the problem could get worse, that the VA is unprepared to absorb 1.7 million returning Iraqi and Afghanistan war veterans if they need care. The health care system currently is treating 325,000 of them; of those, nearly 134,000 are being treated for mental health conditions.
Of the Senescall case, Sullivan said the fact that the VA is withholding records from the dead veteran's father is evidence that officials are covering their tracks.
"It's unfortunate that the VA is treating this like a corporation would handle a lawsuit instead of taking responsibility and fully disclosing the facts," Sullivan said.
Helman said the VA is "known nationally for its disclosure process" and that if the investigation reveals a medical error, her staff would be forthcoming with a patient's family.
She would not disclose whether there had been disciplinary action against Spokane VA personnel in any of this year's suicides.
Winter, the chief of behavioral health at the Spokane VA, said VA policy is to conduct an internal, peer review of every suicide involving a VA patient, as well as a "root-cause analysis" of the incident.
"What we are learning is it is very important for us to maintain contact with these veterans to make sure they don't fall through the cracks," Winter said.
---