News > Voices
Success comes with benefits
Beacon Services Inc. owner moved family from South Korea to achieve better life
Thu., July 24, 2008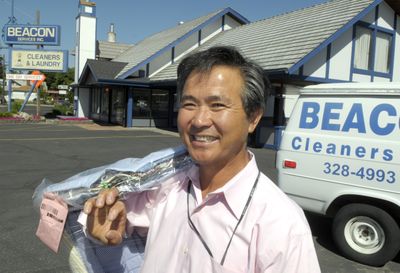 Beacon Services Inc. has purchased Richard's Dry Cleaning recently, adding two more locations to the laundry and dry cleaning business.
It now has a total of six stores throughout the Spokane area. Owner Hi Bum Kim upgraded the computer system in his recently purchased stores and raised the pay of the employees. The regulars of the former Richard's Dry Cleaning are pleasantly surprised to find that prices for some dry cleaning items have gone down as a result of the new ownership, a rare thing for this inflation-plagued time.
Beacon Services has been in Spokane for more than 50 years. Kim bought it in 1986. The revenue has since grown nine-fold, with 30 employees in six locations today.
The business has a drive-through service in its main store located on Northwest Boulevard. In 1998, Beacon Services became the first cleaner in the state to install an environmentally friendly dry cleaning system that uses a special solvent. The solvent creates no hazardous waste or air pollutants and is odorless. Currently, according to Kim, Beacon Services is still the only cleaner in town using the system.
Thirty-five years ago, Kim was a postal worker in South Korea. One day he watched his postmaster having a fight with his college-age children over the financial woes of the children's education. That day, Kim vowed he would not allow the same thing to happen to him. So he pulled up stakes in 1974 and settled in Spokane, with a 1-year-old son, a 3-year-old daughter, a wife, no money and even less English.
He started out as a janitor and went on to build his own janitorial services. Soon he was operating a landscaping business worth millions of dollars in government contracts. For the first 12 years in Spokane, he never set foot out of town, working 12 to 14 hours a day, seven days a week.
"Sometimes during summer, the kids would beg to go to the lake," he recalled, "So my wife and I would go to the lake and took turns watching the children and napped to rest up."
Through the back-breaking years, Kim and his wife built a solid business and raised two successful children, who learned from their parents the value of hard work.
Today, although they can afford to slow down, he and his wife, Yonae Kim, run the business themselves, giving close attention to every detail.
"It used to be that I worked in order to teach my children how to fish instead of giving them the fish for dinner," said Kim. "Now I work hard for the employees whose livelihood depends on me. Every decision I make today has a consequence tomorrow."
Kim takes enormous pride in the success of his business and his children, who no doubt owe a lot to their father's work ethic. Their son is now a regional financial controller for Microsoft, and their daughter is a human resources director for the University of Washington.
Kim never had to go through what his old mentor went through years ago in Korea. And he made it happen through all those long days in the plant.
Local journalism is essential.
Give directly to The Spokesman-Review's Northwest Passages community forums series -- which helps to offset the costs of several reporter and editor positions at the newspaper -- by using the easy options below. Gifts processed in this system are not tax deductible, but are predominately used to help meet the local financial requirements needed to receive national matching-grant funds.
Subscribe now to get breaking news alerts in your email inbox
Get breaking news delivered to your inbox as it happens.
---