A&E > Entertainment
Auntie Bijou, aka Kevan Gardner, bids farewell
Fri., July 25, 2008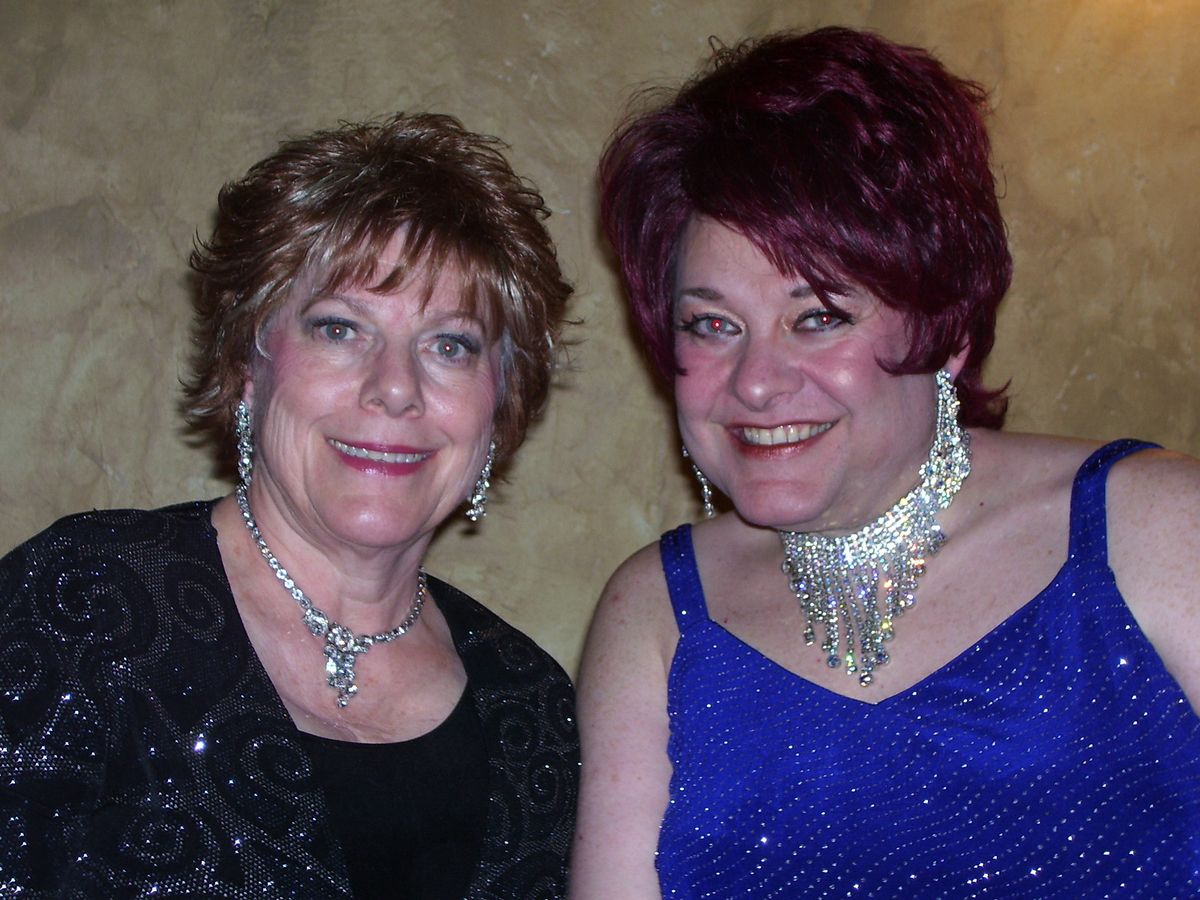 Kevan Gardner in character as Auntie Bijou, right, with his mother, Marvel Gardner as Mama Matinee. (photo courtesy of Kevan Gardner). (The Spokesman-Review)
For many drag queens, the diva they become when donning cocktail dresses, high heels, big wigs and make-up is a character, like actors taking on roles. Kevan Gardner's Auntie Bijou, however, is another side of the same man. His deeply feminine spirit is alive and happily performing a repertoire of more than 150 songs in his drag persona.
Spokane's last chance to see its beloved Auntie Bijou, a part of the drag scene for 15 years, is tomorrow, 8 p.m., at the Unitarian Universalist Church. Gardner has put together a show that will include Abby Crawford, the local Drag Kings and the Giant Ass Drum Corps. Admission is free, with an opportunity to make donations to Pride Foundation.
The Bye Bye Bijou show is Gardner's chance to bid farewell to his hometown before moving to Portland at the end of summer.
"It's my way of honoring everyone who has supported me all these years by throwing a good party," he said.
Party, in this case, doesn't mean free-flowing beer and loads of risqué jokes. Over the years, Auntie Bijou has appealed to audiences of feminists, lesbians, families and gay men alike.
"My shows are less racy than prime time television," Gardner quips.
From a family of 10, in years past performances often included his sisters and mom hamming it up with the theater-major- turned-activist. When not on stage or emceeing charitable events, Gardner is the regional program director for Pride Foundation, a job that he will take with him to Portland.
In 10 years with the organization that awards grants and scholarships to individuals and groups in the LGBT community, he has seen his job evolve to include a leadership development program and ever more active participants in places like Montana and Alaska. Gardner has long been an advocate for supporting work on behalf of gay rights being done in rural communities.
"Since day one at Pride Foundation I've been about not being urban centric," he says, noting the irony of moving to Portland.
In the evolution of his work and his personal life, though, the timing is just right. Pride Foundation is opening an office in Portland, its third next to Seattle and Spokane. The staff he manages is projected to double in three to five years and Gardner was looking at how to maintain a balance when considering a move.
Overseeing Pride Foundation programs in Eastern Washington, Idaho, Montana, Alaska and Oregon has him on the road three-quarters of the time and Gardner decided when he is home he wanted to be closer to his spiritual and religious community.
He grew up Mormon, went on a mission to Guatemala and attended Brigham Young University, but in his college years Gardner began to understand he didn't think and feel like most of his classmates. He came out as a gay man before returning home to Spokane and once here, began to explore other faith traditions. Through extensive reading he found a book titled Spiritual Dance that spoke more directly to his core beliefs than anything he'd ever experienced.
"Oh my god, I'm a witch," Gardner remembers thinking when reading about paganism.
It's a belief system that is very much based in the eco-feminist tradition, and Gardner has found a small community of other pagans in the Inland Northwest. He is ready, though, to be a follower sometimes, rather than always a leader. The larger community in Portland will afford him that chance.
Spokane's loss will be Portland's gain, but I suspect Gardner's spirit of activism, feminism and just plain let's-sing-and-dance-and-have- fun-ism will long be with us.
Jill Wagner's column about the region's gay community appears weekly. She can be reached at
outonthetown7@yahoo.com
.
Local journalism is essential.
Give directly to The Spokesman-Review's Northwest Passages community forums series -- which helps to offset the costs of several reporter and editor positions at the newspaper -- by using the easy options below. Gifts processed in this system are not tax deductible, but are predominately used to help meet the local financial requirements needed to receive national matching-grant funds.
Subscribe to the Spokane7 email newsletter
Get the day's top entertainment headlines delivered to your inbox every morning.
---