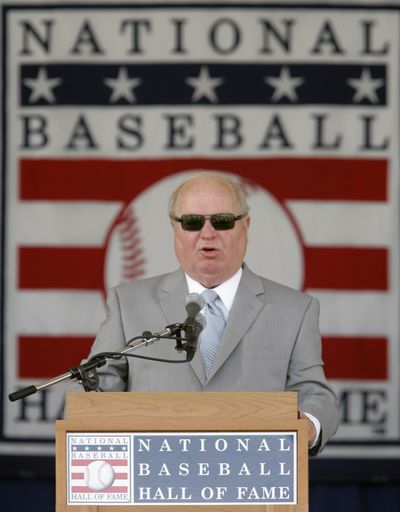 COOPERSTOWN, N.Y. – The Hall of Fame speech was over, and Dave Niehaus returned to his seat among the icons of baseball, relieved at having only one near emotional breakdown.
That came midway through his remarks, when Niehaus, upon receiving the Ford C. Frick Award for broadcasting excellence, gave tribute to his wife of 45 years.
"I would not be here without you, Marilyn," he said, a catch in his voice as he looked at her in the crowd at the Clark Sports Center.
"She's my gal," Niehaus would explain later. "She's been with me through thick and thin. She's been the reason I'm here. I'm proud of myself for not breaking down completely."
When Niehaus finished his acceptance speech – the first of eight on a long, hot day in Cooperstown – and sat back down, he turned around to sneak a peak at the array of immortals seated behind him.
With Goose Gossage as the headline inductee, 56 of the 64 living Hall of Famers showed up, a turnout described by new Hall president Jeff Idelson as the largest gathering of Hall of Famers ever in one place.
"I turned around, and (Sandy) Koufax was there," Niehaus marveled (he's marveled constantly these past three days). "He said, 'That was just great. That was fabulous.' And I know he meant it. I didn't know he was seated right behind me. Talk about a Hall of Fame kiss, man. Wow. There he was. I said, 'Thanks a lot, Sandy,' That's when I almost cried."
Niehaus had ripped up three or four early versions of his speech, but finally, over the All-Star break, he sat down and emptied his heart. Fifteen minutes later, he had his speech.
"It was easy, when you really thought about it," he said. "It was emotional. It was me." After a stumbling introduction by Hall of Famer Tom Seaver, who bungled two of Niehaus's trademark expressions – My Oh My and Get Out the Rye Bread and Mustard, Grandma – Niehaus took the stage.
In his speech, Niehaus evoked memories of his youth in Princeton, Ind., painting a word picture of an 11-year-old boy on his front porch at 625 North West Street on a "hot, sultry July evening about 8:30 at night.
"Suddenly, from the old Zenith floor model radio in the living room comes this voice screaming, 'It might be. It could be. It is!' And the young boy jumps about three or four inches off the ground with each halting phrase.
"Magic is happening in St. Louis, Mo. Stan Musial hit another home run about a zillion miles away, and a career has germinated that ends up here in Cooperstown today."
The reference, of course, was to the broadcasts of Harry Caray that sparked Niehaus' infatuation with broadcasting. Now he is in his 32nd year as the voice of the Mariners. As an emotional Mariners' president Chuck Armstrong said during his toast at a team-sponsored Sunday brunch honoring Niehaus, while invoking James Earl Jones' speech from "Field of Dreams" on the constancy of baseball:
"Dave Niehaus is the Mariners' constancy." Niehaus, now 73, paid tribute to Mariners' fans ("Millions of fans from the Northwest stand here with me today"), and saluted the power of his medium.
"Radio plays with the mind," he said. "It gives you a mental workout and delusions of grandeur. That's what Harry Caray did to me."
Niehaus apologized early in the speech for anyone he would forget to thank.
And sure enough, even though he gave a long list of salutes, including Mariner officials and broadcast partners past and present, he was kicking himself afterward for one omission.
"I forgot Ken Levine, for crying out loud," Niehaus said of his 1992 partner. "I thought of that the minute I stepped off stage. He's a great guy, one of my champions for getting here."
---