Joel's businesses try to plan future
Firefighters begin to dig for cause; structure's safety not determined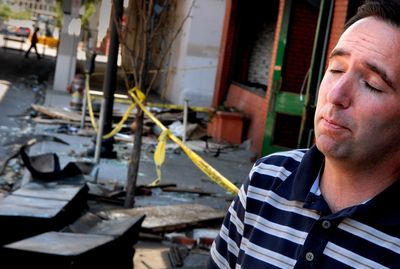 As Spokane fire investigators began Monday to piece together the cause of the Joel building fire, the owners of Dorian Studios photography studio and Churchill's Steakhouse were trying to puzzle out their own futures. "We don't even know how to walk this walk," said Yvonne Mark, Dorian Studios co-owner. "We've never done it before."
Yvonne Mark and her husband, Joe Mark, stood at the foot of a firetruck ladder Monday guiding firefighters to the spot where several computers were stored on the third floor of their family-owned business. Yvonne Mark hoped some of the templates used for photo layouts could be rescued from the hard drives. Fortunately, most of their work was stored off site, she said, so little was lost.
Churchill's owner, Bill Alles, roamed around as workers pulled carpet out of his restaurant.
The blaze started early Thursday. The call came to firefighters as a Dumpster fire at 161 S. Post St., but when crews pulled up to the trash container, the flames were shooting up from Dorian's basement. Fire burned through all three floors of the business, whose employees have taken generations of high school portraits. Churchill's Steakhouse and several condominiums in the building suffered water and smoke damage.
Fire investigators had only begun to dig through the rubble Monday to figure out what ignited the blaze. The Spokane Fire Department planned to release the building back to the owners by Monday night, but a determination had not been made about the structure's safety, officials said.
Monday, business owners were focused more on what could be saved than what had been destroyed.
Alles was more optimistic after he received phone calls from regular customers saying they'd miss the restaurant if it was gone and they were sorry about the blaze, he said. He's already received some insurance money for preventive work to stave off problems such as black mold.
A rack of work uniforms stood outside the restaurants. "I don't see uniforms, I see my people in them," Alles said.
Although no damage estimate had been officially assessed, Alles said an insurance adjuster's glance around his restaurant determined there was at least $1.3 million to $1.5 million in damage.
Firefighters helped the Marks to salvage what they could. Each of Dorian's floors had a few feet of solid surface before reaching a large hole that rose through all three levels. Besides computer hard drives, firefighters retrieved a couple of file cabinets.
Dorian's owners are working to secure a temporary location.
"What we know is we are preparing for our busy season, and we are moving on," Yvonne Mark said.
---