Doctors say oblivious texters are putting themselves in danger
Emergency-room physicians are hoping to get the message out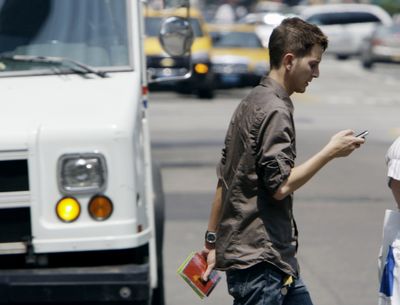 CHICAGO – The warning came too late for Barack Obama's adviser: Don't walk and text at the same time.
Obama aide Valerie Jarrett fell off a Chicago curb several weeks ago while her thumbs were flying on her Blackberry.
"I didn't see the sidewalk and I twisted my ankle," Jarrett said. "It was a nice wake-up call for me to be a lot more careful in the future, because I clearly wasn't paying attention and I should have."
Jarrett got off easy and didn't need medical attention.
But in an alert issued this week, the American College of Emergency Physicians warns of the danger of more serious accidents involving oblivious texters. The ER doctors cite rising reports from doctors around the country of injuries involving text-messaging pedestrians, bicyclists, rollerbladers and motorists.
Most involve scrapes, cuts and sprains from texters who walked into lampposts or walls or tripped over curbs.
Still, ER doctors who responded to a recent informal query from the organization reported two deaths, both in California. A San Francisco woman was killed by a pickup earlier this year when she stepped off a curb while texting, and a Bakersfield man was killed last year by a car while crossing the street and texting.
The U.S. Consumer Product Safety Commission has no national estimate on how common texting-related injuries are. But among the reports it has received: A 15-year-old girl fell off her horse while texting, suffering head and back injuries, and a 13-year-old girl suffered belly, leg and arm burns from texting while cooking noodles.
Giancarlo Yerkes texted his way across a busy Chicago street Tuesday and escaped unscathed. But the 30-year-old advertising employee admitted he once walked straight into a stop sign while texting and bumped his head.
Yerkes said that he texts while walking to maximize his time, and that the emergency doctors' warning probably won't stop him. "There's a lot of things you shouldn't do – this is another one on my list," Yerkes said.
Dr. James Adams, chairman of emergency medicine at Northwestern Memorial Hospital in Chicago, said he has treated minor injuries in several texters.
"Common sense isn't always common," Adams said. Even among doctors. "I have to admit that I started a text while I was driving and then I said, 'This is so stupid,' so I stopped," Adams said.
Dr. Patrick Walsh, an emergency physician in Bakersfield, Calif., said he is a texter, too, but tries to remind himself to do it intelligently.
"We think we're multitasking, but we're not," he said. "You're focusing on one task for a split second, then focusing on another one, and with something moving 40 miles an hour like a car, it just takes a couple of seconds to be hit."
---