Gutekunst goes the distance
Offensive tackle enjoys guest role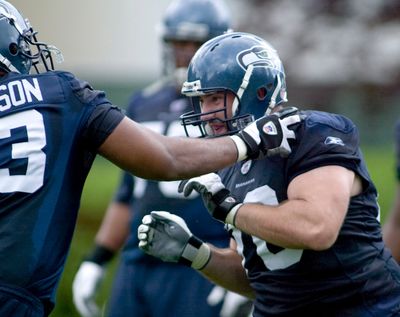 KIRKLAND, Wash. – Samuel Gutekunst is half a world away from home and his long-distance – really long-distance – girlfriend of the last three years.
The native of Karlsruhe, Germany, hasn't been getting in scrimmages during Seattle Seahawks training camp. He won't be in any regular-season games.
Yet for him, this is sagenhaft – legendary, fabulous.
The 24-year-old Gutekunst is Seattle's representative this season in the NFL's 5-year-old international development practice squad program. He's also most likely the only certified Mercedes-Benz mechanic in an NFL camp.
"Oh, it is an honor to be here," Gutekunst said Wednesday in his accented English, honed by two previous seasons on the practice squads of the Baltimore Ravens and Jacksonville Jaguars.
When Gutekunst walks on the field each morning to bang helmets and shoulder pads next to All-Pro tackle Walter Jones and others, he doesn't have to put up the goal posts or paint the lines on the field. He had to do that a few years ago while playing for the Saarland Hurricanes of the German Football League, which he roughly equated to Division III college football in the United States.
"The players went out before the games to make the field. After the game, we had to put green paint over the white lines because they'd have another game," of soccer, Gutekunst said between Seahawks practices, just six years after he began playing football at age 18 for a nine-man junior team in Germany.
That was two years after he failed as a goalkeeper in soccer.
"I wasn't good at it," he said. "Plus, I didn't like it."
How did he know where the sidelines, yard-lines, goal lines and hash marks should go to make a football field? Watching NFL games via satellite? Going to games in nearby Frankfurt to see the now-disbanded NFL Europe league?
"I went online," he said simply, sounding surprised to be asked. "Searched for 'football rules.' Printed it out and learned it."
Every Seahawk should love this gentle, 6-foot-6 giant of an offensive tackle. He is beyond the last man on Seattle's roster. He is exempt from it all season.
"I'm definitely not taking anyone's job," he said.
Gutekunst is one of 16 international players, out of an original pool of 120, who survived a series of tryouts to earn allocation to four of the league's divisions this season – the AFC North, AFC West, NFC South and NFC West.
The program has had 47 players in it since its beginning in 2004. One has appeared in an NFL regular-season game: Mexican guard Rolando Cantu played in the Arizona Cardinals' finale in 2005.
John Beake, a former NFL executive and general manager for the Denver Broncos, is leading the league's international program as a consultant. He said there may be more internationals appearing in regular-season games soon.
"I think we're out of the crawling stage. I think maybe now we're in baby steps," said Beake, whose son Chris is a quality control coach with the Seahawks.
Beake said Mexico, because of its more developed college football programs, is the most fertile international ground for potential NFL players. He also names Japan, the United Kingdom and Europe – though he said Europe is behind because most of its teams remain at an amateur club level.
In 2007, after 16 years, the league discontinued NFL Europe, the spring developmental program that joined American-born prospects with a handful of native Europeans on each team. Seahawks pro personnel director Will Lewis sees the international program as an extension of that league.
The Seahawks are not expecting Gutekunst, who played three seasons in NFL Europe, to contribute anything to their season. As offensive line coach Mike Solari said: "He's very raw, behind in experience. … he's an extra bonus spot. His reps will be very, very limited."
But Lewis said teams don't participate in the program for an immediate benefit.
"Having him here may not affect the NFL this generation, but in the next generation. He may go home and spread the NFL game there," Lewis said. "It's much like the globalization of basketball that has already happened."
For Gutekunst, it's an experiment that is about to end. As a third-year practice-squad player, he has reached the league's limit for eligibility for the eight-man adjunct to a team's game-day roster. If an NFL team doesn't sign him for 2009, he'll go back home to 23-year-old Annamaria Schmid, the supremely patient girlfriend he met in high school.
Maybe he'll go back to fine-tuning high performance sedans.
Or, as the NFL hopes, he'll use his new expertise to teach football to the youth near his home in Hanhofen, Germany, near the French border.
Whatever he does, he will still smile at the advice his mother gave him as he left home to pursue this foreign sport.
"Don't let them hit you too hard," Gutekunst's mother told him. "And if they do, hit them back."
---