Sweet chariot
Custom trailer lets poodles come along for the ride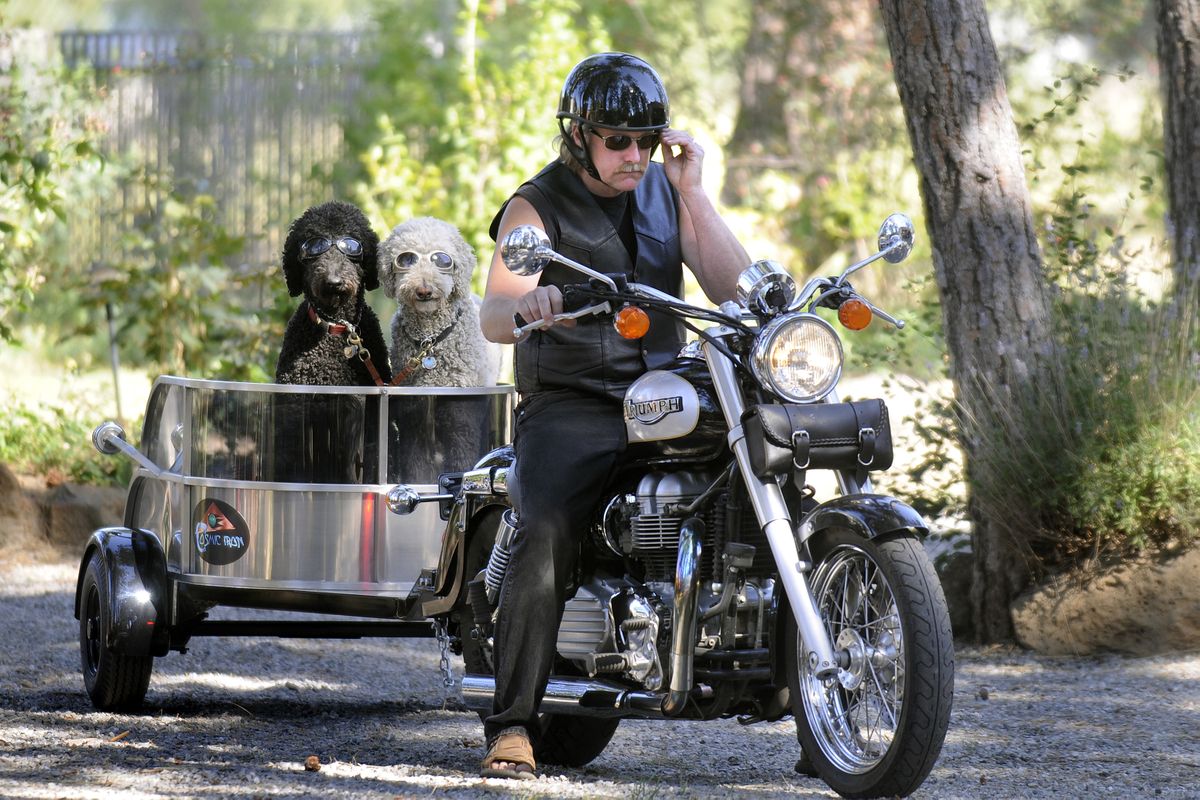 Hitting the open road with your best canine pal at your side is almost an American tradition. For Chris Nielson, leaving his pooches at home when he went out on his Triumph motorcycle just didn't seem fair.
Nielson got Cosmo as a Christmas gift from his wife, Lisa Rosier, in 2002, the same year he bought a new motorcycle.
That winter he took Cosmo to his metal shop in Airway Heights in his truck. Cosmo was a great companion for Nielson, who has been a machinist and fabricator for 35 years and has owned his own shop for 22.
But when spring came along, Nielson, who has been riding motorcycles since he was 12, was ready to pull out his bike. He said he had bought an old utility trailer and suddenly had an idea.
"I thought, I could probably pull that trailer with the motorcycle," he said.
Cosmo, a white standard poodle, took his first ride on a motorcycle strapped into a pet carrier in the trailer. Cosmo soon outgrew the pet carrier, then another one after that, and Nielson soon made a harness for the dog, now 5.
Cosmo was later joined by Zulu, now 4, a black standard poodle that Nielson bought for his wife after the death of her German shepherd.
Nielson recently made a new trailer – or chariot, as he likes to call it – for the two dogs. The new trailer has been custom made from stainless steel and aluminum and includes a clear windshield, so if the dogs happen to be lying down in the trailer, Nielson can still see them in his rearview mirrors.
He has even patented the chariot by mailing himself a registered letter of the plans.
When Nielson takes the dogs for a ride – which he does often, for grocery shopping, running errands and going to the post office – he asks them if they want to go. The dogs tilt their heads to the right.
"We do everything together," he said.
Nielson puts goggles on the dogs – specially made for the canine companion, called Doggles – puts an extra collar on them and hooks them up to a chain in the trailer. Then they hit the road.
Now, most dogs like the feel of the wind in their faces when they stick their heads out of passenger windows in vehicles. Nielson said the Doggles aren't something the two dogs enjoy, but they need them to keep rocks and dirt out of their eyes.
"They tolerate the glasses," he said.
Nielson likes to tell the story about the time there was a lot of road construction on Interstate 90 and Cosmo was rubbing his face during the drive, trying to take off the goggles. He noticed a little while later that the dog managed to push them up on his forehead. But when he checked his mirror again, Cosmo had pushed them back down over his eyes.
When Nielson first started taking Cosmo and Zulu for rides, many people who saw them on the road were worried for the dogs' safety and some called the Washington State Patrol.
A state trooper pulled the three over, checked out the trailer and pronounced it safe for the dogs.
Nielson said one of his favorite things about riding with his dogs is the reaction from other drivers.
"Everywhere we go, people would just smile and laugh," he said. People have followed him into gas stations to tell him that the sight of the dogs in their chariot made their day.
Nielson and his wife now think of Cosmo and Zulu as goodwill ambassadors. Nielson has even thought about taking their pictures in the chariot in front of landmarks and maybe making calendars and T-shirts to sell.
He also is thinking about making more custom-made chariots for other motorcycle enthusiasts who might want to ride with their dogs.
"We love to ride," he said. "It wouldn't surprise me if this started a trend."
---